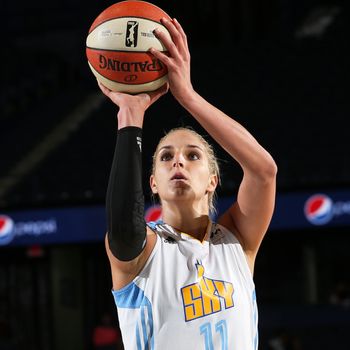 Photo: Gary Dineen/Getty Images
Golden State's peanut-butter-spreading forward Draymond Green gets the Sports Illustrated cover treatment this week, and there's one part of Lee Jenkins's accompanying profile that's getting a good bit of attention. Green, it turns out, is a pretty big WNBA fan. Here's why:
"In the

NBA

there's always a guy who is only around because he can jump," Green says. "He doesn't have a clue about the fundamentals. I learn more from the

WNBA

. They know how to dribble, how to pivot, how to use the shot

 

fake."
That might sound blasphemous to dudes who'd rather eat a basketball than watch a woman shoot it, but Green's not wrong. The continued employment of leapers like Gerald Green and Terrence Ross proves his first point. And moves like these from WNBA stars prove the second.
The clip below is from Elena Delle Donne's rookie year, and it's a perfect illustration of the difference between end-of-game plays in the NBA and the WNBA. Most NBA stars would dribble out the clock and chuck up a 30-footer. Della Donne immediately gets busy putting moves on her defender and spins away for an easy jumper.
Here's a little highlight reel of Tamika Catchings undressing opponents. That second move is divine, like Hakeem playing against middle-school kids.
Could Candace Parker beat the 76ers?
Game, blouses.