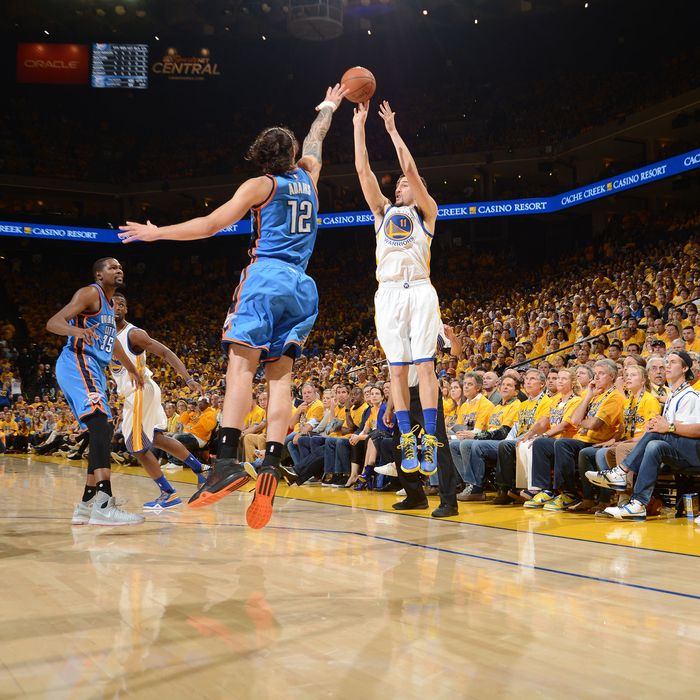 Photo: Noah Graham/NBAE via Getty Images
Memorial Day weekend always provides a surplus of sports, with playoff basketball and hockey, lots of baseball, and a car race in Indianapolis that brings out the best in America. Let's see what you missed while covering your organic brat with artisanal relish.
Though their shared nickname would seem to cast them as equals, Klay Thompson and Steph Curry, or the Splash Brothers, aren't really treated that way. Curry's a two-time MVP who has ushered in a new era of NBA superstar, the little man with sharp handles and unlimited range, while Thompson is merely the best shooter in the game not named Steph. But over the weekend, it was Thompson who saved the Warriors from elimination with an absurd 41-point performance Saturday night that included 11 three-pointers, an NBA playoff record.
Let's see what Warriors owner Joe Lacob thought of Thompson's performance.
Indiana native and beard enthusiast David Letterman continued to enjoy his retirement by attending the Indy 500 and doing what everyone else does at the Indy 500.
Red Sox knuckleballer Steven Wright threw a complete game on Memorial Day that included a number of physics-defying pitches. Hard to tell who's more lost, O's slugger Chris Davis or Sox catcher Ryan Hanigan.
Penguins star Sidney Crosby did his best NBA-point-guard impression in game one of the Stanley Cup Finals last night. Watch him break a defender's ankles and drop a dime right in front of the net.