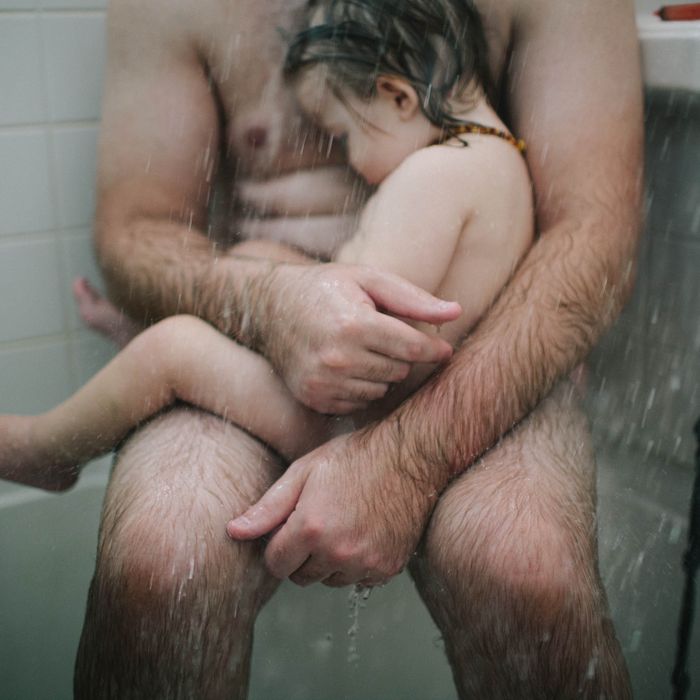 Score a point for dedicated dads everywhere. After considerable public outcry and a growing social-media campaign, a tender nude portrait of a dad cradling his son in a shower — a sort of contemporary pietà, albeit with a happier outcome — has been given a thumbs-up by Facebook. The image, which was taken by the child's mother, Heather Whitten, and posted to her page, was removed several times by the social network due to unspecified complaints. But Facebook has now reversed itself, a spokesperson tells Beta Male, admitting it should have never taken down the photo of Heather's husband comforting their sick 1-year-old in the first place.
"This photo was mistakenly removed by our team and does not violate our Community Standards," a company spokesperson said in an email. "We are sorry for this mistake and have restored the photo to the page."
Facebook's about-face comes two weeks after the image was first posted, along with the touching story behind it, something just about every parent can relate to. With Fox feverish and losing liquids from both ends, his father carried him into the shower and held him close under the running water, both to cool the boy and to wash everything down the drain.
At some point, Heather, a photographer who regularly shoots intimate photos of her family, pulled out her camera. Thomas didn't even notice. "She just take pictures when the moment strikes her," he says. "Her camera is always at the ready."
"It was just that magic moment," Heather says. "I saw something I really wanted to take a picture of between Thomas and Fox."
The picture was actually taken two years ago. Heather only decided to post it to Facebook recently, as a sort of protest after the image created a stir in a photo class she was taking. "They were just hung up on them both being nude and being in the shower. I had crossed a line," she explained in a post.
Turns out, some Facebook users were similarly scandalized. The day after she posted it, the photo disappeared. It mysteriously reappeared, only to be briefly taken down again. "Facebook keeps giving it back, but I woke up this morning and it was gone again," Heather said on Monday.
Facebook is no stranger to this dance. The site is routinely called out for censoring photos that show intimate, non-sexual nudity, like the kind you'd see during childbirth. It's a weakness Facebook is keenly aware of. The company even admits to occasionally being overzealous, noting in its community guidelines, "our policies can sometimes be more blunt than we would like and restrict content shared for legitimate purposes."
Those guidelines explicitly prohibit "genitals" and "fully exposed buttocks." If a female breast is shown, nipple included, a photo may be removed, but not if that nipple is connected to the body of a breast-feeding mother. That exception was a victory hard won in 2014 by users who fought to #FreeTheNipple.
Clearly the photo of Thomas and Fox didn't come close to violating those guidelines — fair or not, male nipples have never been an issue — so why the removal? A glance at some of the negative comments on the picture provides some clues.
"I consider myself a great dad and have have comforted my children many times when they've been ill including cleaning them up after vomiting but never once sat them on my naked penis to do so," one user wrote.
"Looks like pedophilia and child molestation," claimed another.
"The male better be wearing some swim trunks," a third insisted, "cause if.he's not he's a creep!"
"We were getting into the shower!" Thomas replies. "Why am I going to let my puking son puke for a minute or two extra while I go find my swimming trunks?"
Thomas says he understands some people could be upset if the picture triggers an association with a negative experience from their own lives, but for his family this is normal. "I think nudity is completely natural, and having intimate contact with someone, like comforting them, helping them, is not something that is out of the ordinary," he says.
"No one would think twice if this was a mom with her daughter in the shower," he continues. "For guys, it's a little more forbidden."
Indeed, discomfort with shifting gender roles may also account for some of the outrage that has greeted the image.
"I think dads should be able to and expected to and not thought down on if they take a role that's traditionally filled by women," Thomas says. In his case, with Fox, on that scary day in 2014, Thomas wound up as a nurturer and caretaker, functions both he and Heather admit are more commonly her department. But as Heather recalled when she posted the picture, "In this moment, he needed and wanted Thomas."