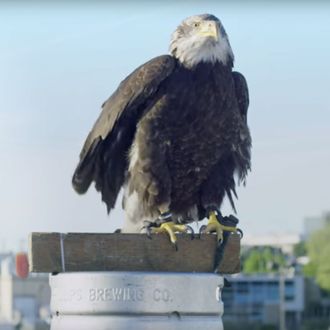 This summer, when you're reaching for a frosty can of lager and want something that makes you feel like a goddamn patriot, don't you dare grab a can of "America" beer, Budweiser's pander-y alter ego that will go on sale next week. Instead, try some of the new pilsner from Phillips Brewing & Malting Co., a Canadian outfit that's dreamed up a gimmick much more American than "America."
On June 5, Phillips plans to deliver its new pilsner by bald eagle. A four-year-old bird of prey named Hercules will carry the can, an "analog method" of delivery befitting what brewery founder Matt Phillips calls a "throwback" beer. "It's kind of a response to Amazon coming up with their drone delivery," he told CTV News. Phillips isn't just the head of this brewery, he also stars in its made-to-go-viral commercial announcing the stunt.
Neither brewer is technically American. "America" is a product of the Belgium-based Anheuser-Busch InBev, and Phillips is a family brewery based on Vancouver Island. But both companies appear eager to capitalize on the spirit of jingoistic fervor unleashed by our ongoing presidential campaign — albeit on slightly different scales. While "America" will be stocked on every pontoon boat in America this summer, only one lucky winner will get to have his or her beer delivered by raptor. That is, if the government of British Columbia doesn't shut down the stunt altogether.
There are your two choices for a patriotic cold one this summer: A mass-produced can of swill from a European conglomerate, or a craft beer from a bunch of rebellious, bald-eagle-loving Canucks. Or you can just stick with Sam Adams.