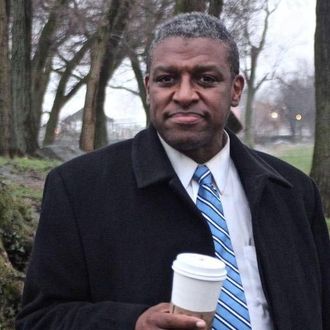 Photo: mikewebforcongress2016.com
When Virginia congressional candidate Mike Webb posted a screenshot of his web browser to Facebook — inadvertently revealing two tabs logged in to porn sites — it may have seemed he was exposing himself as deft multitasker with a soft spot for hard-core porn. Not at all. In fact, he was demonstrating his commitment to scientific inquiry. That's his bizarre explanation at least. Hours after posting the screenshot, Webb posted a 2,000-word explanation, outlining the "empirical inquiry" he had undertaken, to test the possibility that porn sites were infecting computers with a virus preventing candidates from filing with the FEC.
Give the man credit. While not entirely believable, his excuse was at least elaborate. Most political figures caught with their digital pants down have been far less creative. For example:
A German mayor said he heard some kids on a ski lift talking about BDSM and felt the need to research it, which is why a screenshot he took of the German Constitution showed tabs with titles such as "BDSM Porno Videos" and "German Slut Punished." He didn't watch the videos though. He said his internet connection was too slow, so he studied up by reading the Wiki page for 50 Shades of Grey.
Three conservative Indian politicians said they were researching "foreign raves" for an upcoming debate when caught watching porn during a state assembly function.
A Florida state senator said he was "bored" on the Senate floor during an abortion debate when cameras caught him taking a quick peek at a picture of naked ladies.
An Indonesian MP with a strong anti-porn record said he opened an innocent email link that directed him to porn, which is why he was spotted in parliament looking at naked pictures.
A British MP said a "technical glitch" caused him to tweet a link to sexydigg.com.
An Australian city-council member said he's just "more red-blooded than some," in explaining why porn and personal sex tapes were stored on his council-supplied phone and laptop.
A conservative Australian MP who's never once looked at porn said he let his staff use his government login to research the Australian Sex Party, which is why an audit of his internet activity turned up "200,000 suspect hits."
A Suffolk Country politician said his Twitter account was "hacked" before he followed Bella Knox, the "Duke porn star."
A Brazilian MP said he was "erasing the rubbish" that he receives every day on WhatsApp when cameras caught him looking at and showing other politicians porn videos in parliament.
After plugging his phone into an "uncertified" iPhone, a British MP went on Twitter, which he said started "jumping around," leading him to unknowingly favorite an account that posts pornographic pics.
A former South Carolina state senator said sloppy record-keeping resulted in him spending campaign funds at an adult store to buy gag gifts for staffers.