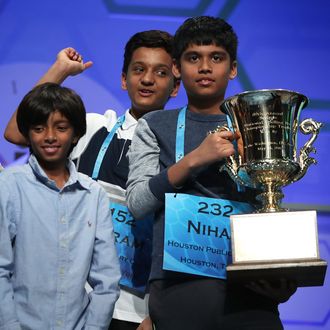 Photo: Alex Wong/Getty Images
Officially, last night's Scripps National Spelling Bee ended with a tie, but anyone who watched the competition on ESPN would be excused for thinking that one of the champs was the genuine winner.
Nihar Janga, 11, "stole the National Spelling Bee and our hearts," USA Today says. The little Texan was calm and confident. After the bee he got a tweet from Cowboys star receiver Dez Bryant. And he openly taunted his co-champion, 13-year-old Jairam Hathwar.
Not that Hathwar seemed to care. He was as excited for Janga's victory as he was for his own. And he tried to show that by offering up a celebratory high five to his fellow speller … only to be rebuffed. Undeterred, he grabbed Janga's shoulder, and went in for another high five. Left hanging, again. "Savage," as many on Twitter said.
Anyone who's been left hanging knows the crushing shame that comes with a floating hand of rejection. Hathwar actually seemed to handle it pretty well, which is a relief. Getting left hanging doesn't have to be the end of a young man's life, even if it feels that way. Turns out, many great men have been left hanging. Hathwar might not have gotten praise from any NFL players after the bee, but he's now got something in common with these guys.
Steph Curry, two-time NBA MVP:
This NASA scientist:

Barack Obama, two-term president of the United States:
Tom Brady, dimple-chinned quarterback:
Arnold Schwarzenegger, star of Kindergarten Cop:
Buck Showalter, Orioles manager and well-respected baseball man: