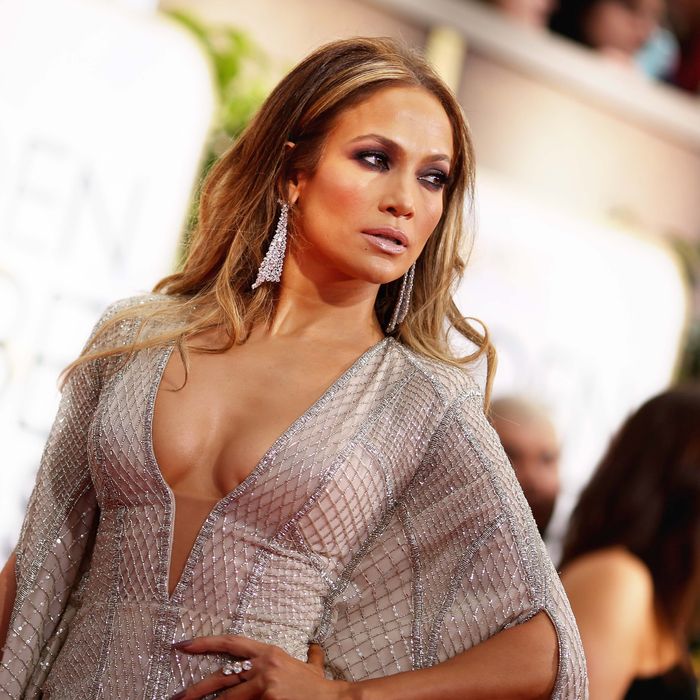 Photo: Christopher Polk/NBC/Getty Images
Jennifer Lopez has won dozens of accolades for her acting and singing, from the Teen Choice Awards to the Israel Teen Choice Awards. Now she's got a somewhat dubious new honor to add to her mantel: J.Lo is the woman most often fantasized about by masturbating men, according to a survey of 1,032 people from sex-toy company We-Vibe.
In fact, the survey found that around one in three male respondents thought about celebrities when pleasuring themselves. It's sort of sweet, isn't it? Millions of men are using their actual imaginations to think about sex while taking in the "Love Don't Cost a Thing" video when they could just as easily be on PornHub watching people get super freaky in HD. It's gross, sure. But it's also flattering.
Interestingly, one in five women admitted to thinking about famous men while diddling. Channing Tatum topped the list, followed by Ryan Gosling, Adam Levine, Johnny Depp, and Justin Timberlake.
J.Lo's name wasn't the only one cited by male respondents. Carrie Underwood, Jennifer Lawrence, Jessica Alba, Emma Watson, Kim Kardashian, Megan Fox, Selena Gomez, Taylor Swift, Beyoncé, and Kate Upton were also name-checked. All perfectly reasonable subjects of a male fantasy and a sure indication that all of the guys still using their imaginations to jerk off are over 40.