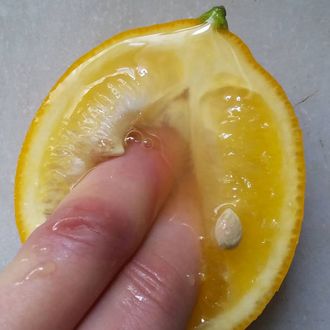 The first time artist Stephanie Sarley gently caressed a halved blood orange, her fingers running gently down its center before plunging into the fleshly fruit, she wasn't trying to turn people on. "Honestly, it was sort of spontaneous," she told the Daily Dot.
But turn people on she did. She grossed out some of them too. And then she started running with it, creating many more videos with many different types of fruit, from lemons to melons, strawberries to, most recently, avocados. Each video is a few seconds of titillating finger action on a split piece of ripened fruit, and the results are surprisingly hot. So hot, in fact, that Instagram suspended her account three times since she began posting them, though it's still not clear why.
For a comprehensive look at Sarley's fruit-fingering portfolio, along with her other provocative works, check out her Instagram. Meanwhile, we've chosen our top five, guaranteed to send you on a grocery run.
5. Know how when a restaurant gives you a fruit cup and it's full of melon and you get pissed about it because melon is the filler of the fruit world? This might change your mind.
4. The anatomy of this strawberry is oddly evocative.
3. Put on protective eyewear.
2. Relax, it's only milk.
1. The original and still the best.