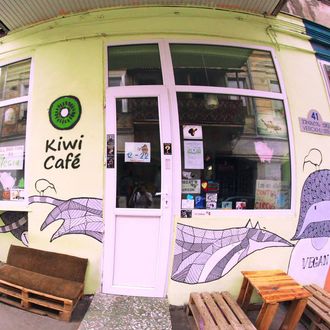 A group of violent carnivores invaded a vegan café in the Georgian capital of Tbilisi over the weekend and attacked a gathering of peaceful plant eaters with sausages, fish, and other grilled meats.
As ridiculous as that sounds, the food-borne assault was no joke. Instead it was the latest attempt to harass and intimidate the city's progressive community.
"This people were neo-Nazis [sic]," owners of the Kiwi Cafe wrote in a statement on Facebook, "who support fascist ideas."
The situation further descended when the brawl spilled into the streets, and the café's neighbors sided with the attackers. "Locals took the side of fascists just because in their view we are 'different,'" the statement added. Patrons of the café have long known that their neighbors disapproved of "the way we look, music that we listen to, ideas we support, and the fact that we don't eat meat." The fact that Kiwi is a popular meeting place for gays and lesbians also seems to have motivated the attackers. According to the café's owners, police weren't much help either — reportedly blaming patrons for the the fight and even taking some in for questioning.
Though Georgia has outlawed discrimination against LGBT people, the conservative Orthodox Church still condemns homosexuality. In 2013, the leader of church called homosexuality a disease, akin to drug addiction, inspiring thousands to join a counterprotest against a small gay-rights rally in Tbilisi. A year later, the head of the church announced an initiative to take back International Day Against Homophobia and Transphobia as a "day of strength of family and respect for parents." Georgia is, according to Balkanist magazine, a "terrible place to be gay."
Now it looks like being vegan is no picnic either.