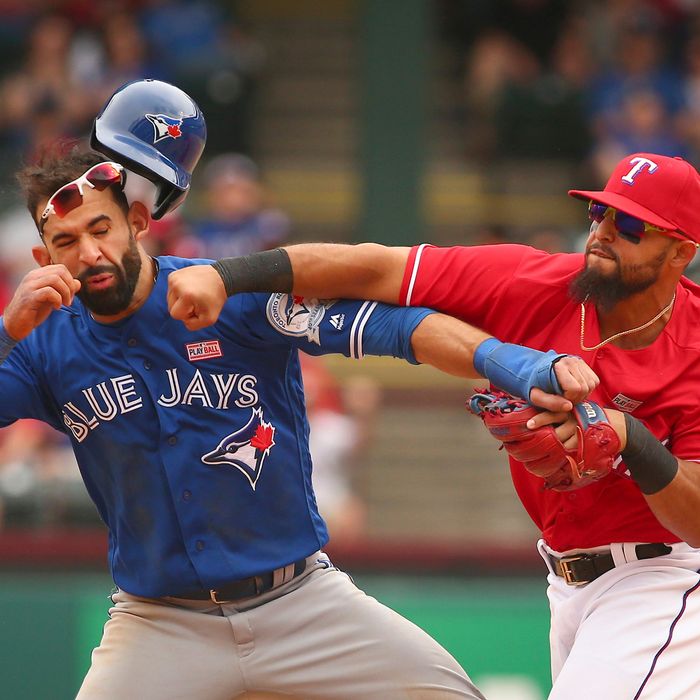 Photo: Richard W. Rodriguez/Fort Worth Star-Telegram/TNS via Getty Images
With Steph Curry, LeBron James, and Kevin Durant all waiting for the Conference Finals to start, the NBA essentially took the weekend off. Apologies to Miami and Toronto, but not even a game seven could make that rock fight entertaining. So, instead, we watched baseball's best brawl in years, an impressive UFC debut, and Serena's return to the top a week before the French Open. Here are all of the photos, videos, and Vines you missed while waiting in line for brunch.


You could watch 100 baseball brawls and never see a blow land as cleanly as the right hand Rougned Odor threw at José Bautista Sunday. There are a lot of good versions of this video, but only one with Jim Ross.


Even if the Heat hadn't gotten blown out by the Raptors in Sunday's terrible game seven, they would have deserved to lose for Dwyane Wade's Razzie-worthy performance on this play.


Brazilian MMA monster Cris Cyborg made her UFC debut on Saturday and stopped her opponent in only 81 seconds with a flurry of punches. She seemed pleased with the result.



What does an NBA superstar do when he's got the weekend off? If he's Kevin Durant he stars in a feel-good local story about escorting an ambulance through traffic in his silver Ferrari.


An Army softball player revolutionized the game with one well-timed balletic leap. If José Bautista would have done this instead of taking out Odor's legs, he might still be able to eat solid foods.


Serena Williams ended a nine-month winless stretch in Rome by knocking off Madison Keys with ridiculous stuff like this.


Johnny Manziel continued to ensure that he won't have a job in the NFL next season.


Tom Brady helped Gronk celebrate his birthday with a cute Photoshop that was definitely made by an unpaid intern.


Beard fight!


Fans of a relegated Turkish soccer club react in a way that makes American sports fans look stable.