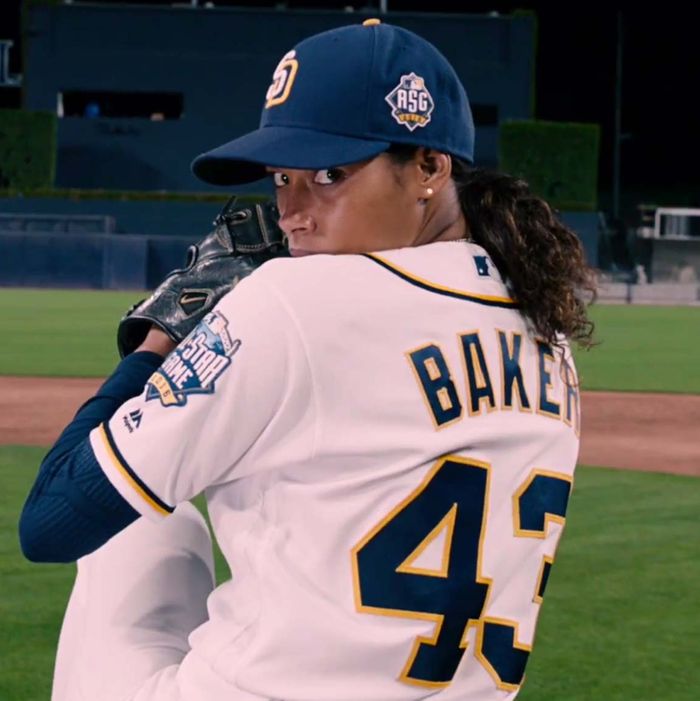 While making Pitch, Fox's upcoming baseball drama, the network went all-out to ensure accuracy. Major League Baseball was brought on to consult, and the league wound up providing access to stadiums, logos, and players who could school actors on proper junk-adjust techniques.
The series' plot emphasizes realism, too — which might sound like a silly thing to say about a show with a central premise that many insist is impossible: It stars Kylie Bunbury as Ginny Baker, a crafty righty who becomes the first woman to pitch in the major leagues.
In fact, there is nothing in baseball's rules that prohibits women (not since 1992, at least). And Ginny doesn't make the majors by overpowering hitters. As the trailer makes clear, she throws a diabolical screwball, developed after her father told her she'd never be able to throw as hard as the boys.
Experts agree with that assessment. Jennifer Ring, author of Stolen Bases: Why American Girls Don't Play Baseball, says the best female pitchers top out in the mid-80s. But, she adds, they also tend to have pinpoint control and nasty off-speed stuff. Sounds like Bartolo Colon.
Then again, Ring says, if more women were taught to throw hard from a young age, there's no reason to believe a few wouldn't manage a 99 mph fastball. Instead, young girls with a talent for the game get pushed into softball and become players like Jennie Finch, who once did this to Albert Pujols.
Given this context, the first woman to throw a pitch in the Majors will probably approach the game like Japan's Eri Yoshida, who suited up for an independent team in northern California as an 18-year-old in 2010. She made the team due to the unpredictable disaster she unleashed from her right hand. Like those of Tim Wakefield, Phil Niekro, and R.A. Dickey, her arsenal was dominated by a knuckleball that kept hitters off balance. That's why they called her "Knuckle Princess."
Yoshida didn't last long in the U.S. Her knuckleball knuckled but her control suffered, and she walked herself out of the league. She's now playing indy ball in Japan and remains a model for women who want to pitch to guys. Not only does her gimmick make her effective but it made her novel, and therefore acceptable, to the old-boys club that runs baseball.
With no gimmicks available, the bar is even higher for a female position player. There are no tricks to hitting and fielding, but there are also fewer physical gifts required. Baseball's best pitchers are large men with big legs and powerful arms. The game's best hitter, Jose Altuve, is a five-foot-six-inch, 165-pound sprite. He succeeds with elite hand-eye coordination and pitch-recognition skills, among other things that are not unique to men.
Melissa Mayeux is proof. Last year, the 17-year-old from France was the first woman to participate in the European Elite Camp for the continent's top baseball prospects. She was then added to MLB's international list of prospects, which made her eligible to be signed by a major league team. The shortstop impressed the former major leaguers running MLB's European camp, too.
The odds are clearly against Mayeux making it to the major leagues, but that's true of every 17-year-old who puts on a glove. Even if she's not the woman to break baseball's gender barrier, though, she's moved the game a little bit closer to that happening. Just like Yoshida did before her and Ginny Baker of Pitch will, starting this fall.