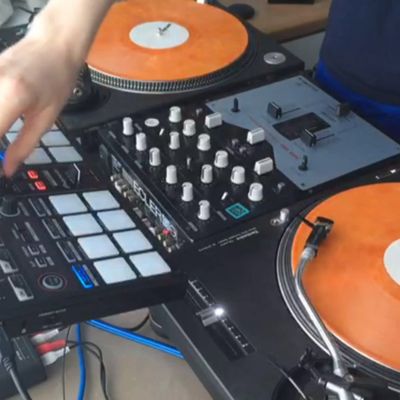 Cody Chesneau got into DJing for one reason: the love of music. "I wanted to express myself," he explains. But after graduating from messing around with DJ Hero in his dorm room in Miami to actually manning the decks in a frat house and at apartment parties, and then working his way up to playing underground EDM shows in Durham, North Carolina, he hit a wall.
"The big issue in Atlanta is that a lot of promoters here expect a certain vibe, a certain type of music to be played," Chesneau says. "That wasn't what I got into DJing for, worrying about what promoters told me I could or couldn't play." Chesneau tried to reason with the clubs, but they were clear: They wanted top-40 or house. "That's it," Chesneau recalls. "No experimenting."
Wil Benton knows his pain.
"To get in as a DJ you either have to play for free and sell your soul, or put in so much hard work," explains Benton, a London-based bedroom DJ and co-founder of Chew, a livestreaming platform for aspiring deadmau5es (deadmi5e?).
The concept is simple: What Twitch is to gaming nerds, Chew is to bedroom DJs. Set up a webcam or your cell phone in front of your decks, hit a button, and you're streaming your set live to the world. The difference is, while livestreaming video games is a sociable add-on to what might otherwise be a solitary pursuit, livestreaming DJ sets helps bring purpose to what can otherwise be a pointless activity. A DJ without a crowd is just a guy listening to music and aggressively bopping his head for no apparent reason.
"You're not really a DJ until you're performing to an audience," Benton points out.
Cody Chesneau discovered Chew in February. He set up an account under his stage name, Echobreaker, and he launched a weekly show, "Spin & Chill," in which, wearing a snapback hat and accompanied by guests from the Atlanta music scene, he alternates discussions of deep house and dubstep with his latest mix tracks.
Success has been elusive so far, and he admits he's "burning the candle at both ends, but I truly love music." Chesneau has played 18 shows since February and boasts just 53 followers. But you have to start somewhere.
Chew is slowly building an audience as well. Since its launch in 2014, the platform has has gained 25,000 users and raised half a million dollars in seed funding. It's nowhere near as big as Twitch, with its 1.7 million monthly broadcasters beaming shows out to 8.5 million daily active users, but Benton says it has plenty of space to grow into. According to research Benton commissioned, there are an estimated 5 million DJs worldwide — professionals whose primary source of income comes from music — and around 100 million amateurs.
Despite the huge potential audience, historical precedent shows the space can be challenging. Turntable, a startup based out of Woodstock, New York, offered a similar service when it was set up in 2011: Computer-generated avatars of users DJed in virtual clubs, like a Second Life for music fans. The platform grabbed 140,000 users in its first month of existence, including celebrities like Diplo and Sir Mix-A-Lot. But then it flamed out in 2014, doing battle with music labels over licensing issues.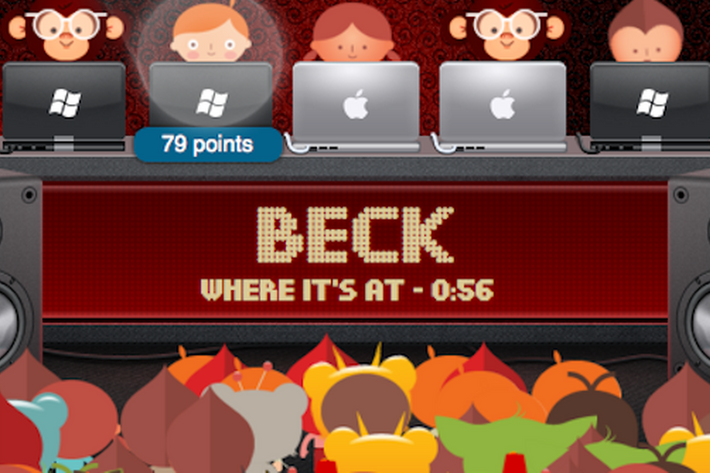 Benton has spoken to the founders of Turntable, and even livestreamed two shows by Crossfader, another startup created by Turntable's co-founder, Seth Goldstein. Benton picked Goldstein's brains for advice on how to avoid the pitfalls that doomed Turntable, and he has hopes that his approach will be more acceptable to the music industry.
Chew's user base tends to fit into three categories: professional DJs looking to build up an audience; bedroom tinkerers working to hone their skills, and hardcore fans of EDM seeking out the latest DJs and mixes. Clearly there's money out there — the EDM market was valued at nearly $7 billion last year, and growing.
"DJing in our generation is pretty much the previous generation's version of being in a rock band," says Benton — a rite of passage that every youngster, no matter how misguided they may be, will go through. It's easy enough to get started: mass-produced decks can be bought in stores for as little as $50.
The site hosts DJs from all over the world — 130 countries and counting — which can make for some unusual sets, like the guy who played live from the fresh produce aisle of a Bucharest supermarket back in February. Scanning through the offerings, you're as likely to be transfixed by a streamer's matching bed linens as a backdrop of revelers in a packed club.
Yet there are bigger names on the platform, too. Lars Behrenroth is a professional DJ with 30 years experience and 116,000 Twitter followers — a name in the industry. But he knows that his success is rare.
"As a DJ some people want to make money, and make it a career," he says. "But there are people who really enjoy just playing music for others. If you have something like Chew where you can do this and people can watch you, you don't need to go and get a gig in a café somewhere and play in front of ten people: You can do it in your home and have an unlimited number of people in places of the world you will never reach otherwise."
Behrenroth, who moved to Los Angeles from Germany in 2004, uses Chew to stream his weekly radio show, "Deeper Shades of House." He used to make his home on UStream, a general web-video platform that powers the livestreaming service on Sony's Playstation 4 consoles, but he found that Chew's users were more committed to his music.
Meanwhile, the platform is injecting more sociability and cross-pollination into an arena that can be somewhat isolating. "It brings DJs together," says Behrenroth. "If you play the same music you're kind of in touch, and if you broadcast on the same channel, it's not a big step to then say, 'Let's do a festival together.'"
Meanwhile, Echobreaker keeps on spinning. "I have people now from the U.K., from Brazil, from Hong Kong, which is the coolest thing," Chesneau says. He souped-up his studio with a banner, black drapes, and better cameras after his mom said the washing machine in the background might not be the ideal backdrop. And recently, he started fielding calls from people saying they saw him on Chew, and asked if he would he like to come play.