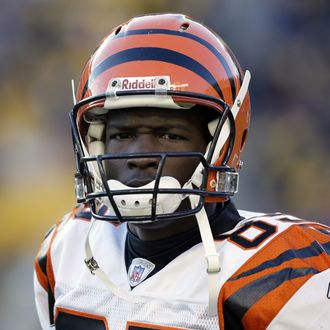 Photo: George Gojkovich/Getty Images
In a brave admission that will shock even his biggest fans, former NFL receiver Chad Ochocinco, born Chad Johnson, has revealed that his penis is only three inches long. No wonder he changed his name.
The bold confession came in an Instagram video posted Wednesday that begins with Ochocinco bragging about his eight-pack, which he maintains despite a steady diet of McDonald's. Then he brags some more about his pecs, "a full C cup," he says.
This is just the kind of macho posturing you'd expect from a star athlete. Bu don't be fooled. Ochocinco is nervous becuase he's about to make a declaration that seems sure to overturn centuries of male insecurity and finally allow all men, whatever they are packing, to begin a journey of self-acceptance: "Only thing wrong with me is downstairs," he continues. "I ain't nothing but three inches, but that's alright though. I ain't worried about that. Because my personality make up for it."
What courage. Ochocinco is fearless.
Even if he's lying, and there's some reason to believe he is. Back in 2014 the singer K. Michelle said in an interview that she refused to have sex with Ochocinco because his penis is too big. "I looked at his penis and I said you know what? Uh Uh. I'm not–that thing is unreal. I can't. I can't take that," she told Necole Bitchie.
So either Ochocinco has a tiny dick and he's not afraid to say so, or he's as well-endowed as observers claim and is showing solidarity with the less fortunate. Either way, the guy's a hero.