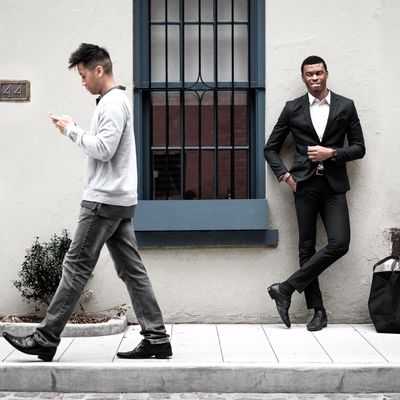 Making friends is hard.
Photo: Mint Images - Tim Pannell/Getty Images
Think dating in the big city is tough? Try making a male friend — just another guy with whom to watch sports, play video games, or just, you know, bro down. Maybe it's time to try Craigslist "Missed Connections"…
4 Train downtown 10am
You were wearing a blue crew neck t-shirt (Gap?) and reading the new Don DeLillo. I asked you how it was so far and you replied, "predictably dark" before running out on 14th street.
What else are you reading? A friend of mine is trying to put together a book club. Any interest?


Tuesday night at Rocka Rolla in Williamsburg
We were both on dates. At least I think you were. I overheard you explaining the latest WTF pod. I was the one that turned around when you mentioned Chris Gethard.
Did you hear Gethard on Comedy Bang Bang recently?


Salad bros?
I never do this but we met in line at the Just Salad on 51st and Lexington. We were both annoyed about how slow the line was going. You explained how to get extra Chicken in the Kale Caesar. Let's head to 3rd Avenue and hit a Chopt sometime. I would love to return the favor.


Deerhunter show last thursday
You were wearing a Bernie shirt at the Deerhunter show last week. I saved your spot while you got Tecates for your group. Heard you guys talking about the cancellation of Togetherness. It was inevitable, but I'm bummed too.
Who are you seeing next? I'd love to tag along.


Crunch Union Sq
Saw you watching the Birthright Broad City episode on the elliptical Thursday at around 8pm. Are you caught up this season? I usually wouldn't do this kind of thing but I really need a workout buddy, but not someone who is that into working out.


Citi Field section 203, row 13
Hey Thomas, this is Dave from the Mets game last week. It was awesome meeting you and spending 3 hours chatting about Curtis Granderson's walk up song and his future as a broadcaster. We didn't exchange numbers so posting here. Let's get that new BBQ place you mentioned. I also owe you a knish.


Social media position
Hi Sam, you interviewed me for a social media marketing position at the Hearst tower about a month ago. I'm the one who you talked to about Nathan For You for the first 45 minutes of the interview. Anyway, I didn't end up getting the job (as you know) but let's hang sometime, man. I had a great time talking with you. Are you still with that girl?


Still be friends?
It's too bad you broke up with Sylvia. For the first time I was really looking forward to hanging out with Heather's friends. I mean, I get it. I totally get it. But this shouldn't mean we can't hang, right? Who am I going to sneak off to watch basketball games with?


Jonathan in the Webster Hall Kanye mayhem
Yo man this is Kevin. We got lost in the crowd and never got to exchange numbers. I thought I had followed you on Instagram but I think I followed a different @Daux_Boi. Pissed that the show never happened but let's link soon lol.


Delayed rush hour L Train
Not to be weird but we sat next to each other for about 30 minutes in the Canarsie tube on Monday. I was bored so I watched you on your phone. We have very similar taste in music, though I wouldn't listen to the new Radiohead so early in the morning on such a nice day. Also, I saw you composing an email to someone at Lyft. Is that where you work? I have a ton of buddies there now in the Queens office. Ryan Frydberg ring a bell? How do you like you like Apple Music by the way? I'm considering switching. Is that your girlfriend as your phone background? She's hot, man.