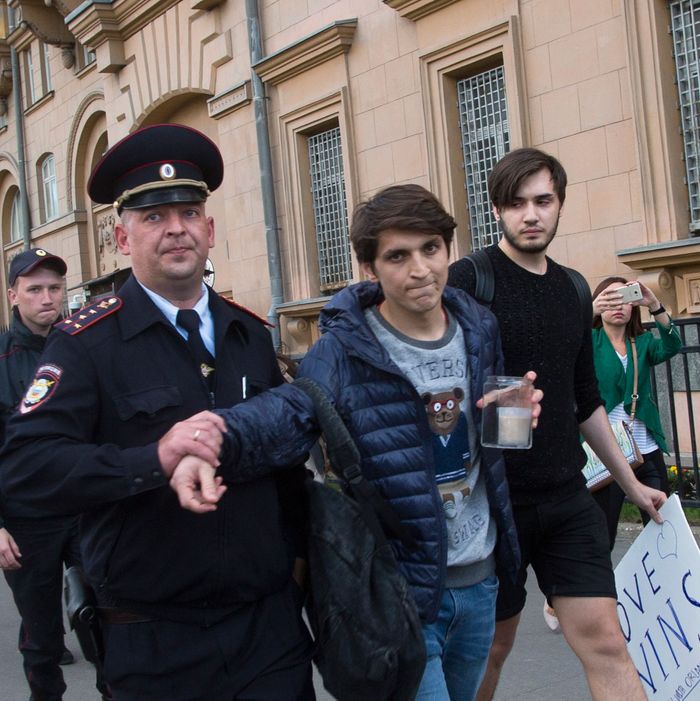 Photo: Alexander Zemlianichenko/AP
Two Russian men attempting to honor the victims of Sunday's mass shooting in Orlando were arrested Monday.
Their crime? "Unauthorized action," Islam Abdullabeckov told France 24.
Islam and his boyfriend, Felix Glyukman, were part of a gathering outside the embassy in which members of Moscow's ostracized LGBT community honored the victims of the shooting. The two men attempted to leave flowers at the scene, along with a poster that read, "Love wins." That's when they were taken into custody.
In a video uploaded by Australia's SBS News, Glyukman describes the interaction with the police, which was captured on video. "The policeman, he grabbed the poster and said, told us to leave. Islam said we didn't want [to], then [the officer] grabbed Islam and went to the car." Glyukman followed, and the couple was detained for three hours.
"We only wanted to express our condolences for the murder of these people, and we had not at all planned any kind of political act," Abdullabeckov said.
That's an important distinction. In Moscow, authorities have drawn a hard line against pro-gay protests. In 2012, the city banned public LGBT demonstrations for the next 100 years.
Ironically, those gathering outside the U.S. Embassy were joined in mourning by anti-gay president Vladimir Putin, who sent a telegram to President Obama stressing that "Russia shares pain and sorrow of those who lost their near and dear ones as a result of this barbaric crime."