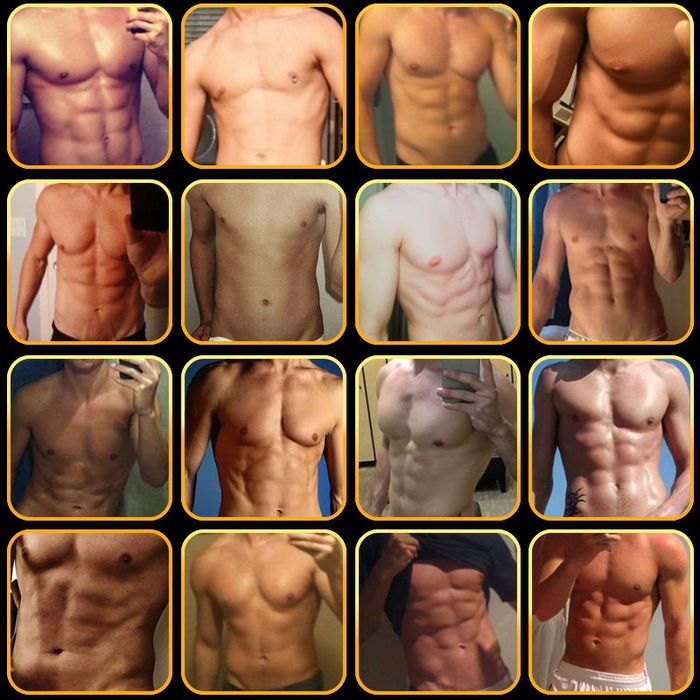 It is a typical Tuesday night on the ninth floor of an NYU dorm. An RA stalks the hallway amid the fragrant aroma of weed, and a half-bottle of Two Buck Chuck rests on the wooden dresser.
My three friends, whom I'll call Hunter, Louis, and Stephen, are sprawled out on my unmade twin XL bed, each of us on our iPhones, silently scrolling through Grindr and assessing the abs and buttocks of Union Square's proximal gay men. Having come of age in a swipe-right-or-swipe-left culture in which a willing-and-able hookup seems like it's always just steps away (if your location services are turned on) — maybe as close as the dorm room a few floors down, or the co-op across the street, or in line for Quiznos in the dining hall — my generation, the smartphone cognoscenti, has this technology down to a T. We pass around a joint, conversing every few minutes about a message we've received ("this guy's hot"; "come look at this fairy"; "this fucking asshole just stopped responding"), either from a handsome prospect who lives a few floors down or the silver fox who's 836 feet away, but the night ends as it started, with four single, fledgling gay millennials, supine and slightly stoned.
In places like New York City, sex, or the prospect of it, is laughably easy to procure thanks to Grindr, which launched in 2009, when my friends and I were closeted 14-year-olds, going to high school in provincial suburban towns, watching our straight classmates dip their toes into the world of promiscuity as we hunkered down and studied, sexless. It's a bit like Seamless — rendering a hookup, or, if you're looking for them, drugs, as readily available as a carton of General Tso's and as stringently transactional, too. I downloaded the app a few weeks into my freshman year in New York City, and it became — as it has for many gay millennial men — my first introduction to sex, a digitized bathhouse.
But it's certainly a far cry from what I was expecting. In moving to New York City from a suburb of Baltimore, where the prospects for sexual activity for a gay teen are dire, I imagined I was migrating to a place where queer folk commingled in gay bars, a place where the telegenic gay romances we were trained to pursue — Glee's Kurt and Blaine, specifically — took place in real life, for everyday bow-tie-wearing urbanites. The reality, though, as reality tends to be, is something far more subdued, and it often feels far more sinister: We went to gay bars every so often as 18-year-old freshman, enamored with the garish pop music and drag queens, but eventually settled in and began to get our entertainment not from Cher sing-offs at Pieces but by inaudibly cruising through Grindr's stock list of men, sometimes meeting up with someone, other times falling asleep phone in hand. Instead of dating, we Grindr'd, attracted to the frictionless nature of the app, soaking up the attention and the possibilities of businesslike coitus.
Grindr, though anonymous and astonishingly efficient, has presented us with something of a social and romantic quandary. Casual sex is a fact of life for single people in the city, a place crowded with young, horny men reluctant to settle down — and all the more so when presented with this digital watering hole of sexual conquests. Older queer people have cautioned that the culture has ever been thus, from anonymous cruising in parks to the piers, bathhouses, phone lines, and AOL chat rooms that transmuted yet again once smartphones came along. Staying out at bars and looking to hook up, I'm told, has always seemed as tedious as it does today.
But what does it mean that my friends and I are sitting together, silently perusing a grid of Mapplethorpian thumbnails of actual human beings instead of going out and enjoying the city, a sort of metropolitan refuge we yearned for just a few years earlier?
"I just think it's silly sometimes to give up so much to be in New York City just to sit on your phone in bed looking for the D," says Hunter. "It's surely not what I expected moving here. I thought I'd be romanced."
"Nothing matters on Grindr besides the picture," Stephen agrees. "And when I'm on Grindr, I'm sure as hell not going to a fucking bar."
While the gay-bar scene is still bustling in Hell's Kitchen, among other places, a scroll through Grindr is simply easier than staying out late drinking cocktails, hoping not to run out of cash before you get laid, and then figuring out how to get home. It provides an alternative on a medium that's second nature to us, a time-wasting tonic that we return to compulsively just as we do Twitter, Snapchat, and Instagram. Only, instead of likes, we're asked, "Do you have any more pics?"
It's also a kind of drug: As Stephen, who's used the application to procure oxycodone and Xanax, told me, "It makes me feel really, really good when people like the way I look, and really, really shitty when they don't." Though it's a maddeningly simple way to get your fix, sometimes I worry that it's made my friends and me programmatically averse to the emotion and intimacy that's required of human connection. I never craved intimacy, or romance, for that matter, but now, after living in New York City for three years, I wonder if I'm somewhat ill-equipped for it, incapable of shedding this digital armor of unfeeling.
"If I ask someone on Grindr if they want to have a few beers before sex," says Wesley, a classmate of mine at NYU, "they just stop responding." I tell him I've done precisely that to others and have had it done to me; after all, despite the millions of users on Grindr, there's a procedural universality to the way it's used.
"My rule is that if I come across someone I know on Grindr, I block them," says a Stephen. "The whole point is to have sex with someone you don't ever have to see again."
This is the most appealing feature of Grindr, its hedonistic, no-nonsense culture; from its impishly forthright profiles to the compulsory exchange of dirty photos, its style of candid, prurient correspondence can make bar small talk seem impossibly profound.
My Grindr profile is nameless, largely unidentifiable. Even my height, which is really five-foot-seven, is listed as five-foot-nine. My body type, more gnomelike white guy, is categorized, indistinctly, as "athletic. I once recall spending 45 minutes in a Zara changing room trying to perfect a "mirror pic," only for the message to go unanswered. But Grindr is not about being clever, nor is it about the profundity of your conversations; it's about marketing yourself as a person to have sex with, rather than a person to get to know. Its beauty standards are as unapologetically mainstream — and often racist — as they come: chiseled, young, Caucasian, "masc."
On Grindr, though, there's little time to bask in your insecurities or your politics. After all, there are hundreds of other torsos within a couple thousand feet, each perfectly willing to forgo perfunctory chitchat if it means they'll get laid quicker. When people are reduced to not quite people, to sex objects, essentially, then you don't have to behave quite like a person yourself, a fact that's both freeing and depressing.
In some ways, the app has blurred the line between "hookup" and hooker. As a freshman in college, I sat at the Washington Square Diner with a female friend during finals week and received a confounding message on Grindr: "Want a blow job and some cash?" I had crammed for a philosophy exam and was devouring a chicken Parmesan panini, but this opening was so abrupt, so direct, that I was intrigued — receive head, walk away with some money, sounds cool. The man's thumbnail photo had that granular quality that led me to believe it had been taken 15 years ago. Sure enough, he looked far older in person than he did on his profile, where his jaw was still chiseled, his hairline intact.
His apartment was ridiculously lush, a lower Fifth Avenue penthouse teeming with money and power and plastered in fancy art. So it made sense when I later found out he was a famous visual artist, more prominent in the '80s. When he asked who my favorite artists were, I mortifyingly responded that I was particularly fond of "Cindy Sherman and, um, Chagall." As I left his place, he shoved $200 in my back pocket, slapping my ass for good measure. I didn't moralize this experience at the time, and I try not to now, but I enjoyed how immensely powerful the experience made me feel, not like a boyish object at another's mercy, but like an enterprising exhibitionist, acquiring conquests and stories I'd have for years.
But sex is not just about having sex. It's just as much about the spectral idea that you can have sex, or that someone wants to have sex with you. In this way, the thrill of a Grindr correspondence can be almost pornographic, the kind of sugar high you can acquire without even leaving your apartment.
"I like to exchange flattering words, some explicit photos, and just have a steamy conversation where I can get off from the comfort and safety of my bed," my friend Ethan says. "I wonder if this makes me some sort of monster, but I think many people use Grindr that way, to scratch a passing itch."
But Ethan, on some level, is a romantic. "I'm always complaining about how hard it is to meet people — in the Grindr era, we are far less likely to have a nice, little meet-cute like in the movies," Ethan tells me. "But I've grown really complacent about fulfilling urges using an app, one that encourages my more hermitlike tendencies."
The same characteristics that make the platform such a simple tool for finding sex can make it an obstruction to finding anything other than sex. "I've lived here for three years and have only had sex with guys on Grindr," says Louis, who adds that he's not looking for love on the app but still seems unable to find it elsewhere.
And sometimes the thought creeps up on me, usually late at night, as I melancholically read Virginia Woolf and sip that Two Buck Chuck, that I've gotten too accustomed to this technology, both a gleeful perpetrator and self-loathing victim of the culture.
In Grindr's marriage of the high tech and the primordial, its relentless focus on ease, it can seem almost too transactional, too watered down. It raises a complicated question for me and many of the friends I've spoken to — all of whom are gay and in their early 20s, recent transplants from somewhere else of varying races and ethnicities: Is the technology becoming ever more tailored to our needs, or are we tailoring ourselves to match its unsentimental logic?
To see if this preoccupation with Grindr was cheating me out of deeper experiences, I went to the Purple Parrot, a gay bar in Rehoboth Beach, Delaware, and a welcome antidote to the Big Apple, this past Memorial Day Weekend. It was karaoke night, and the walls were plastered in $1 bills. The place was packed, but, with the exception of the two friends who accompanied me, everyone was significantly older. No millennials in sight. The beachside bar was a glorious melting pot of men and women, of varying gender identities and expressions, everyone butchering pop-music hits free of inhibition. The Purple Parrot seemed, that night, less like a bar than a sort of communal oasis, a place I didn't fully appreciate until a few weeks later, with the tragic attack on the Pulse nightclub. As one lady reached for the high notes in a Bruno Mars song, another, a septuagenarian lesbian who was several shots ahead, danced close to me and my friends. "I could be your grandma, but I just love you!" she told my straight female roommate.
Later, she whispered, "We don't see people your age around here anymore!" None of us had plans to go home with her, or with anyone for that matter, but we kept dancing nonetheless.