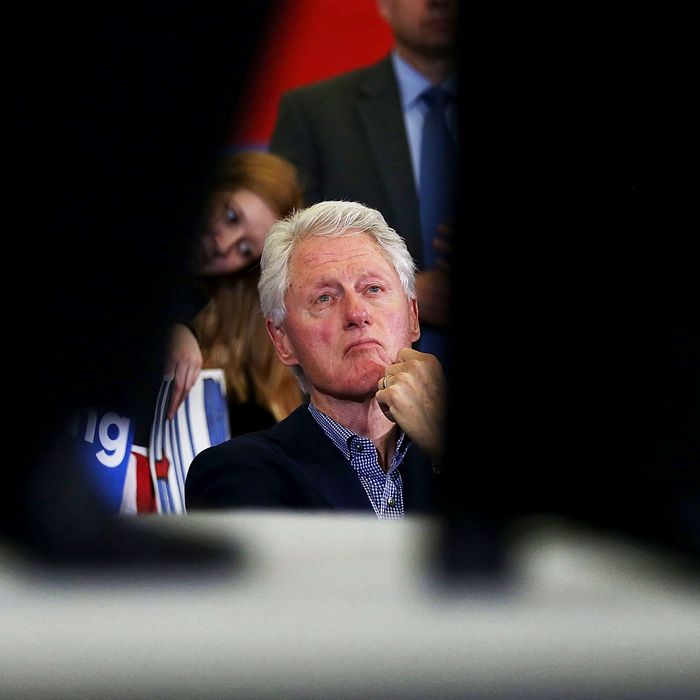 Bill and Chelsea Clinton look on Hillary Clinton speaks in Des Moines, Iowa.
Photo: Justin Sullivan/Getty Images
On Tuesday night, Hillary Clinton locked up the Democratic nomination for the presidency — a historic moment for women, but also for men. Because, assuming she wins the election, which looks increasingly likely after Donald Trump's rough week, America will be welcoming its first-ever First Gentleman into the White House come January.
As Hillary has already made abundantly clear, Bill will not be "picking out china or floral arrangements or anything like that." So what the hell will he do? Honestly, it's not clear if Bill himself knows yet — his most concrete proposal so far is suggesting people call him "Adam," after the Bible's first man. (Stay away from the apples, Bill.)
Fortunately, he's not alone. So far, 28 men have blazed the trail as the First Gentlemen of their respective states, and many more have held the title's municipal equivalent. As Bill eases into his new role, these are the guys he'll want to look to for advice.
To help him prepare, we put together a handy primer gleaned from interviews with First Gentlemen, their public remarks, and their triumphs and missteps. Here, the dos and don'ts of being FGOTUS.
DO: Insist people call you "First Dude."
Sorry, but "Adam" is not going to fly. Neither is "First Laddie," Bill's other suggestion. First Dude is a little silly, but it has broad appeal. The Palins act as if they trademarked Todd's old title, but according to a perfunctory search of the U.S. Patent and Trademark Office website, they didn't actually do so. Meanwhile, Manley Roberts — the husband of Charlotte's new mayor, Jennifer Roberts — just made "dude" bipartisan; Hillary has already endorsed the idea; and it's infinitely less ridiculous than some of the alternatives (e.g., "First Spouse," the term Marcus Bachmann proposed back in 2011, when Michelle looked like a shoo-in for the White House).
DON'T: Forget who wears the pantsuits.
"Nobody is really interested in my opinion about issues in Oakland, but they always ask," says Salvatore Fahey, husband of Oakland mayor Libby Schaaf. "This confused me at first, and only later did it dawn on me that people were actually asking for my wife's opinion." He imagines this could prove especially confounding for Bill. His solution: a swear jar that Bill has to put a dollar in every time he begins a sentence with "When I was president … "
DO: Make it up as you go along.
"One part of no one having ever thought about [this role] is there are no specific expectations," Andy Moffit told the Washington Post last year, after his wife, Gina Raimondo, became Rhode Island's first female governor. "It's kind of liberating." He would host events months into her term, and the most pressing question would be "What's he known as?"
DO: Get into sports.
Let's face it: Golf is about as sporty as Bubba gets these days. And nobody wants to see him in those running shorts anymore. But there are good political reasons to take up an athletic endeavor. "Discovering" duck hunting (do not aim for the face) could score points with a key demographic that might otherwise favor the GOP. It's what Raymond Blanco did as Louisiana's "First Coach" during his wife Kathleen Blanco's gubernatorial administration. Of course, it helped that Kathleen knew her way around a shotgun, too. "Word was she was a better shot than me," Coach tells Beta Male. "And truth is, she was."
DON'T: Email state secrets (or maybe anything, ever).
Even without the specter of Emailgate, this is a tip Bill can glean from Todd Palin's two and a half years as Alaska's First Dude: Todd sent state officials thousands of emails, requesting everything from a judicial appointment and use of the state plane to help purging a photo from the National Governors Association website that unflatteringly showed him in a T-shirt. Of course, Sarah kept his most damning messages away from prying eyes by invoking executive privilege (he was a "key adviser"), so there's your fallback.
DO: Start the day off with a routine.
In a Hillary White House, Bill's already committed to "buck[ing] her up every morning." But Bill's ego would need bucking up, too, says Oscar Goodman, Las Vegas's legendary mayor. Oscar got term-limited in 2011 — now that pink Cadillac shows up for his successor, Oscar's wife Carolyn, on Elvis Festival day. So they worked out a system: "Every morning she still comes over to my side of the bed and applauds me like she did when I was mayor," he explains. "This way, I can start the day with a smile on my face. It's better than a cup of coffee."
DON'T: Hide shit from your wife.
Just ask Thomas Hassan, New Hampshire governor Maggie Hassan's husband. Tom was the head of Phillips Exeter, the boarding school whose alumni include former presidents and captains of industry. During his tenure, he quietly buried a sex scandal. He was censured by the Association of Boarding Schools, but not before Maggie added the teacher at the center of the case to her gubernatorial steering committee. The resulting furor has complicated her bid for Kelly Ayotte's Senate seat. Forcing Hil to make apologies along the lines of "My husband and I both have jobs where we have to keep some things confidential, even within the marriage" is just not going to fly.
DO: Feign interest in domesticity.
Bill's track record here sucks: Every election year, candidates' spouses enter the Family Circle Presidential Cookie Bake-Off. In 2008, Bill became the first male contestant; he "participated" by aping a recipe from Betty Crocker (and a lousy one at that). He'll need to make amends as First Dude, maybe by taking a page from Wade Christensen, Oklahoma governor Mary Fallin's husband. Christensen not only oversees preservation of the governor's mansion, but he even wrote a First Gentleman cookbook, Getting Grilled, the proceeds of which fund renovations. Bill isn't a cook, but he would be the first (sort of) vegan White House resident, so his cookbook practically writes itself.
DO: Dust off the sax.
A Yale-educated lawyer, Manley Roberts is a pianist in his free time. He's generally forced to bite his tongue any time Jennifer is attacked by opponents, "so I take out my frustrations by pounding away at the piano," he says. This also leaves less time to agonize over the controversy du jour, like the state's anti-LGBT law, HB2. The next Clinton administration may occasionally find itself dealing with controversial issues as well. When the Republicans in Congress threaten a shutdown, just find a quiet spot in the East Wing, break out a fresh reed, and blow, man, blow.
DO: Hang with the grandkids.
Jennifer Granholm's husband, Dan Mulhern, once admitted that of the two of them, he always thought he'd end up the governor. Instead, his wife won Michigan's highest office, he ditched his business (too many conflicts of interest), and an existential freak-out followed about "what it means to 'be a man.'" Ultimately, Dan embraced the role of Mr. Mom, going so far as to counsel Andy Moffit last year: "The incredible thing is, you're going to have a relationship with your kids that's going to be there for the rest of your life."
DON'T: Ogle women.
As official spokesguy for Sin City, Oscar Goodman is often spotted in the company of showgirls and carrying a comically large glass of gin. "Martinis and showgirls is what I do all day long," he says. "It keeps a man busy." Still, you don't want to be kept that busy. Remember what happened last time.