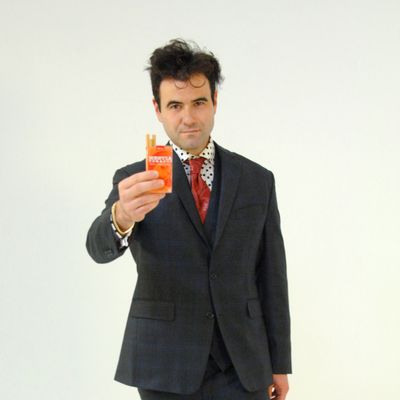 Small-batch ciggy purveyor David Sley.
According to the Centers for Disease Control and Prevention, 40 million adults in the United States smoke cigarettes. And approximately half of them tried to bum one Friday night outside the Wythe Hotel.
Surely a few of those die-hards would enjoy something a little more refined … a little more bespoke and artisanal. Or so hopes David Sley, 32, who has launched his own funky brand of organic cigarettes. Hestia is boxed in a bright-orange package with a Lichtenstein-like design on the front and one of a dozen literary quotes from the likes of Hemingway and O'Hara on the back. (Technically, despite their shape and size, these cigarettes are actually cigars, since Sley refuses to use the all-white fire-retardant papers required to be branded a cigarette.)
The ideal Hestia customer is the smoker with discerning tastes, the type who prefers a small-batch whiskey made in Brooklyn to a Bud Light or a handcrafted Etsy phone case to a Chinese-made hunk of plastic.
"I'm targeting people who already enjoy tobacco and are looking for a purer alternative," he explains. "I can't say 'healthier,'" he adds with a smile, "but you can."
Whether his Hestia products (named for the Greek goddess of the hearth) really are any better for the run-of-the-mill smoker is debatable, although given that they're made from 100 percent additive-free all-natural tobacco, they probably aren't any more harmful than the cancer sticks peddled by your local deli.
Sley, who is originally from Corpus Christi, Texas, but now resides in Santa Clara, California, started out on Wall Street, working as an analyst on the commodities team for Tudor Funds, owned by billionaire Paul Tudor Jones. After the hammer came down during the recession, he relocated to Valdosta, Georgia, taking a job with Archer Midland Daniels as a soybean trader — one with a lot of free time on his hands. "I really got to know the tobacco farmers," he says. "And I really got to know their problems."
Eventually he resolved to create a small start-up, plunging headlong into one of the most challenging business sectors one can name. Not only is the market dominated by just a few mega-conglomerates, but tobacco itself — which, if used correctly, may well result in death — is one of the the most reviled consumer products on earth. "I'm just providing a service to people who are already enjoying tobacco," Sley says when asked about the known health risks. "It's a legal product."
His goal, he added, is simply to do for tobacco what small-batch producers of whiskeys and heirloom tomatoes were doing around the country. "Nobody was doing that yet with tobacco," he explains. American Spirit, which markets itself as organic, actually has fire retardant chemicals in its paper wrapping. And since 2001, it has been owned by Reynolds American, the second largest tobacco company in the country. Sales of American Spirits generated some $658 million last year. In comparison, Sley currently sells about 1,500 cartons of Hestia a month via his website, which amounts to less than $1 million per year.
Despite technically being around since 2010, Hestia didn't really find its way into the hands of hipsters and the fashion crowd until Art Basel this past December, when Paris Hilton and Harry Brant were handed packs at a pop-up event and were promptly photographed smoking the brown-papered smokes. A Fashion Week party with Galore magazine and Rose McGowan brought the product to New York in February, and a few weeks later Matthew Broderick was spotted scooping up several orange packages of the product at the after-party for a Cinema Society screening of I Saw the Light.
Sley says pack-a-day smokers find his brand "too strong" and aren't really his market, but those who "just smoke when they drink" are a key demo. They can purchase his product at the Ace Hotel in Los Angeles or the Surf Lodge in Montauk, New York — both hangouts that attract masses of au courant millennials — as well as via his website.
Despite their affordability — two packs sell for $10 online — Sley compares his cigarettes to a craft liquor, insisting that he wants to "identify with a higher end market" than the competition.
"It's the same crowd that will be drawn to things that are produced with intention," Sley says. "We're not mass-produced. It's a thoughtful, curated product. People who identify with things made with thought and care and love are probably going to identify with our product."
Of course, that is not an easy group to reach. And aside from aligning himself with hot venues or the right parties, marketing is a challenge. "Getting the word out has proven difficult," he admitted. "Since we are still a tobacco company, and there are rules."
There are also some detractors. For instance, a number of fashion companies have expressed reservations about allowing samples to be distributed at their events. "Some fashion brands don't want to work with us where they're just fine working with liquor," he said, shaking his head. "And that's the interesting thing: Alcohol consumption is very much a spectrum and conceived as such. If you say that you drink, it's not the automatic assumption you're an alcoholic. You may have a glass of wine a week, or you may have a drink once a day. But cigarette consumption is very much viewed as finite: If you smoke at all, you are a smoker, which is very tandem to being a drunk or an alcoholic. There's not a perception of being like, 'I go out and have a couple of drinks and a cigarette.'"
Sley should know: Like most of his customers, he is a social smoker, he says, consuming two or three cigarettes a day, or about a pack a week. Of course, he says, he smokes Hestia. (And with a Walt Whitman tattoo across his forearm, he has something in common with the brand's packaging.)
"I do occasionally taste test the competition," he laughs. "You know, to check up on them. See how they're doing."