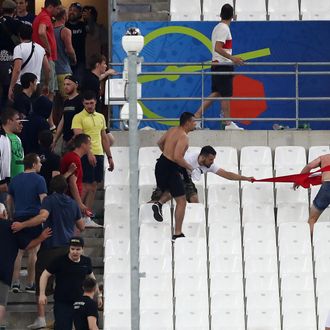 Photo: Lars Baron/Getty Images
Whether you call it soccer, football, футбол, or the downfall of American masculinity, this weekend had something for you, with both the Euro 2016 tournament and Copa América Centenario in full swing. Oh, and the NHL and NBA championships were on the line, too. Here's everything you missed this weekend while dabbing sweat off your forehead.
The Russian and English national teams played to a 1–1 draw Saturday in Marseille in the Euro group stage, but the game was overshadowed by clashes between each team's supporters all around the French port city. Hooligans were met with police in riot gear, who fired tear gas and water cannons. One fan responded by flinging his own feces at police. The violence even spilled into the stadium, where masked Russian fans attacked England supporters who scrambled over gates and barriers after the game's final whistle. Now UEFA has threatened to disqualify both countries from the tournament if the fighting continues.
Meanwhile, over in the U.S., the Copa América Centenario saw a highly controversial ending that eliminated one of the tournament favorites. The Copa is basically the Euros of South America, though a few North and Central American teams are playing this year to celebrate its 100th anniversary. Brazil is an eight-time champion and began the tournament with the third-best odds at winning the whole thing. Sunday night the Brazilians were sent home by little Peru after a handball that went unnoticed by referees but not by verde-amarelo.
Another weekend of NBA Playoff action, another weekend talking about Draymond Green nailing someone in the junk. This time it was LeBron James, and unlike the nut shot he delivered to Steven Adams in the Western Conference Finals, this one has resulted in Green's suspension. What was the difference? Last time the Warriors were down in the series; this time they're up 3–1. No Green for game five tonight means a better chance this series lasts at least another game. The NBA knows what it's doing.