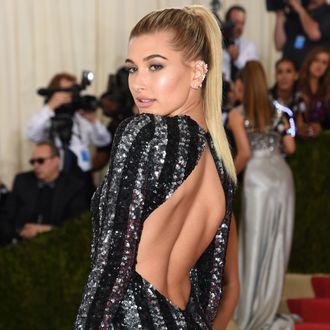 Delicate Canadian crooners Justin Bieber and Drake, who've long bonded over their shared experience as foreign-born peddlers of fragile emotional pop music, may have stumbled upon the issue that finally tears their friendship asunder: model Hailey Baldwin.
The 19-year-old daughter of born-again Baldwin bro Stephen was spotted hanging with Drake on Tuesday night. As the tabloids say, they "stepped out," leading to speculation that they're dating.
E! Online says they're not, because Baldwin is still "in love" with Bieber. A source told the site that she and Drake are just "very good friends."
That might be what she thinks, but, real talk, Hailey, Drake's motives are anything but pure. So says Bieber himself, according to Hollywood Life, which also quotes an exclusive source with intimate details of what's going on with this love triangle. Bieber reportedly warned Baldwin that Drake "is a player and she should watch herself around him at all costs." Baldwin laughed him off.
No way Drake's laughing though. It's hard to imagine anything more undignified than losing a love connection to Bieber, a male Bratz doll covered in prison tats. It's not exactly a cock block — remember, this is Drake – but it's definitely a cuddle block.
As for young Hailey, last seen lounging poolside with her friends Kylie and Kendall, this is a chance for her to learn a valuable lesson at the young age of 19: Always buy American.