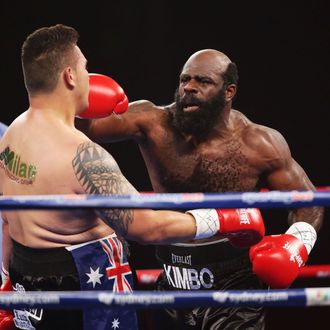 Photo: Matt King/Getty Images
For much of his public life, street fighter turned MMA star Kimbo Slice, who died yesterday at 42, was regarded as a power-punching sideshow. And for good reason. He arrived on the scene in a series of grainy videos depicting his bare-knuckle brawls in the alleyways and backyards of South Florida. He was mean and raw, with a cool name, a great beard, and a goofy haircut. Before long, the burgeoning world of professional MMA took notice.
Born Kevin Ferguson, he made his pro MMA debut in the summer of 2007. Over the next nine years, he fought his way to a 5-2-1 record. He took several years off to box and appeared in a handful of movies, but never managed to gain recognition as much more than a novelty act. Elitist fight fans resented him for his unrefined style and his unconventional path to stardom. Even now, on the day after his death, haters are hating.
Let us all remember, though, that while Ferguson might have been a gimmick in the cage and the ring and onscreen, he was also a man with six kids, a wife, and plenty of people who loved him. His death at the age of 42 is tragic, no matter what you thought of his abilities.
This was a man who was once left homeless by a hurricane and who found a way out of poverty with his fists. He handed out beatings and took plenty of his own because doing so entertained people who wouldn't throw any punches themselves. And he did it all in an effort to make a better life for himself and his kids.
Bellator president Scott Coker, Ferguson's most recent employer, called him "a friendly, gentle giant and a devoted family man" upon his death. A 2008 ESPN profile said Ferguson was a "loving father" with a "conscience." And in a 2008 interview, here's what he said when asked how he likes spending this spare time:
I really like spending time with my kids man. I love spending time with my babies. I love taking them to the gym with me and train with me. On my spare time I like to be with my

 

kids.
These are not the words of some brutal circus freak who disgraced MMA. Nor was Ferguson the menacing thug some people see every time they look at a big, muscular black man with gold teeth. He was, rather, a self-described family man who let his kids paint his toenails before fights and was proud to have fought his way out of the hood. May the man rest in peace.