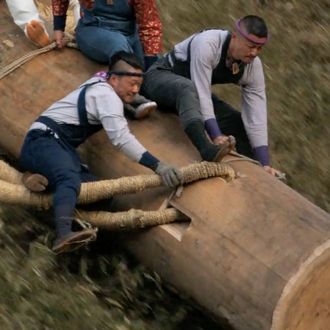 Every six years in Suwa, Japan, about 120 miles outside of Tokyo, scores of men gather for the Onbashira festival knowing that someone will almost certainly die. The 1,200-year-old religious ceremony — which calls for men dressed like Minions to chop, carry, and ride massive trees down a steep hill, among other things — is ridiculously dangerous.
Running from early April until June, the festival provides ample opportunity for bodily harm, beginning with the toppling of 150-year-old fir trees that can measure as tall as 60 feet and weigh more than 12 tons. The trees are moved down steep slopes, through narrow village streets, and across rivers, all by hand. After everyone spends a month catching their breath and nursing their wounds, the festival picks back up, and the giant trees are erected at the Suwa Grand Shrine in a symbolic act of renewal.
It was during that portion of this year's festival that a 41-year-old man died after falling from the top of a vertical 50-foot log and landing on heavy machinery. In 2010, the last time the festival was held, two men died in a similar accident. They fell from one of the huge trees after a guide wire snapped as the log was being lifted into place at the Suwa Grand Shrine. Six years before that, the river-crossing portion of the festival reportedly took two lives.
In 2004, for the first time in its history, the festival organizers wisely had emergency and medical services on hand. The doctors who ran those services reported what they saw in the journal Prehospital and Disaster Medicine: "During each festival, several people have been injured or killed from being crushed underneath the heavy logs. Due to a lack of data, the specific details of these injuries or deaths are unknown."
Not that spectators are very concerned. The riding of the logs, or Kiotoshi, remains the most popular part of the festival, despite the possibility of watching a man die. See you next year.