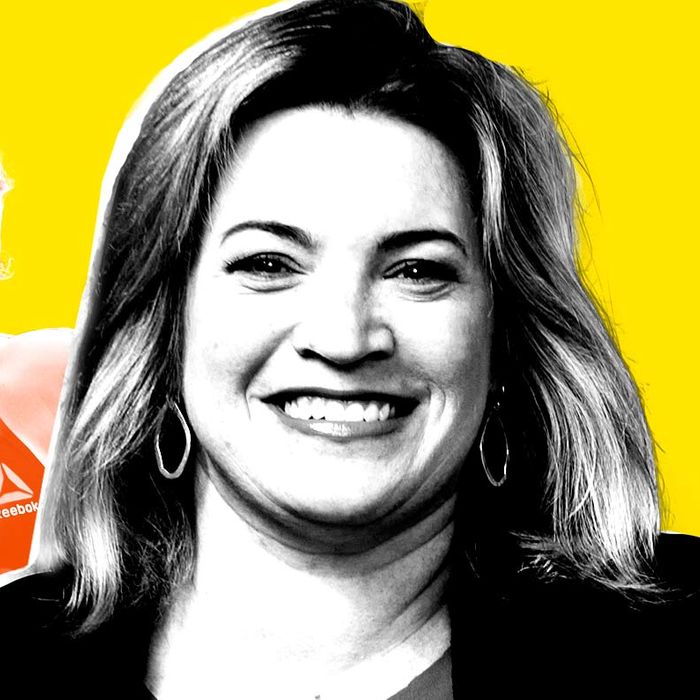 Shelburne and some of her subjects.
Photo-Illustration: Photos: Chris Beauchamp/ESPN, Getty Images
It was the scoop every writer in the country wanted: Kobe Bryant on his final days in the NBA. Bryant played his last professional basketball game on the night of April 13. Less than six days later Ramona Shelburne's 8,000-plus-word story, "Former Lakers Star Kobe Bryant May Have Left the NBA, But He's Just Getting Started," went live on ESPN.com
In the feature, Bryant confesses that his relationship with his parents "is shit." He tells a story about the time, during his sexual-assault hearing in 2003, that he came home and found that his wife had hurled all of his clothes out onto the street. He shares how he spent his first morning as a retiree — by waking up at 7 a.m. so that he could go to church.
The story peeled back the curtain on one of world's most famous individuals. It was revelatory and insightful and chock-full of nuggets. Entertaining, too. Everything you look for in a celebrity profile, the type of story that unearths new morsels about the subject and simultaneously makes readers reflect on their own lives.
In other words, it was exactly what's come to be expected from any piece of work bearing Ramona Shelburne's byline.
"I know what it's like to have your athletic career suddenly come to an end," says Shelburne, who was an outfielder for the 2001 Stanford softball team that rode future gold medalist Jessica Mendoza to the national semifinals. She's calling from a hotel in downtown Los Angeles, where she had checked in the previous night to complete her story on Cavaliers owner Dan Gilbert. "With Kobe that's the story I wanted to write — about a man who's approaching a sort of deathlike experience."
In addition to chasing stories like the Bryant one for ESPN.com and ESPN the Magazine, Shelburne also hosts a weekly national radio show on ESPN and makes regular appearances across the network's various media platforms. That she's doing all this while toiling away in the male-dominated world of professional sports — and the even more overtly male press boxes — makes the ass-kicking she's been regularly delivering even more impressive. Shelburne's not the first successful female sportswriter. But, at 36, she's already at the top of the list.
"I don't know how she does it," says Sports Illustrated senior writer Lee Jenkins, whose path often crosses with Shelburne's. "I feel like I can barely do my job, and she's doing my job better than me — along with, like, three other jobs."
Shelburne's journalism career began during her sophomore year of college, when she began filing golf stories for The Stanford Daily. After that, there was an internship with Sports Illustrated for Women and then another at the Los Angeles Daily News. She netted that gig by dialing up one of the reporters who had covered her while she was in high school.
"I didn't grow up saying I wanted to be a sportswriter," admits Shelburne, who is married and lives in Los Angeles. "This is never where I thought I'd end up. But I was an athlete and liked sports and figured it was a good place to start."
Shelburne's mother had become a screenwriter and college teacher later in life; Ramona signed up for her class. She also enrolled in a course taught by a man named Jack Grapes, whose lessons she still employs today.
"It was all about getting into uncomfortable places," Shelburne says. "That's what we're always after."
As a woman in the most masculine of ecosystems, she no doubt knows the feeling, though Shelburne tends to downplay the gender issue. "I don't even think about it that way," she says at one point. I ask her if she has any locker-room horror stories? "Not really," she says. But Shelburne doesn't pretend that there isn't something rare about the place she occupies in the world of sports media either. She recalls many nights on the road spent alone at hotel bars as her male colleagues gathered elsewhere. During the 2014 NBA Finals she even helped organize a ladies' night for the women on the beat as a quasi-response. She tells me how important it is for women like her to promote the accomplishments of others in the industry. Then there was this tweet, posted two days after our conversation, needling her bosses for apparently deciding that she was ESPN's lone female expert worthy of contributing to an NBA Finals prediction post.
The way Shelburne looks at it, there are two sets of men she has to think about: those she's covering and those consuming her work. She wants the latter to view her as the "cool friend who knows her stuff and can hang." As for the guys she's reporting on, Shelburne says it took some time to learn what strategies worked best for her. Now, for example, she does her best to bypass postgame press scrums where half-naked athletes are forced to answer questions barked at them. "Not because I can't handle it," she says, "but because I've found that they appreciate not having to do that." As a general rule, she tries to avoid issuing judgments on those she's covering. She also makes a point of asking questions rather than demonstrating her mastery — which is apparently not as obvious a tool as it seems.
"I don't feel like I have to prove to people that I know what kind of pick-and-roll coverage the team's running," she explains. "I don't pretend to know basketball better than the players and coaches. So I'd just go up to players and ask, and some would tell me that I was the only reporter doing that." Those aren't the types of stories Shelburne is interested in writing, anyway. "Sports tends to be the place where we talk about the things we don't generally like to talk about. I care about writing stories that I feel matter and resonate."
None of which quite answers the fundamental question: How in the hell does she consistently land all those whales?
If there's a big story to be had, especially out West, Shelburne inevitably is the one to land it. When in November a vicious left-leg kick from Holly Holm knocked out the previously undefeated MMA star Ronda Rousey, Shelburne was there, ringside in Australia, and then at Rousey's Venice, California, home two weeks later, passing on words of encouragement from Kobe and talking to the despondent star about her fall from grace. In October, news broke that Lamar Odom was fighting for his life after suffering an overdose at a Las Vegas brothel; just ten days later, Shelburne published a 4,000-word story detailing Odom's spiral, stuffed with quotes and anecdotes from the brothel's employees. Through painstaking reporting, she was able to explain and expose now-former Clippers owner Donald Sterling and his soap-opera-like family more thoroughly than any of her peers.
It's not that Shelburne's out there writing whitewashed PR-approved fluff, either; on the contrary, what separates her is her talent for getting so many different people — from brand-conscious star athletes to political-savvy team owners and their underlings — to pour out their souls.
"Ramona has this incredible ability to disarm people," says her ESPN colleague Brian Windhorst, who marvels at the names he sees Shelburne texting with during games. "NBA teams literally spend millions of dollars building walls to keep their personnel away from the media — and she's able to break those down."
"She makes people really comfortable really quickly, and they suddenly want to tell her their life story," notes ESPN's Shelley Smith. Marc Stein, another colleague, describes her as "the rare combination of a relentless reporter who likewise has the gift of making people so comfortable that they open up. I can't quite explain it, and I don't think I've ever seen it before." Jenkins notes that there's something about the way Shelburne physically contorts herself when she asks questions, how her queries are always accompanied by a gentle nod of the head and a smile. And Smith and Windhorst each share stories about times that Shelburne, just days after parachuting into town, was able to procure the cell-phone number of a star player and penetrate whichever inner circle she was assigned to.
"There's nothing about her that's fake," Smith says. "She's a genuinely great person who cares about people."
To really illustrate what makes Ramona Shelburne so good, a story is in order. It was June 15, 2014, and the San Antonio Spurs had just become NBA champions by knocking off the Miami Heat for the fourth time in five games. Jenkins was on a deadline, so as Wednesday night turned into Thursday morning, he sat there, in the bowels of San Antonio's AT&T Center, typing away on his laptop and munching on vending-machine snacks. By eight in the morning all of his peers had gone home, save for one.
Ramona Shelburne was already a star by then, turning up frequently on radio and TV and landing those massive scoops, Jenkins points out. "It didn't matter. She was still down there, grinding away as if her job was riding on the story."