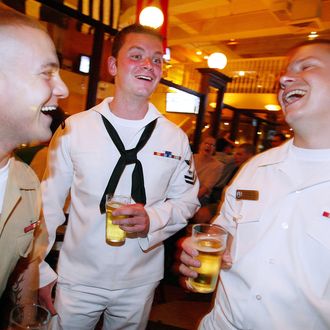 Photo: Mario Tama/Getty Images
Nearly 19,000 American sailors stationed in Japan will have to figure out a new way to have fun now that the U.S. Navy has banned drinking for the foreseeable future. Both on- and off-base, booze will be taboo for the men and women stationed in the country, who are also prohibited from leaving base for anything other than work-related activities.
How do the sailors feel about the impending period of prohibition, which will only end when the navy is satisfied that sailors understand "responsible behavior"? They're not happy!
Of course, there's a reason these sailors can no longer drink: One of their own, 21-year-old Petty Officer Second Class Aimee Mejia, was recently arrested in Okinowa for driving drunk on the wrong side of a highway and crashing into two cars.
If that weren't bad enough, her drunken escapade came during a month of mourning that prohibited off-base drinking, which was instituted in response to the rape of a Japanese woman by a sailor in March and the killing a 20-year-old woman in Okinawa by a former Marine who was working for the military as a civilian contractor.
These incidents have inflamed anti-military sentiment in Japan, and a major protest is planned later this month in Okinawa, where residents have been advocating for an ouster of the U.S. military, which has been there since the end of WWII. The alcohol ban seems as much about preventing future issues as sending a message to Japan that U.S. Navy commanders are getting serious about the problem.
"These measures are not taken lightly," Rear Admiral Matthew Carter said in a statement. "For decades, we have enjoyed a strong relationship with the people of Japan. It is imperative that each sailor understand how our actions affect that relationship, and the U.S.-Japan alliance as a whole."
And what better way to gain a better appreciation for this essential American ally than sitting at home all night, sober as a priest, watching its weird game shows.