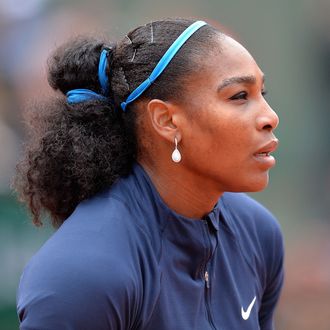 Photo: Aurelien Meunier/Getty Images
For years, Serena Williams has has been a better tennis player than Maria Sharapova. And for years, she's made less money than the lanky Russian. That finally changed in the last 12 months, and all it took was a doping scandal for tennis's Aryan darling.
Williams made $28.9 million in the past year according to Forbes, more than Sharapova's $21.9 million, but only good enough for the 40th spot on the magazine's highest-paid athlete list, behind 39 men. That's pretty remarkable for someone considered by many to be the greatest women's tennis player of all time.
Much of this is explained by Williams's chosen sport. Tennis pays far less than major team sports and players take home only what they earn from winning. That's why the $8.9 million Williams banked from playing the game last year was topped by 90 other athletes, all men. Her $20 million in endorsements, on the other hand, was 16th best, behind a 15 men.
When it comes to total pay in the past year, Williams trails some of the men you'd expect, including Roger Federer ($66.7 million), LeBron James ($77.2 million) and Cristiano Ronaldo ($88 million), who tops the list. And then there are these men, the athletes who were both paid more than Williams in the past year and could walk through Times Square without getting noticed.
Sebastian Vettel — The German driver is a four-time Formula 1 World Champion and, at 28, considered one of the greatest F1 drivers of all time. Of all of the anonymous dudes on this list, he may be the only deserving one. Maybe.
Fernando Alonso — Another F1 driver, this Sasha Baron Cohen look-alike is a decade removed from dominance but keeps raking in cash. His pay in the past year, like Vettel's, is a credit to the massive amount of money and interest – albeit not in America – in Formula 1 racing. Also, he's a guy.
Marcell Dareus — A five-year NFL vet and former third-overall draft pick, Dareus signed a deal last September that made him the highest-paid non-QB in the NFL. It included a $25 million signing bonus, which put him at 26th on Forbes's list. Moreover, he is male.
Kei Nishikori — Japan's biggest athlete became the first tennis player from the island to crack the WTP top 10 in May of 2014. Ever since, he's raked in the endorsement money, including $30 million in the past year. Dude.
A.J. Green — The Bengals receiver is among the best pass catchers in the NFL. Maybe top five. Certainly top ten. But his getting paid more than Serena is like Ed Sheeran making more than Beyoncé. Did we mention he has a penis?
Olivier Vernon — Like Dareus, Vernon makes his living getting after NFL quarterbacks, which is how he landed a five-year $85 million contract that pays him more than most of the league's most recognizable faces. That and the accident of his gender.