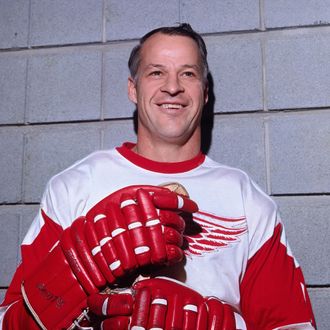 Photo: Denis Brodeur/NHLI via Getty Images
When hockey great Gordie Howe, who died Friday morning at 88, retired from the NHL in 1980 as a 52-year-old grandpa, he was already a living legend. The stats told part of the story. Howe was the league's all-time leader in goals, points, and games played, but traditional stats couldn't fully define the Canadian icon's greatness. And so fans came up with a new one just for him.
The Gordie Howe hat trick is achieved when a player scores one goal, dishes out one assist, and gets into one fight — all in a single game. Howe only did it twice, but that's beside the point. The Gordie Howe hat trick is a testament to the versatility of a player regarded by some as the greatest ever. As tough as he was skilled, Howe could blow past defenders and score with either hand. But he was also known for delivering crushing blows to his opponents in an era before hockey discovered the helmet. Howe didn't fight often, only 22 times in his long career, but when he did, he brought the pain. It's not difficult to see why:
Howe took his fair share of punishment as well. He is said to have broken his nose 14 times and gotten his face sewn up with 300 stitches throughout his career. The toughness continued into old age. After a massive stroke in 2014 seemed as though it might signal the end, his family sent him to Mexico for an experimental stem-cell therapy, after which he rallied – he even managed to walk again (experts said the treatment was unproven, and it's unlikely it was the cause of his bounceback) .
Most modern hockey fans never saw Howe play. And even those who did had to have been watching in the '50s to see him at his peak. But the "Gordie Howe hat trick" remains a part of the game's lexicon and may be the most enduring part of his legacy.
They didn't call him Mr. Hockey for nothing.