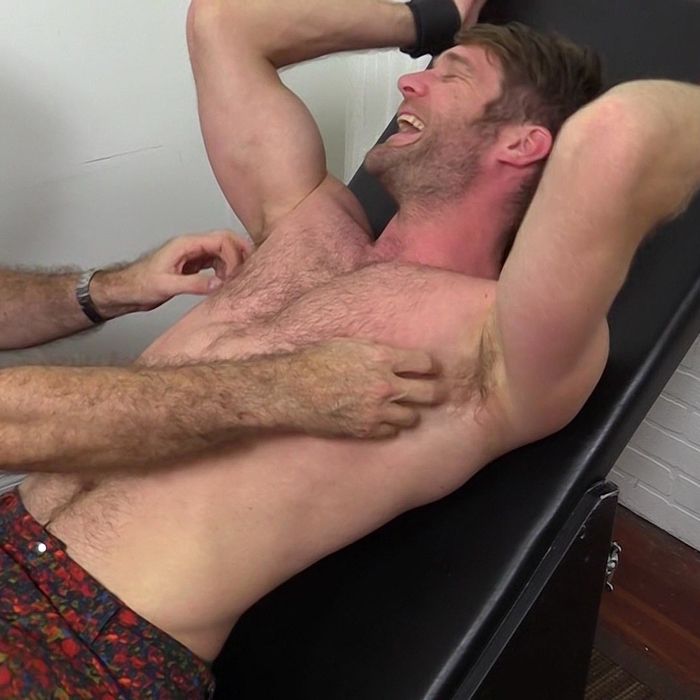 The ads seem innocuous enough: offers of cash payments for young men willing to subject themselves to "competitive endurance tickling." But if you're tempted to get into this game, be advised: As the new documentary Tickled makes abundantly clear, tickling is not an organized sport. It's a fetish.
I speak with some authority, since I've been tickling men on video for years.
I am not sure when it all began — when I had those first telltale signs or "funny feelings" that something was different. I have always found it inexplicably sexy to see a brawny young stud strapped into a chair and then tickled until he is bright red and begging for mercy. For some, tickling the upper body is enough to do the job, but I have a joint tickle- and foot-fetish. I typically start with the feet, by sucking on the toes or fluttering a feather along the sole, and then work my way up. Some say tickling is like a watered down version of S&M–getting a guy at his most vulnerable and then pushing him to his limits. But I was never one for the whips-and-chains, dungeon-dwelling BDSM stuff. After all, tickling should be affectionate.
From what I understand of human evolution, man first developed his ability to be tickled as a bonding experience — with his children, his siblings, and his fellow man in general. Tickling is innocent and pure, even when it is brought into the bedroom.
For years, I feared my love for both foot worship and tickling people made me a freak. That was before the internet came along. Luckily for me and other foot and tickle fiends out there, AOL and online message boards came on the scene in the late '90s allowing us to find one another and form a close-knit cyber community. The early days of the online fetish scene were as halcyon as one could imagine: Chat rooms were awash with personal stories as well as helpful tips and pointers for those new to the game. Eventually, I decided to try my hand in the world of online erotica. I started with foot-fetish clips, launching MyFriendsFeet.com in 2000. From there, I began incorporating some tickling, and that's when things really took off.
From the outset, I have looked for a particular type of guy. I typically recruit that clean-cut, lantern-jawed type–models who look like they belong in the pages of Men's Health. Many of them are actually straight and have girlfriends — real guy's guys. The arousal comes from the juxtaposition, watching these macho men cut down to size and left giggling like schoolgirls at the mere stroke of my hand. The ultimate fantasy is to have one of these hardbodied jocks waltz into my studio with his arms crossed, boasting that he is not at all ticklish or that I will have to work extra hard to get a peep out of him. More often than not, it is all a show of bravado, and I have him squirming in my tickle chair in no time.
Over the past decade, I have done most of the tickling. After all, I am fairly adroit at hitting those sweet spots and have had a few years to perfect my hand. But I was in my mid-thirties when I first launched the website, and to be honest, sometimes I wonder if it's time to hand over the feature to a tickler who is more … um … easy on the eyes.
It's important to note, this is all consensual. Although I am pushing these guys to their limits and there is indeed some power play involved, I never force anyone to do anything they do not want to do. My models all agree to get into my tickle chair, and many of them are regulars who have come back multiple times. The pay is fair ($300 to $400 for a couple of hours of work), and the experience ends in the studio. If someone is not into it, they are just not into it.
That's the main reason I was happy to be part of Tickled, the forthcoming documentary from David Farrier. Superficially, the documentary may seem like a broadside against the tickling crowd — a searing investigation into tickle-porn skullduggery. For those unfamiliar with the much-hyped documentary, Farrier, a journalist from New Zealand, chanced upon one of those ads for a sporting competition billed as "competitive endurance tickling." It invited young athletes from far and wide to travel to Los Angeles for an all-expenses-paid vacation. They would be put up in high-end hotels and awarded thousands of dollars if they agreed to be tickled on camera with other young men.
The call came from a shadowy organization known as Jane O'Brien Media, which was well known by tickling fans for its steady output of well-produced yet suspiciously free videos catering to the tickle crowd. As he dove further into the story, Farrier found that many of the young men in these videos were actually either duped into being in them or were cajoled with lavish promises of money and vacations. When these young men walked away from the company, many were slandered online. He also found that Jane O'Brien was not at all what she seemed.
Tickled is a brilliant detective story, and it highlights a pretty sinister side of the subculture. Unfortunately, there are bad eggs in the tickle-fetish world. Humiliation is part of what gets them off. And the person behind Jane O'Brien Media has hurt a lot of people. So as crazy as it sounds to say this, people need to know — endurance tickling is not a legitimate competitive sport! Tickle videos are erotica. Luckily, the misdeeds of Jane O'Brien do not represent the sum total of the tickle community. Fetishes are a normal component of human sexuality, and we in the community are just regular people exploring the eccentricities that we find erotic.


As told to Thomas Freeman. Richard Ivey is the proprietor of MyFriendsFeet.com. The documentary Tickled opens June 17.