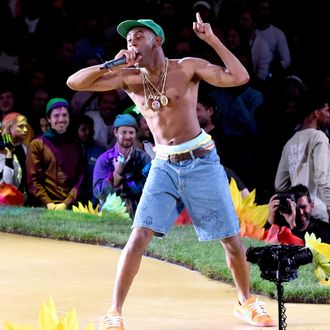 Photo: Kevin Winter/Getty Images
On Thursday morning, hip-hop renaissance man Tyler, the Creator provided a peek at some new designs he's sketched out for his '90s-inspired fashion line, Golf Wang. For the most part, his fans fawned over the pink romper, red plaid pants, and pea-green blazer with a fuchsia flower on the back — all of which would have looked perfectly at home at his first-ever fashion show held earlier this week in L.A.
Most of his followers seemed to love the designs, but one guy was decidedly unimpressed, tweeting that "nobody gonna wear that shit." And for that, this anonymous troll paid a heavy price as Tyler publicly eviscerated his own style. It was the kind of interaction celebrities have with Twitter assholes all the time, but this one proved especially interesting when Tyler zeroed in on the rolled-up sleeves on the kid's shirt. This, apparently, was hilarious.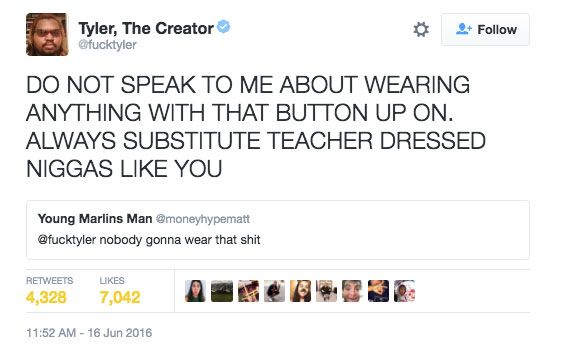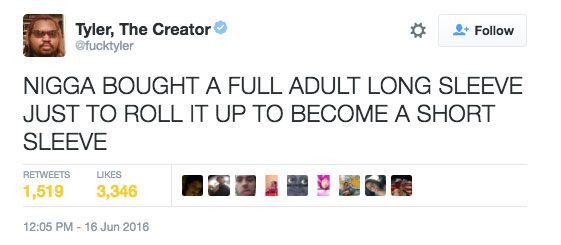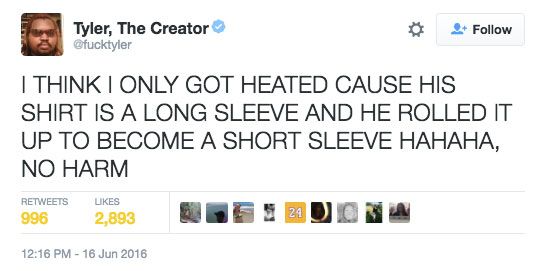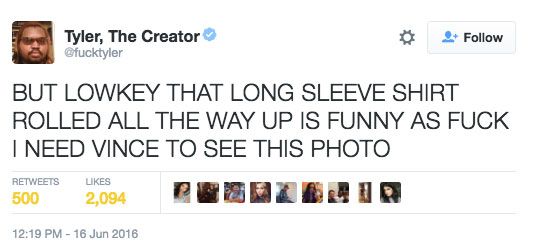 We at Beta Male are not style trendsetters, by any stretch. So maybe we missed something. But when did it become unacceptable to roll up one's shirt sleeves? Or comical? Or even noteworthy? Tyler is clearly on the cutting edge — his fashion line looks like a Nicktoons' afternoon slate come to life, so it would be no surprise to learn that he knows something about fashion that the common man doesn't. But are rolled-up sleeves really that weird?
They certainly serve a utilitarian purpose when the weather's warm. And they're a great way to show off that forearm tattoo of your home state's outline. But Tyler seems to be implying that if you want short sleeves, you should just wear short sleeves. The style editors at our top men's magazines might want to take note.