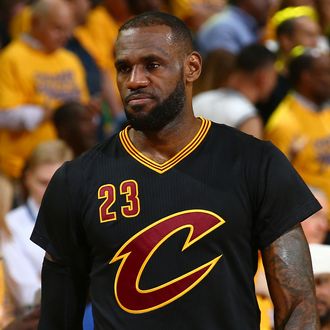 Photo: Nathaniel S. Butler/NBAE via Getty Images
LeBaby, LeBitch, LeBum — all terribly stupid nicknames that internet commenters and Twitter trolls use to taunt LeBron James, the best basketball player of his generation. Last night, a handful of those dimwitted insult artists revealed their faces at game five of the NBA Finals in Oakland, and it was a terrible embarrassment for all of Dub Nation, basketball fans generally, and mankind as a whole.
The animosity at Oracle Arena sprang from an incident in game four when LeBron stepped over Warriors forward Draymond Green after he had fallen down. That's a no-no in the basketball world, a "form of disrespect," according to one of LeBron's own teammates.
Green thought so, too. He got up and delivered his signature move to LeBron, a shot to the nuts. It was, Charles Barkley later said, Green's "moral obligation to punch him in the balls." Still, he was suspended for game five. After the game, LeBron complained that Green's trash talk, in addition to his fist, crossed a line. This touched off a minor war of words from other Warriors, including Klay Thompson, who accused LeBron of acting out because "his feelings just got hurt." Warriors big man Marreese Speights tweeted a baby-bottle emoji, and that was all it took. Fans had their marching orders.
They showed up at Oracle armed with posters adorned with dumb nicknames and an image of LeBron seemingly crying. The signs were truly awful, and not just for the striking lack of creativity on display (attaching "Le" to an epithet does not a burn make), but for the implication that having hurt feelings, if that's even true, somehow makes LeBron inferior.
News flash, Warriors fans: Men have feelings, too. Even men who are bigger, stronger, faster, and more skilled than virtually every other man on the planet. But after the result of last night's game, in which LeBron scored 41 points en route to a Cavs win, mocking the man might not be so smart should the series make it back to Oakland for game seven.
Instead, maybe, try to distract him.