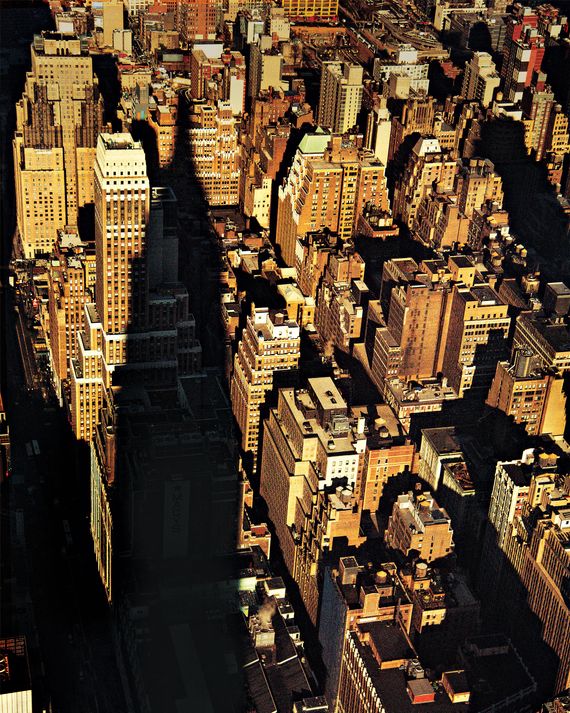 Photo: Pari Dukovic/Trunk Archive
NYC & Company — New York City's official tourism organization — predicts that, all told, the city will welcome some 65 million tourists in 2018, up from 62.8 million the year before. Most of these millions of sightseers will be visiting the same places, from old hats like the Statue of Liberty and the Empire State Building to newer-ish stops like the 1,776-foot-tall One World Observatory. Many are destinations that your average beleaguered New Yorker — out of some city-dwelling cynicism or just a plain old aversion to crowds — tends to bypass (unless an in-law or great aunt is in town). With this in mind, we charted a slightly different course — for tourists planning their itineraries, as well as for locals who could use a reminder that people trek the globe to see these sites/sights and they shouldn't be taken for granted. In fact, they're kind of great. You'll find suggestions not only for less-predictable orders at places like Dominique Ansel Bakery (skip the Cronut and go for the kouign amann, a classic French pastry) but also for a jaw-dropping yet somehow always deserted room at the Met, a seemingly illegal (but not) way to see the Brooklyn Bridge, the section where a Rockette tells her family to sit at Radio City, and, of course, in all of this exhaustively non-touristy touring, an unexpectedly luxurious place to stop for a bathroom break.
Landmarks & Museums
Finding the overlooked pockets in the obvious places.
Broadway
Pay Less for Tickets by Wearing Pink (and Other Bargain Approaches)
If You're Undeterred by Blizzards …
The harder it is to get to midtown, the easier it is for you to get a ticket, especially to shows that tend to sell out. Shows sometimes offer weather-related discounts, which you can find by checking sites like Playbill's.
If You Own a Lot of Pink …
In a wink to the dress code of the Plastics, Mean Girls (1) offers rush tickets to people wearing pink on Wednesdays starting at 10. Purchase tickets here.
Or Just Go See The Band's Visit (2)
Ticket sales went up nearly 400 percent in the 24 hours after the show swept the Tonys. With some distance from the awards, it's now possible to book tickets for under $50, and you still get to see Sasson Gabai, of the original film, in the lead. Purchase tickets here.
— Jackson McHenry
Eat Where the Theater Crowd Eats Near the Theater
Sushi of Gari 46, 347 W. 46th St. (3)
"Sushi of Gari is great for pre-theater dinner. I like to order their cucumber-wrapped sushi — there's no rice, and it's fast." —Renée Fleming, soprano and actress, Carousel
Casellula, 401 W. 52nd St. (4)
"An actress in our cast, Liv Rooth, designs the cheese menu here, which means it's fabulous. And I know it doesn't sound appetizing but I promise it is: the Pig's Ass sandwich — order it."— Gideon Glick, actor, To Kill a Mockingbird
Lantern's Keep, 49 W. 44th St. (5)
"If you don't fancy anything on the menu, the bartender will ask your favorite booze and surprise you." — Casey Nicholaw, director-choreographer
Bocca di Bacco, 635 Ninth Ave.
"The wooden beam ceilings and brick create a lovely vibe that take me out of the hustle of midtown. I always get the grilled octopus and salmon when I go to Bocca di Bacco." — Ari'el Stachel, actor, The Band's Visit
Bar Centrale, 324 W. 46th St.
"It's a weird sister to Joe Allen and Orso with weird policies (no dessert, no coffee) that make it feel like a clubhouse. For additional frisson you may well find yourself seated next to someone you've just reviewed, or been reviewed by. Or just feel catty about. I usually order the six-ounce skirt steak and, if I'm feeling retro, the curried deviled eggs." — Jesse Green, co-chief theater critic, New York Times (and former New York theater critic)
Joe Allen, 326 W. 46th St.
"Last time I went, I saw the entire cast of The Boys in the Band, plus Ryan Murphy. A burger and a martini does the trick." — Michael Schulman, theater journalist, The New Yorker
West Bank Cafe, 407 W. 42nd St.
"It's far enough away from tourists, but still a quick jog to most theaters.
Get the WBC burger or deviled eggs at the bar, and your libation of choice." — David Cote, theater critic
Pasta Lovers, 142 W. 49th St.
"Don't be put off by the name — Pasta Lovers has a great happy hour, enormous wine glasses, and the food is far better than it needs to be for its location. I'll get the Grandpa pizza if I don't have the theater, the onion-less Grandma pizza if I do, and the shrimp salad with fried capers and bacon if I'm lying to myself about being healthy." — Mark Peikert, editor-in-chief, Playbill
Hakkasan, 311 W. 43rd St.; Betti Bar, 373 W. 46th St.
"For a pre-show dinner, my favorite place in the area is Hakkasan, which serves high-end Cantonese cuisine in a swank atmosphere. It's on 43rd Street just off Eighth Avenue, near most of the major midtown theaters. The menu includes many delicious small dishes, which is good if you don't want to get sleepy from overeating; I'm partial to the steamed dim sum sampler. For a cozy post-show experience, my favorite Theater District watering-hole-in-the-wall is Betti Bar, hidden away upstairs at the Hourglass Tavern. It's a tiny slice of a room; it seats maybe 25 people. You can order from the full Hourglass Tavern menu, which is handy, especially on Fridays and Saturdays, when the kitchen stays open late." — Adam Feldman, theater editor and chief critic, Time Out
Kashkaval Garden, 852 Ninth Ave.
"I always order the Kashkaval fondue, plus a few of the skewers (my favorites are the chicken and the filet mignon), all washed down with a glass of crisp white wine. The mood is very hygge, which we now know from Frozen means cozy and inviting." — Patti Murin, actress, Frozen
P.S. Kitchen, 246 W. 48th St.
"P.S. Kitchen is one of the few dedicated vegan eateries in the theater district. I love the Maitake steam bao, the crispy artichoke, and the P.S.
burger." — Taylor Trensch, actor, Dear Evan Hansen
And for shows near Lincoln Center …
Dublin House, 225 W. 79th St.
"It's a short walk (or quick subway ride) from Lincoln Center, but it's an unpretentious and authentic New York Irish pub. I recommend their well-poured pint of Guinness or Baileys on the rocks." — Gillian Murphy, principal dancer, American Ballet Theatre
Lincoln Ristorante, 142 W. 65th St.
"Lincoln is wonderful for a preshow cocktail. Its open layout gives it a sleek and intimate feeling. I love their Hayman Old Tom Gibson and wonderful Aperol spritzes. My friend, Nico Muhly, swears by their Negroni … especially a fancy one with artichoke liquor and orange peel." — Bartlett Sher, director, My Fair Lady
— Trupti Rami
The Best Forgotten Wax Figures at Madame Tussauds (6)
Pass (wax) Kylie Jenner and Anne Hathaway in favor of the most ignored personality in residence, as confirmed by management: a nubby-sweater-clad Albert Einstein.
The Hissing Cockroach Collective of Ripley's Believe It or Not (7)
Dozens of the descendants of Robert Ripley's personal collection of cockroaches live on, thanks to Ripley's facilities manager, who feeds them dog food and lets them drink from a sponge.
The Hidden Roof Perch at Hard Rock Café (8)
If you take the memorabilia tour, which concludes in a side lounge off the dining room, there's a discreet gray door that a staffer has to unlock; it leads to a staircase​ ​that opens onto a deck atop the glowing marquee out front.
— Hilary Reid
An Italian-art-school-trained caricature artist.
I observed caricature artists in Times Square over a weekend in October and was drawn to the work of Osama Khatlan. He was set up on the corner of 41st Street and Seventh Avenue (11), where he's worked for 15 years. He went to art school in Italy and started drawing professionally in 1977, doing editorial cartoons for newspapers in his home country of Iraq. His subjects seemed to jump off the page — he used a heavy hand, drawing thick lines and shadows. His drawings were playful in a more nuanced way than those of some of the other artists I'd seen, and each seemed to have its own focal point (a lush beard, or the pop of color he added to my pink sunglasses). — Aude White
A high-fashion hack.
Balenciaga's spring 2019 show included a clutch shaped to resemble a folded fashion magazine. The cost: $2,290. I suspected I might be able to find a cheaper version at a New York souvenir shop, where Balenciaga has pulled inspiration for its products before. Indeed: I found a wall full of magazine clutches at the Phantom of Broadway on 51st and Broadway (10) for $36 each. The difference? These were covered in magazine covers slightly altered to avoid lawsuits, such as Rita Ora on Wogue. — Emilia Petrarca
A
Truly
Luxurious
Public
Bathroom
For halfway-through-the-day emergencies.
In 2017, the 315-square-foot Beaux-Arts bathroom building in Bryant Park (9) got a $280,000 makeover. The revived restroom (two stalls for men, three for women) has paintings of the park made by artists-in-residence, a pair of bathroom attendants, frosted-glass windows, a playlist of classical music, freshly cut flower arrangements, a modern air-conditioning system, and — best of all — five state-of-the-art self-flushing Toto toilets.
Watch the city wake up here.
Few people know this, but as of 2016, the Empire State Building started admitting the first 100 visitors before the official opening of 8 a.m. The doors open 30 minutes before sunrise — which is, for example, at 6:49 a.m. on November 20. The line is usually short, and you can stay as long as you want. As the minutes pass, you can see offices come alive; those interested can photograph the buildings as the gray hues give way to vibrant light. — Matthew Sedacca
Watch the sun go down there.
Recent visitors recommend buying an all-inclusive ticket (it lets you take the much shorter "priority lane" into the building), then showing up about an hour before sunset. This way, you'll ensure a coveted seat on the radiator beside the windows facing west toward New Jersey (where the sun will set) or the side facing uptown (from which you can see the sun slowly set on all of Manhattan).
When a Park Ranger Says to Book Your Crown Ticket …
Crown Tickets usually book up months in advance. But sometimes you can get lucky. Check statuecruises.com in case of cancellations, or show up first thing in the morning at the ferries in Battery Park or Liberty State Park and check with the ticket office. If you do buy in advance, book the last time slot of the day (1 p.m. in the fall, winter, and spring, and 3 p.m. in the summer). The crowds are thinner because many people tend to get the crown out of the way in the morning. In general, the offseason — late fall, winter (except December), and early spring — are better times to visit the crown than during the summer. It's not only that the space is extra crowded in July — it also just gets very steamy up there.
A Concessionaire of Note
Brad Hill has run a concession stand here for nearly 90 years. It began when Hill's grandfather, an Army medic who had been stationed on the island's active military base, started selling souvenirs to tourists visiting the Statue in the '30s. As the business moved into the third generation, employees came from all over — Albania, Vietnam, Iraq — to work alongside those born in the Bronx and Brooklyn. — J.K.
See
the
Brooklyn
Bridge
Like
a
Trespasser
…
According to Untapped Cities' Justin Rivers, who leads a regular Secrets of the Brooklyn Bridge tour.
"Head to the elevated acre, at 55 Water Street in Manhattan, a hidden plaza tucked between two office buildings that has a very High Line feel to it. If you're standing at the railing looking over the East River, you just have to turn to your left and there it is: the full span from Brooklyn to Manhattan. It almost feels like a diorama. On the Brooklyn side, there's Empire Stores in Dumbo, which is also coincidentally on Water Street — it has a public roof park as well. But nobody ever goes up there, because the trip up to the roof is really weird. You've got to go out into the courtyard, then go up a series of stairs that scale the outside of the building. You almost feel like you're trespassing, but you're not — it's a public park." —Jen Kirby
…
And
See
Everything
Else
From
a
Stranger's
Home
For tourists without a friend with a photo-worthy deck, there's a roundabout way to access these views: find an apartment on the market and book a tour.
Statue of Liberty
1 Main St., PH
This Dumbo space sees Lady Liberty through nearly floor-to-ceiling windows.
Woolworth Building
8 Spruce St., No. 73R
This Frank Gehry building's sundeck has a direct view of Cass Gilbert's tower.
Chrysler Building
310 E. 46th St., PHJ
A 1,886-square-foot terrace has 360-degree views of the city's skyline.
Central Park
25 Columbus Cir., No. 72B
There are views of Central Park from every single room in this 3,491-square-foot duplex.
A guide for the crowd-averse by Jerry Saltz.
Getting in, Getting Going
Forgo the operatic Fifth Avenue at 82nd Street entrance. It's grand, but it'll cost you as much as a half-hour of antsy waiting. Use the 81st Street door one block to the south. Not only is there no wait for tickets, there are lots of empty restrooms.
Go to Rome (Gallery 165)
Just upstairs from this secret entrance is a revelation of painting, a room decorated with frescoes on all four sides. They date from 50 to 40 BCE and were found after being buried in the eruption of Mount Vesuvius in 79 CE.
See "Perhaps the Most Beautiful Painting in the Met" (Gallery 956)
If you're hungry for old masters, visit perhaps the most beautiful painting in the Met. Giovanni di Paolo's 1445 Creation of the World and the Expulsion From Paradise is a dazzling masterpiece of Italian Renaissance Sienese painting.
Drop By the Always-Deserted Gubbio Studiolo (Gallery 501)
For yet another type of jaw-dropper you may never have seen before, go into the consistently empty Gubbio Studiolo. This small walk-in room is entirely inlaid with wood. In perfect trompe l'oeil, see open cabinets, shelves, and musical instruments.
Have a Land of the Pharaohs Moment (Gallery 138)
Walk north through the lobby. The Egyptian galleries are always packed, so instead pay attention to this portrait of a young man, painted in Egypt around 100 CE. In the high level of realism and encaustic and paint on wood, you're seeing the origin of oil painting.
Refuel at the Line-Free Underground Cafeteria
Steps away from this paradise of early painting is the large secret underground cafeteria my wife and I always use. Without waiting in lines and getting hypoglycemic-crabby, you can choose from a wide variety of foods, be served in no time, take any of over 100 tables, and eat — or nap — in peace.
Feel Small Among the Arts of Oceania (Galleries 354, 350)
The enormous galleries of Africa, Oceania, and the Americas are often sparsely populated. Make sure to see the huge carved wooden figures from Vanuatu. Then gawk at the so-called power object (boli) from Mali, a bull made of wood and sacrificial materials including animal blood.
Final Lap: A Bevy of Buddhas and Bodhisattvas (Gallery 208)
A roomy yet intimate gallery holds Chinese Buddha and bodhisattva figures.
These sculptures, ranging over millennia and made of bronze, stone, colorful wood, and clay, not only illustrate China's complicated adaptations of Indian religion but will leave you spiritually healed.
Green Spaces
A stroll with architecture critic Justin Davidson.
1. At the Shed, the new cultural center's enormous steel canopy rolls out, quietly and quickly, on giant wheels that are works of art in themselves. W. 30th St.
2. Zaha Hadid didn't live to see the opening of her Chelsea condo, which looks like air currents hardened into steel. Many east-facing bathrooms have a large tub in the window, although some residents may opt to draw the sheer curtains, which turn bath time into striptease shadow play. W. 28th St.
3. The Kasmin gallery's rooftop aligns with the elevated park so that passersby can stop and commune with several Joel Shapiro sculptures cavorting across a grid of skylights. W. 27th St.
4. The transformation of West Chelsea hasn't scrubbed away every last bit of grit — yet. Marty's Auto Body endures. The neighborhood's last gas station, however, a Lukoil franchise on Tenth Avenue, closed in 2013, but had time to host a weeklong art show before the wreckers arrived. W. 25th St.
5. The High Line is emblematic of the West Side's switch from a zone of hard labor into a smiley adult playground. Example: sculptor Charlie Hewitt's cluster of primary-color doodles on stainless-steel stalks in a rental building's courtyard. W. 23rd St.
6. The Church of the Guardian Angel, completed in 1910, then demolished two decades later to create room for the High Line, was replaced with the current Sicilian Romanesque building. Passing freight trains darkened the stained-glass windows. W. 21st St.
7. The first visitors to the High Line in 2009 found that Patty Heffley, a longtime resident of one of the tenements hugging the park, had hung a license plate in her window reading AREA 51. She welcomed the new crowds by performing a fire-escape cabaret show. W. 20th St.
8. With its wavy balconies, Cary Tamarkin's condo evokes Art Deco artist studios from a century ago—but the prices don't. Code and Theory co-founder Brandon Ralph bought his double-height penthouse for $6.7 million in 2011, tried to sell it for $11.75 million, then dropped it to $9.2 million, still without success. W. 19th St.
9. The architect Morris Adjmi, a specialist in inserting new buildings into historic districts, erected a glass box atop a two-story masonry depot (which now houses Samsung's flagship store), then wrapped it in a twisting black-steel exoskeleton. On a hot day, you might think the whole thing is melting. W. 13th St.
10. Not that long ago, when the Meatpacking District was still known as the Meat Market, the streets ran with blood. Today one of the neighborhood's last remaining butcheries, Weichsel Beef, hangs on in the shadow of the Whitney Museum. Little W. 12th St.
Seven not-so-obvious in-park tips from the people who'd know best.
Ghost Hunter, Pete Kandel
"There's a surprising amount of paranormal activity in the park, so if you want to find it, your best bet is to stop at Cleopatra's Needle. We've had a lot of luck there. Once, we heard an unexplained grunt on an EVP recorder."
Birder, Jeffrey Ward
"Using an Audubon Society field guide will help you identify the most birds. So will a really nice pair of Swarovski binoculars. But even with those things, it's a lot of looking. If you're patient, there's a lot to see. This year, I've seen over 200 species: cerulean warblers, orange-crowned warblers, Kirtland's warblers."
Forager, Steve Brill
"Near the 79th Street overpass, look for curly dock, a member of the buckwheat family; its leaves add a lemony taste to tofu or quinoa. Or pick up a few ginkgo-tree nuts; the insides, when cooked, taste like Limburger cheese and green peas. Good for soups or a Chinese stir-fry."
Plein-Air Artist, Greta Lood
"Painting in the park is best on weekdays, not weekends when it's crowded.
I like to go where it's particularly quiet: the Gapstow Bridge, the Conservatory Garden. Central Park is just this big, beautiful other world; it's like heaven. And you can see so many other painter groups around."
Forest-Therapy Guide, Nancy Kopans
"Forest therapy is not an athletic engagement, not a rigorous hike or a mountain-climbing expedition. On my walks, we cover less than a mile in three hours. I start by spending just even ten silent minutes walking across Sheep Meadow slowly — you realize there are branches of trees swaying at different speeds, insects buzzing."
Gondolier, Andrés García-Peña
"During my rides — which are $45 for 30 minutes — I like to tell passengers about how Frederick Law Olmsted actually designed the park to include gondolas. But I also like to tell them about how Bono lives in the San Remo and how Demi Moore had the top-left penthouse on the market for $75 million."
Boot-Camp Instructor, Shariff Harris
"I learned to exercise in the park after I got laid off. You can hit every single muscle on a park bench: You can do up-downs for abs, dips for your butt.
Guys sometimes think my class is too easy, but by the end, they're dying too." — M.S.
Venues & Shows
A highly curated Christmas itinerary.
See the Tree From the Fika Café
To get an aerial view with as few gawkers as possible, head to Saks Fifth Avenue: On each floor, the central window on the building's north side will give you at least a partial view of the tree; inside the Fika café, on the fifth floor, a window-adjacent table gives a perfect view of the spruce shimmering in the sun.
Tool Around With the Lady in Red
Former NBC Rockefeller Center guide Sibyl Groff now leads Christmas-themed tours, detailing the famed tree's history and the Rock's Art Deco influence and stopping at the '21' Club, known for its decades-old Salvation Army Christmas musical performances (tours $25–$75; nychristmas.com).
Train With JoJo Starbuck
Every Tuesday from October to April (except for peak holiday weeks), two-time Olympic skater JoJo Starbuck holds "Cool Workout" classes between 7:30 and 8:30 a.m. at the Rockefeller rink. Open to adult skaters of all skill levels, Starbuck's classes will help you execute figure eights and glides as well as strengthen your core.
Spot Camels on the Streets
Camels may be living props in the Radio City Christmas Spectacular's nativity scene, but every morning — usually between 8:30 and 9:30 — the starring camels and their understudies take an off-duty stroll from their Radio City Music Hall residence down 51st Street near Fifth Avenue. — M.S.
Where Rockette Samantha Berger tells her parents to sit.
"There's really not a bad seat in the house, but I particularly like the third mezz. Tickets are not that expensive, and it's great for viewing our precision choreography from a bird's-eye view. If you're more toward the edge of the aisle, you see all the digital mapping on all the walls; it feels like you're touching the ceiling. But if you want to get a more global view, sit in the center, which is seats 401 to 413.
"We have a new finale this year called 'Christmas Lights,' which features 100 drones with twinkling lights. They dance on top of the Rockettes and the band car of the orchestra. They don't go into the audience, but it feels like they do; that's why it's great to sit where you can see the formations unfold onstage." —As told to T.R.
Mapping the best (and worst) seats.
For a Knicks Game
If you go for seats in the popular 300 section, sit a little farther up — otherwise, it can get a little annoying watching people walk between the 200 and 300 levels. If you go for seats in the 200 section, the best views of the court are in the six sections that run down the court's sideline, particularly sections 211 and 224.
For a Concert
Avoid sections D, E, and F on the floor; there's no elevation, so your view will be blocked by heads. If you don't want to be on the floor, sections 108 and 116 are the next best thing — they're elevated and still close to the stage. And if the show has a main stage in the middle of the floor, sections 107 and 117 will afford you the best view.
Eating & Shopping
By Rob Patronite and Robin Raisfeld
Dominique Ansel Bakery
Let the early birds line up at the crack of dawn for a Cronut. We'll take the comparatively demure classic French pastry called a kouign amann, which combines the best qualities of a croissant and a sticky bun.
Grand Central Oyster Bar
They could serve Mrs. Paul's fish sticks in this architectural gem and get away with it, and judging by the quality of much of the stuff on the endless menu, they know it. But in addition to the remarkably fresh bivalves on the half-shell, one dish, the oyster pan roast (made with half-and-half and a dash of Worcestershire) makes up for any shortcomings. Get it, along with a lesson in culinary history, at the oyster bar, where you can watch the cooks whip it up in the fantastic vintage contraption known as a steam-sleeved swivel pot.
Great New York Noodletown
Yeah, yeah, yeah. Everyone with a hangover goes to this old, lovable late-night dive for the David Chang–approved ginger-scallion noodles. But the salty, greasy, compulsively edible "salt fish w. chicken fried rice" has a mysterious restorative zing of its own.
Katz's Delicatessen
The pastrami sandwich is why you go, but the snappy hot dogs and fat garlicky sausages called knoblewurst (old-timers know them as stukel) are consistently better. Veteran fressers order a pastrami sandwich with a frankfurter chaser.
Joe's Pizza
The quintessential New York slice-joint slice. Skip the Sicilian squares and the fresh-mozzarella slices: They don't have as high a turnover rate and thus aren't as fresh as the "plain cheese" slices, or what aficionados call "regulars."
Junior's
The name may be synonymous with cheesecake, but in the diversity of its staff, its clientele, and its menu — a mishmash of Jewish and soul and everything in between — Junior's is a reflection of today's Brooklyn. So skip the middling signature sweet and opt for some Reuben egg rolls and the unexpectedly decent jerk chicken with coconut rice and peas. Wash it all down with a hefty martini garnished with an olive-strung plastic cocktail sword.
McSorley's Old Ale House
Believe it or not, the most popular thing to pair with your McSorley's ale is a miserly plate of Cheddar cheese and raw onion accompanied by a sleeve of saltine crackers. But you can do better than that by ordering a Feltman's hot dog — the original Coney Island frank, predating even Nathan's. The recipe was recently revived by a tour guide and hot-dog historian named Michael Quinn, and the frankfurters were fittingly added to McSorley's chalkboard menu.
Minetta Tavern
The funky dry-aged $33 Black Label Burger gets all the attention, but its subtler sibling Minetta Burger is a contender. Plus: It's $8 cheaper and comes with cheese.
Secret-ish finds within the city's retail behemoths.
Century 21
"The downtown store has the best Calvin Klein lingerie. It feels like it's from a decade ago, which I love." —Batsheva Hay, designer
Bergdorf Goodman
"Their shoe department stocks Chanel ballet flats in a size 42 — perfect for my huge English feet."—Plum Sykes, writer
Bloomingdale's
"I buy my hard-to-find white Le Creuset cast-iron pots from their home department." —Stephen Sills, designer
Barneys
"The ninth floor has one of the city's best selections of high-end office supplies."—Alyssa Kapito, designer
Saks Fifth Avenue
"The XL kids' Burberry trenches fit me — they're half the price of the adult-size version." —Caroline Vazzana, fashion editor
— Lori Keong
*A version of this article appears in the November 12, 2018, issue of New York Magazine. Subscribe Now!