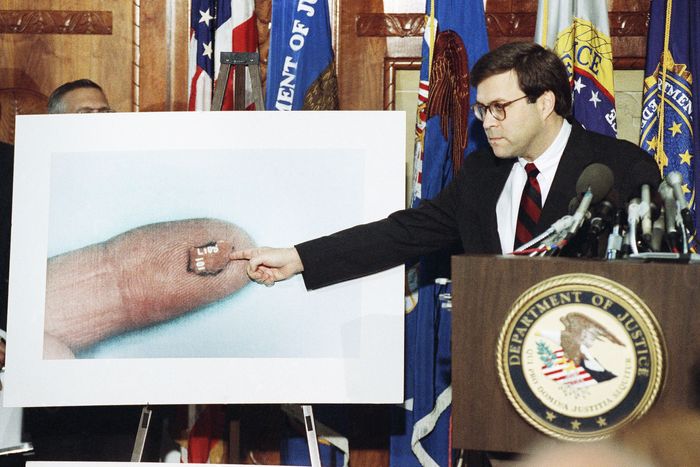 William Barr during his days as George H.W. Bush's Attorney General.
Photo: Barry Thumma/AP/REX/Shutterstock
During a week in which the media was reconsidering the legacy of the late George H.W. Bush, one of his living legacies, his second and final Attorney General, William P. Barr, suddenly emerged as the most likely selection by Donald Trump to succeed the fired Jeff Sessions, displacing acting attorney general Matt Whitaker if confirmed. Barr was a relatively young 41 when appointed by Bush to succeed Richard Thornburgh in 1991. Now, more than a quarter century later, he's still a couple of years younger than Sessions.
Initial scuttlebutt about Barr has naturally focused on hints that he's dropped about the Mueller investigation and related issues. There are a few bread crumbs lying around, as the Washington Post notes:
Barr shares at least one of the president's views on the probe being conducted by special counsel Robert S. Mueller III. In 2017, when asked by The Washington Post about political donations made by lawyers on the special counsel's team, Barr said "prosecutors who make political contributions are identifying fairly strongly with a political party" and added: "I would have liked to see [Mueller] have more balance on this group."




Barr also wrote last year that the administration's decision to fire James B. Comey as FBI director was "quite understandable" because, in his view, Comey had usurped the power of the attorney general when he publicly announced his recommendation not to charge former secretary of state Hillary Clinton during the investigation of her private email server.
That's not the only pertinent topic on which the AG front-runner appears to be pretty close to the Trumpian party line. He has also urged the Department of Justice to investigate the Uranium One allegations, a complicated bribery scheme involving the Clinton Foundation, a Russian company and the Obama administration, which is a favorite right-wing conspiracy theory. He's also on record questioning the legitimacy of independent counsels, though to be fair they were operating under much broader legal mandates when he was dealing with them.
Still, Barr was confirmed for the same gig unanimously in 1991, and senior Judiciary Committee member Pat Leahy has indicated that he might be able to muster bipartisan support now. If he is nominated, senators need to take a longer look at his record and views. At a time when there is strong bipartisan support in the Senate for criminal-justice reform, it's worth noting that as Bush's AG, he was an outspoken advocate for expanded incarceration as a weapon in that era's fight against crime and drugs:
Yes, violent crime was still at relatively high levels when he was serving in the Bush administration. But Barr doesn't seem to have evolved much in his views on crime and drugs, judging by an appreciation for Sessions's tenure at Justice that he signed on to, along with fellow conservative former AGs Ed Meese and Michael Mukasey:
Sessions took office after the previous administration's policies had undermined police morale, with the spreading "Ferguson effect" causing officers to shy away from proactive policing out of fear of prosecution …




He reinstituted the charging practices that had been used against drug dealers before 2008. 
That's a reference to Sessions's decision not to defer to the laws and policies of states that had legalized marijuana. Perhaps the only thing worse than an Attorney General who wants to bring back the War on Drugs is bringing back one of its original generals.
If you are wondering about Barr's ability to navigate the snake pit of the Trump administration, here's one more tidbit: He began his career with four years at the CIA. And then for what it's worth, there's this personal quirk from a 1992 profile:
Barr takes his favorite form of relaxation — playing the bagpipes — seriously. He takes pride in his reputation for veracity, but sometimes risks it — claiming, for example, that his wife and three daughters enjoy the pipe-playing.
Yikes.