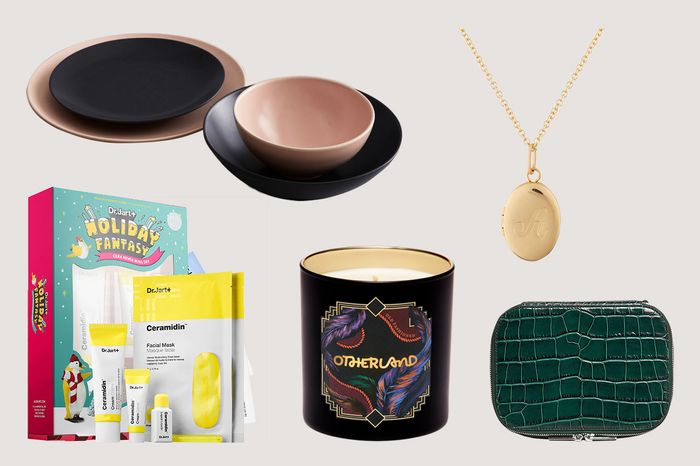 Photo: Courtesy of the Retailers
If your holiday shopping list is slowly getting longer and longer, then you might well know the feeling of wanting to throw your hands up and say, "EVERYONE IS GETTING SOCKS THIS YEAR." Socks are actually a great gift, but we get it. That's why we turned to three women with impeccable taste to find out their failsafe gifts they'd buy if they had $100 in their Venmo card balance. The combination of the easy payment with Venmo's new debit card — you can easily track purchases and split costs with friends, evenly or unevenly so no one bickers over money — and the comforting nature of a good gift has the mental effect of a Shiatsu massage. Oh, come to think of it, that would be a good gift. Read on for more of their picks, including a mix of foolproof gifts to buy solo and treat-yourself experiences where you can split the bill with your Venmo friends.
Amanda Zuckerman
Founder of Dormify, the "ultimate small space decorating destination"
Through her company Dormify, Amanda Zuckerman is helping the youths access beautiful home decor that's right for their (often small) spaces and their (also often small) budgets. You can thank her for bringing neon signs to stylish dorm rooms across America. She weighed in on best one-size-fits-most gifts this season.
Photo: Courtesy of Dormify
Pair this stylish tray with a bottle of wine, cheese, and crackers for the hostess in your life. Or a candle and a coffee-table book for a home-design enthusiast. Either will be impressed and obsessed.
Photo: Courtesy of Lululemon
As someone who's always on, these gloves – which you can text in – are must have when running around in the winter.
Photo: Courtesy of Amazon
Perfect for a friend with a caffeine addiction and a travel bug.
Photo: Courtesy of Brookstone
My go-to hostess gift. This is the best wine opener I've ever used.
Photo: Courtesy of Sephora
The best gift for your friend who loves self-care. This set comes with two masks and three other moisturizing products, so it's the perfect starter pack to kick off the new year.
Photo: Courtesy of Pop & Suki
Love this large makeup case, which can basically fit your entire collection inside. The best part is that you can get it personalized with your friend's name or initials.
Tatiana Glover
Student at The New School and founder of the online concept store Mahogany
Tatiana Glover is out here balancing the creation of a concept store with being a full-time student. Her store Mahogany has garnered praise for its commitment to uplifting young women of color. Glover crafted her list of holiday picks with three women in her life in mind: her twin sister, mother, and grandmother.
Photo: Courtesy of Framebridge
I love having reminders of special moments. This service allows you to design your own frames for your photos.
Photo: Courtesy of CB2
Celebrating a recent promotion or other good news? Have a drink or two. This wine rack is contemporary, and a great way to display your finest.
Photo: Courtesy of J. Crew
There's nothing better than a scented candle that sparks up family memories and thoughts of loved ones. This candle reminds me of winter and the holidays.
Photo: Courtesy of Tory Burch
This is the perfect mini perfume set for any upcoming travels. Looks and smells like $$!
Photo: Courtesy of Urban Outfitters
Personally, I'd give this to my twin sister. Since we find it hard to ignore our twin telepathy, I figured this cool read would help her understand her Libra tendencies.
Photo: Courtesy of Catbird
Passing down traditions and holding onto precious memories is always a must. This piece is one worth passing down to the next generation.
Laura Jung
Founder of @CityFoodie
Some people just have all the luck, don't they? When it comes to Laura Jung, that means the perfect mix of delicious food, great outfits, and scenic locations. Her account will make you hungry, want to buy a plane ticket, and ask, "where did you get that?" Lucky for you, she gave us some good recs on what to buy this season.
Photo: Courtesy of Amazon
My boyfriend gifted me with a pasta maker recently, and it turned out to be such a great gift for the two of us, pushing us to cook more and actually make one of our favorite foods ever. You'll never want to eat store-bought pasta again.
Photo: Courtesy of The Buff
My friend started this clean beauty line focusing on oils, and this specific product is customizable. I swear by face oils, especially in the cold, harsh winter. Cue glowing, immaculate skin.
Photo: Courtesy of Otherland
Another candle! The candles in this collection are cozy, funky and perfect for those who appreciate a unique design. I only recently discovered this brand, and the packaging has seriously upgraded my room.
Photo: Courtesy of Ross Florance
I dined at one of Chef Ross Florance's dinners and to this day, it has been one of my most memorable meals. Ross has worked in some of the best kitchens in New York, so everything you look for in a fine-dining meal has been perfected in this one-of-a-kind, intimate, and personal dinner experience. Your date will be thoroughly impressed.
Photo: Courtesy of Year & Day
This brand makes home goods for the design-oriented in the most minimalist, thoughtful way. Nice plates are essential for every young adult making their foray into home entertaining, and these are the perfect start.
Photo: Courtesy of Aire Ancient Baths
New York is a crazy place, and there's no doubt that every New Yorker needs to take measures to calm their mind and spirit, whatever they may be. Aire Ancient Baths combines the centuries-old tradition of thermal baths (in a beautifully, historic building) with aromatherapy and massages. They have a range of experiences for one or two people, all of which make for a one-of-a-kind experience that will make one forget they are in the craziest city in the world.
This is paid content produced for an advertiser by New York Brand Studio. The editorial staff of New York Magazine did not play a role in its creation.