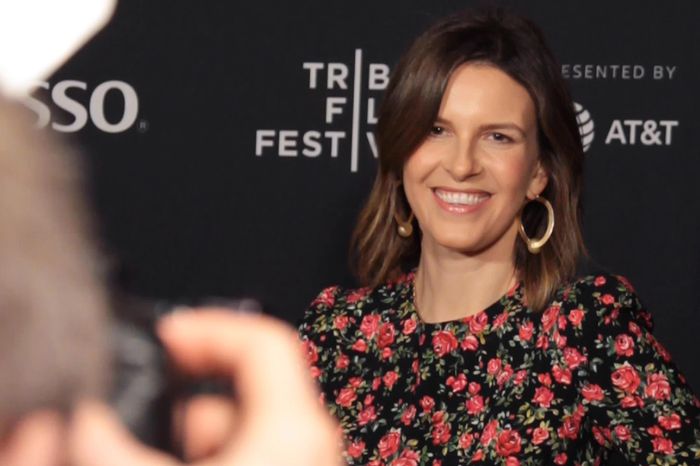 When the Manhattan institution that is the Tribeca Film Festival makes its way to Los Angeles, it's a big deal. And on March 20, Nespresso, a festival sponsor since 2017, honored TFF with a special celebration at the Nespresso Beverly Hills Boutique, where guests toasted Nespresso Diavolitto espresso cocktails in honor of one of America's most prestigious film events.
We sent television host Candace Nelson — who's no stranger to either the entertainment or the culinary world, as the founder of Sprinkles Cupcakes — to cover the action in Beverly Hills. Nelson reported on social media as TFF Executive Vice President Paula Weinstein built up hype for this year's fest. "Our gratitude goes to all of you filmmakers who are here, who make it possible for us to put on such a good festival, such a diverse festival…and you're making me very optimistic about the future," said Weinstein, who was warmly introduced by Nespresso Director of Retail Matthew Mol.
With just a few weeks to go before the 2019 TFF kickoff — the festival runs April 24 to May 5 — the Nespresso Boutique event was a chance to celebrate the next chapter in independent filmmaking, as well as the visionary creators emerging on the scene. TFF is notably becoming more diverse: Last year, out of 99 films entered for judging, 46 percent were from female directors — a record for the festival since its founding in 2002. Beyond that, the festival saw feature-film entries from 43 countries, shared with an audience of more than 140,000.
Nespresso's sponsorship of TFF goes well beyond specialty beverages and words of encouragement. Now in its fourth year, the Nespresso Talents initiative supports emerging filmmakers who work with vertical video, through funding and mentorship. The 2019 theme is "We Are What We Eat," and it's all about telling stories related to food: the care with which it's made, the people we share it with, and the cultural divides it bridges. Three winning films will be showcased at TFF in April, and the grand finalist will take a trip to the Cannes Film Festival in May.
So there was plenty to celebrate in Los Angeles' sleek Nespresso Boutique, where rare coffee blends and beverages flowed throughout the night. Nelson chatted with guests as they enjoyed specialty "Sunset Twist" cocktails (Averna amaro, sweet vermouth, Nespresso Diavolitto espresso, soda, and an orange twist), along with on-theme snacks infused with Nespresso selections. A few highlights: Nespresso Voltesso espresso pecans, passed canapés like Nespresso-crusted beef tenderloin over a Yukon Gold potato cake with horseradish and chervil, and desserts including coconut tuiles with Nespresso Intenso coffee amaretto mousse.
Nelson will be back on the scene in April when TFF begins in full and lower Manhattan's taken over by tomorrow's hottest directors, stars both legendary and undiscovered. Cheers to the creators whose stories are waiting to be told.
This is paid content produced for an advertiser by New York Brand Studio. The editorial staff of New York Magazine did not play a role in its creation.