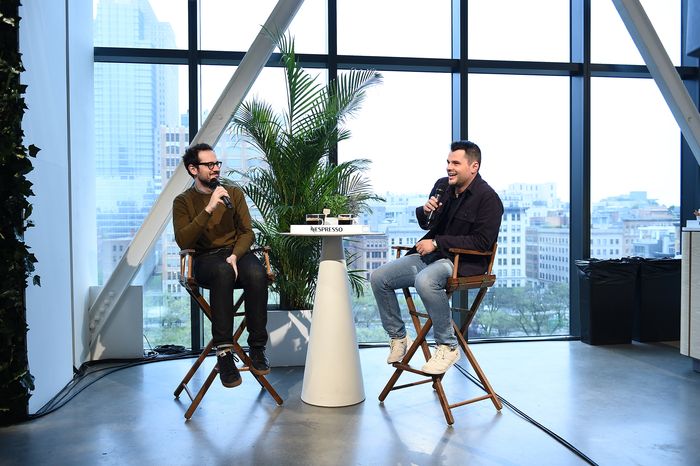 Vulture Senior Editor Jesse David Fox and Grub Street Editor Alan Sytsma talk food, TV, and food TV during the "TV Dinners" panel at the Tribeca Film Festival.
Photo: Getty Images
You are what you eat, but you're also what's on your streaming queue. In that spirit, Vulture Senior Editor Jesse David Fox and Grub Street Senior Editor Alan Sytsma sat down in conversation during this year's Tribeca Film Festival, at the aptly titled "TV Dinners" panel, sponsored by Nespresso. Introducing Fox and Sytsma, TV host Candace Nelson, also the founder of Sprinkles Cupcakes, promised: "We will unwrap the world of food television — find out what's in, what's out, and what's still good."
"When food TV is successful," said Sytsma, "you [want] to cook the thing, you want to go see the place." For guests at the April 26 event, a lively brunch affair at the Nespresso Garden and Lounge, the delicacies cooked for them included Nespresso Melozio sugar donuts, breakfast sliders with Melozio-crusted bacon, and near-endless Melozio beverages.
Nespresso, represented at the event by its U.S. Director of Communications, Jessica Padula, was a natural fit to foster this foodie chat: The brand's sponsoring a Nespresso Talents contest at TFF, supporting emerging filmmakers who work with vertical video. The theme this year is "We Are What We Eat," and it's all about telling stories related to the culinary world.
But back to foodie television. "What I watch food TV for is, if I'm going to this place, I want to know what people are cooking there," said Fox. "There are specific episodes of food shows that made me want to go to a place." Good culinary TV, according to Sytsma means: "It's actually showing you something new, instead of, 'Let's go to the same pizza place that has been on 15 shows that you and everyone in the world already knows is fantastic.'"
"Have you been to a place because you saw it on TV?" Fox asked Sytsma.
"My wife and I did a road trip around Italy," said Sytsma. "We watched every single Italy episode of Parts Unknown, and we found a very tiny vinegar producer in the middle of Italy because it was on there. We were three hours late to show up, it's pouring rain, we finally get to this place, and the guy was a very old and nice Italian man, he just looks at us and he's like, 'Anthony Bourdain?'"
Sytsma, as it turns out, also was once a Top Chef judge for a couple of episodes. "It's fun!" he said. "And weird…I felt like, I'm not really qualified to be telling anyone that their fish is a little overcooked."
"I've never been on Top Chef, but I've lived next to Ted Allen," said Fox. "That's my claim to fame. He's a great neighbor!"
There's a certain power, the two noted, that comes with thinking about food, writing about food, and especially seeking out food. Lives change, businesses stay afloat and even thrive, and in the case of lavishly filmed "food porn," polarizing figures are elevated to the realm of genius.
Take the legions of obsessive fans who, say, follow the seemingly endless adventures of a certain flame-shirted, frost-tipped celebrity in wraparound shades and track every place he's ever visited. It's not the best food, but it might just be the one enthusiastic blessing that changes an eatery's fate, Fox theorized: "If you get on, your business model's then just showing people that it exists."
It's an exciting time to be a fan of both television and the culinary arts. The proliferation and prestige of both has been a boon to daydreamers and travel fanatics alike — diverse and envy-inducing, worthy of fantasizing or planning that next vacation. It's fitting that Nespresso, a company that sits at the intersection of food and culture and welcomes discovery of the new, chose to sponsor a conversation that made guests daydream about their next delicious meal.
And besides, everybody's got to eat. Why not celebrate it?
View the slideshow below for more photos from the TV Dinners panel.

This is paid content produced for an advertiser by New York Brand Studio. The editorial staff of New York Magazine did not play a role in its creation.