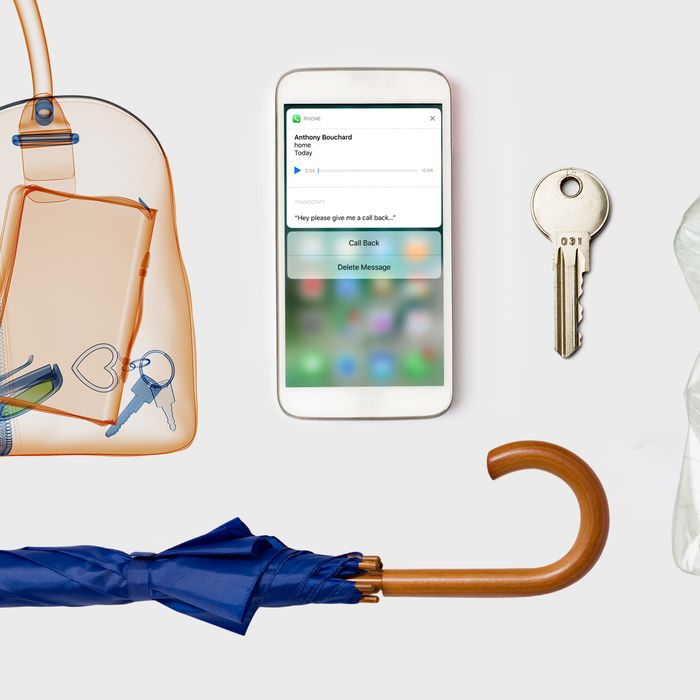 Photo: iStock/Composited by New York
The past few years have been good to the impatient-hearted: It's the age of tech-y buzzwords like "disruption" and "optimization" and "personalization," which basically means there's a lot more stuff out there to help make life easier. Thanks to advances in technology like Wi-Fi and smartphones, we've reinvented the way we shop, travel, communicate, check the news, watch TV, apply to jobs, schedule doctors' appointments — and lots more, but you get it. Still, there are always a few stragglers stuck in the past, either because they're very hard to change or, more likely, because nobody has hit the absolute breaking point and said "enough is enough." Below, a list of seven things that need to change ASAP.
Finding
an
Apartment
in
NYC
Oh, the joy that is locating, applying for, and renting an available apartment in the five boroughs, especially if you want something with "charm." Be prepared for a slew of missed calls from unidentified 917 numbers, weird applications printed from the internet, and listings that no one can believe are actually real. One nonprofit organization trying to make the process more transparent by helping renters fight injustice is JustFix.nyc. It has a tool that makes it simple to find out who owns a building and what kind of landlord they are. Plus, once you're a tenant, you can use a free app to send your landlord requests to fix things via certified mail. Don't let all the power go to your head.
Nearly
Everything
About
Cell
Phone
Services
Your phone might be shiny and new and perfectly designed for how we actually live today, but many wireless carriers tend to act like it's 1999 instead of 2019. There are so many options, so many upgrades, and so much unnecessary complication when all you really want is a phone service that is affordable, easy to sign up for, and hassle-free. Fortunately, the new phone service Visible has rethought the entire process: It's done away with annual contracts, hidden fees, and brick-and-mortar stores to create one service you can sign up for and manage on its app or website. Bonus: it's only $40 per month for unlimited data now with uncapped speeds for new and existing customers on Verizon's 4G LTE Network.
Recycling,
Especially
With
Plastic
Making sure that recyclables are actually recycled doesn't sound like too much to ask, but the life of discarded plastic is pretty complicated, and things don't always go according to plan. It's not that the whole system is a scam like some recycling deniers seem to believe, but contaminated recycling — meaning, recyclables mixed with too many nonrecyclable items — can't be processed and often ends up in landfills or even the ocean. Bleakly, about 91% of plastic sent for recycling doesn't actually get recycled. "Aspirational recycling," which is waste-management lingo for dropping a nonrecyclable item in a bin because you hope it can be recycled, is fueling a lot of this contamination.
Here's a little history lesson: The metal keys you rely on to keep yourself and your worldly possessions safe are roughly 6,000 years old (or the idea of them is, anyway). While keys have gone through a few upgrades — the big one being the move from wood to metal in the Middle Ages — the underlying mechanism remains the same. In fact, the flat, grooved keys you now know and sometimes forget have been letting people into doors since the late 19th century, and there's been little change since then. Door-locking apps have begun to appear and facial-recognition locks are in the works, but for the average home, the basic key looks like it's here to stay.
Getting
Good
Career
Advice
For all the pressure put on teens, young adults, and really any adults to find the right career, there's astoundingly little advice that's genuinely helpful. Sure, there are more "expert" blog posts and social media platitudes than you can read in a lifetime, but so little info helps people make an informed, personal decision about the day-to-day reality of a career. Plus, the best stuff is often only accessible to certain jobseekers. One organization trying to change that is CareerVillage. Its mission is to democratize job guidance and help underserved youth talk to professionals — ask questions, network, even find a mentor — long before they're locked into any one field.
Bendable, breakable, and very blow-outable, the humble umbrella regularly fails at its one job. The umbrella was first designed to shield people from the sun in ancient Egypt, and even the term umbrella comes from the Latin word umbra, which means shade. So maybe we're expecting more from umbrellas than we should. Still, the first waterproof ones appeared in China a little more than 3,000 years ago, so the kinks really should be worked out by now. For the time being, we wait, impatient and rained on, for something that's new, novel, and much more effective.
The
Very
Existence
of
Voicemail
It's bad enough when people call and expect you to answer, but receiving a voicemail after you ignore a call is a punishment that far outweighs the crime. Voicemail is a tediousness we, as a society, can no longer tolerate. And what purpose does it serve? If you call someone, they'll see the missed call. If you want to leave a quick message, you can text it. And if you want to have a conversation, be the civilized person that you are and text to find a good time to call. Goodbye, voicemail. We're hanging up on you.
This is paid content produced for an advertiser by New York Brand Studio. The editorial staff of New York Magazine did not play a role in its creation.