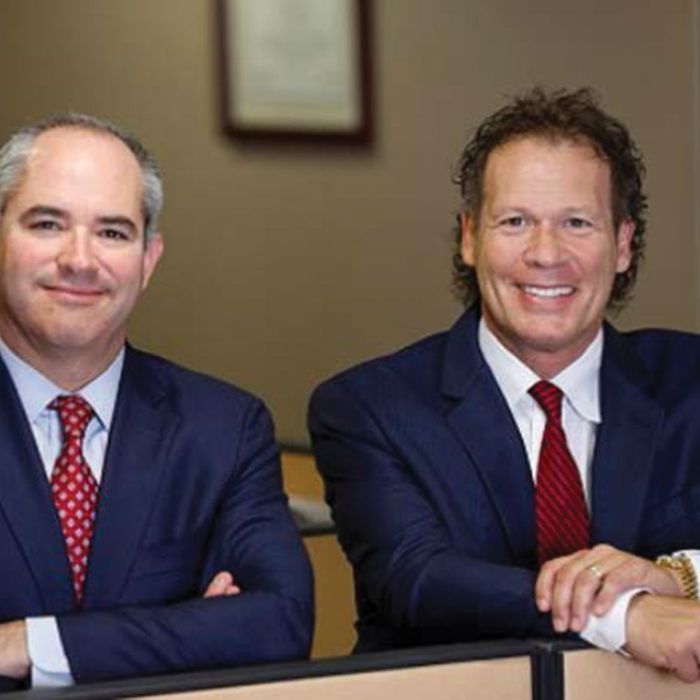 Photo: Courtesy of Douglas & London P.C.
Douglas & London, P.C. is a New York City-based law firm that advocates for those harmed by others.
Douglas & London, P.C. is a New York City-based law firm that advocates for those harmed by others. Firm founders Michael A. London and Gary J. Douglas have achieved justice for their clients against some of the largest companies in the world, and they remain committed to fighting for the underdog. Among the firm's pioneering verdicts and settlements, it achieved the first verdict in New York against the tobacco industry, one of the first verdicts in the country for a defective airbag against the automobile industry, a $690 million settlement against Eli Lilly & Co for injuries caused by the atypical anti-psychotic medication Zyprexa, and the first successful verdict in the country against Merck for injuries caused by the drug Fosamax. In addition to these past successes, the firm has achieved the following results in the last 3 years (2012-2015):
• More than $1.9 billion recovered against Bayer for women injured by the birth control pills Yaz and Yasmin: London served as co-lead counsel in the Yaz Multidistrict Litigation, and Douglas was designated as the lead trial attorney; after two and a half years of hard-fought litigation, settlement parameters began taking shape just 11 days before the first trial, led by Douglas, was set to begin.
• $9 billion verdict and $2.4 billion settlement against Takeda Pharmaceuticals for injuries caused by the drug Actos: Firm partner Stephanie O'Connor was an integral part of the trial team that won this verdict. She was primarily responsible for the expert witnesses and the development of the scientific evidence put forth by the plaintiff at trial. Following this groundbreaking verdict, a global settlement of $2.4 billion was reached with Takeda on behalf of approximately 9,000 claimants who developed bladder cancer.
• $650 million settlement against Boehringer Ingelheim for injuries caused by the drug Pradaxa: Both Douglas and London served crucial roles in the Pradaxa Multidistrict Litigation: London served as court-appointed colead counsel on behalf of all plaintiffs and was one of two primary negotiators for the entire plaintiffs' team in the $650 million settlement; Douglas, once again selected as the lead trial attorney for the first trial in the country, was one of a handful of lawyers who spent many weeks overseas battling the German company and developing much of the evidence necessary to prosecute the case. Given Douglas & London's unparalleled combination of leadership and trial capabilities, the firm is poised to further its successful track record in the years to come:
• C-8 Environmental litigation: Douglas is one of two lead trial lawyers in the first trial against DuPont over its decades-long pollution of certain water districts with C-8, a known carcinogen, in parts of Ohio and West Virginia. (DuPont has already agreed to a class action settlement of up to $235 million for medical monitoring as a result of this pollution.) London was also appointed by the court as co-lead counsel of the entire Multidistrict Litigation for over 3,500 plaintiffs.
• Testosterone Replacement Therapy Litigation: London and O'Connor are both active in prosecuting cases against various manufacturers of testosterone replacement therapy. London serves on a court-appointed executive committee charged with steering the litigation on behalf of all plaintiffs, and O'Connor is one of a handful of lawyers charged with developing the scientific evidence.
• Xarelto Litigation: The firm is representing more than 650 people injured by the drug Xarelto, and Douglas and firm attorney Lara Say are spearheading the science and liability for the thousands of cases that will soon follow. Randolph Janis, the firm's newest partner, has represented medical malpractice victims for nearly two decades, recovering millions of dollars on their behalf. Additionally, attorney Virginia Anello continues to spearhead the firm's vaccine and class action practices, with a recent $15 million settlement against Bayer for alleged consumer fraud violations. London notes "our entire team is highly respected in New York and throughout the country for its skill and experience with many on our team often recognized for their accomplishments and terrific work." Douglas adds, "No one at Douglas & London will stop until justice is served."
59 Maiden Lane, 6th Floor, New York, N.Y. 10038
PH: 212.566.7500 | FAX: 212.566.7501
www.douglsandlondon.com