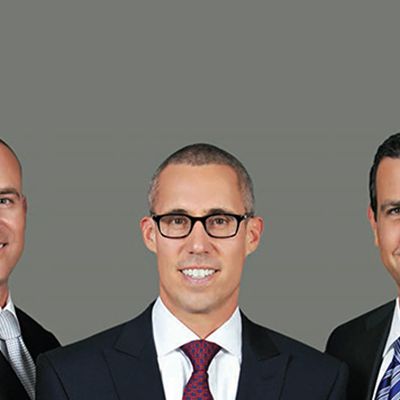 Photo: Courtesy of Hecht Kleeger & Damashek
Personal Injury
At the personal injury firm Hecht Kleeger & Damashek (HKD), every lawyer is a seasoned trial attorney who is experienced in serving the needs of accident victims and their loved ones. Hailing from some of the largest personal injury firms in New York, the firm's partners founded HKD in 1999 because they wanted to bring more personal attention to their clients' cases—something they felt could not be done at larger fi rms.
"We strive to provide unparalleled legal representation while supporting our clients through the difficulties that arise from being injured in a serious accident," says partner Jordan Hecht. "For that reason, we handle our clients' cases from beginning to end, with our goal being to obtain the highest possible cash award for each client."
Though the firm's attorneys, who have more than 75 years of combined legal experience, work in a number of different personal injury practice areas, they concentrate on construction, defective medical device, catastrophic injury, and pharmaceutical cases. Together, they have achieved more than $300 million for their clients, with an impressive track record of settlements and verdicts of $1 million or more.
"We want to win a case before it is even filed," says partner Judd Kleeger. "So when a new case comes into our office, we are already formulating our trial strategy, which involves extensive investigation, as well as consulting with the most qualified experts."
In one of the HKD's most notable cases, the firm obtained a $9 million settlement in 2014 for two brothers who were working on the exterior scaffold of a building in the Bronx when they were both struck by cement block. As a result of the accident, one of the brothers suffered an amputation to his finger, as well as an injury to his neck that required cervical fusion surgery; the other brother suffered injuries to his back, knee, and shoulder that all required surgeries.
"Our success in this case—as in all our cases—was the result of leaving no stone unturned, "observes partner Jonathan Damashek, who handled the matter. "We put all our resources toward not only the investigation, but also to the discovery and trial stages of the case; and in the process, we were able to secure a settlement that will ensure that neither of these brothers has to worry about any type of financial difficulties in the future."
Similarly, this approach helped HKD obtain a settlement valued at $8 million in 2012 on behalf of a boy who at the age of 3 suffered second- and third-degree burns due to scalding water in the shower of his apartment.
After an extensive investigation, the firm discovered that a plumbing company hired by the owner of the building had incorrectly installed a mixing valve in the boiler room of the building; this negligence meant that the hot water was not properly regulated at the time, and that the water was therefore erratic in temperature.
As leaders in their field, HKD's attorneys serve as members of the prestigious Million Dollar Advocates Forum and New York Super Lawyers, as well as in a number of prominent legal organizations, such as the American Association for Justice and New York State Trial Lawyers Association. Their expertise, combined with their firm's resources, allows them to support even the most complex cases, and they only recover a fee upon successful conclusion of a case. Damashek notes, "The greatest satisfaction I get as an attorney is handing my clients a check that fully compensates them for their pain and suffering and provides them with a lifetime of financial security."
West 44th Street, Suite 1500, New York, NY 10036
ph: 212.490.5700 | info@lawyer1.com
www.lawyer1.com