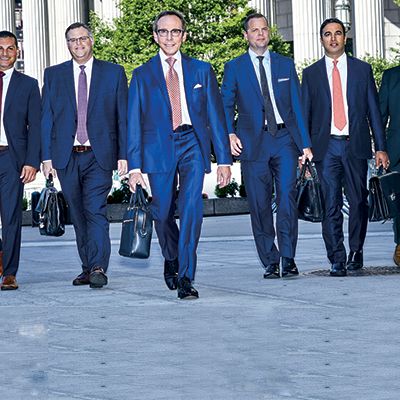 Photo: Courtesy of Swartzapfel Lawyers P.C.
Fighting For You
Schwartzapfel Lawyers P.C. is a prestigious boutique personal injury and wrongful death firm. The attorneys at Schwartzapfel Lawyers have dedicated their careers to representing those who have been seriously injured, maimed, disabled, or killed as well as their families.
Schwartzapfel Lawyers provides a superior level of client services. Results matter. They are elite. They have won among the highest verdicts and settlements in the state as reported by New York Law Journal.
Schwartzapfel attorneys' credentials and qualifications are exceptional. They have been regularly featured in Forbes, The New York Times, The Wall Street Journal, Newsday, New York Magazine, and Newsweek and recognized as a Top Rated Lawyer in Legal Leaders and American Legal Marketing. They have also been recognized as a Top 100 Trial Lawyers by both The National Trial Lawyers and The American Trial Lawyers Association. They are proud that a number of their lawyers are members of the Multi-Million Dollar Advocates Forum.
However, what Schwartzapfel Lawyers is most proud of is not the firm's many awards and accolades, nor the millions of dollars collected for clients, but rather the many hundreds of five-star Google reviews attesting to how their clients are treated like family and no longer worry about their financial future.
Some Client Google Reviews:
JOHN STRIKA, Local 806: Thanks to the efforts of Steve, Chris and everyone at Schwartzapfel Lawyers, my family is set for life. Their slogan is "fighting for you" and I can say without a shadow of a doubt, they truly mean it.
LAURA FERRANTE: Our case settled at mediation, which means no trial. It also settled with my family being taken care of for life. Everyone at Schwartzapfel, THANK YOU for taking care of us and making a VERY difficult time easier on us.
CRAIG McKEE, Local 157 Carpenters: Steven Schwartzapfel and his team took care of my case and they saved my life for all intent purposes. I am forever in Schwartzapfel Lawyers' debt.
CAROLYN GALATI: There are not enough words in the dictionary to describe the outstanding, caring, compassionate, professional work done by Schwartzapfel Lawyers. Mr. Steve Schwartzapfel I also must thank you for not only being such a wonderful caring person but for hiring the best.
GARDEN CITY, NY
600 Old Country Road, Suite 450 Garden City, NY 11530
PH: (516) 342-2200 FX: (516) 342-2400
FightingForYou.com­