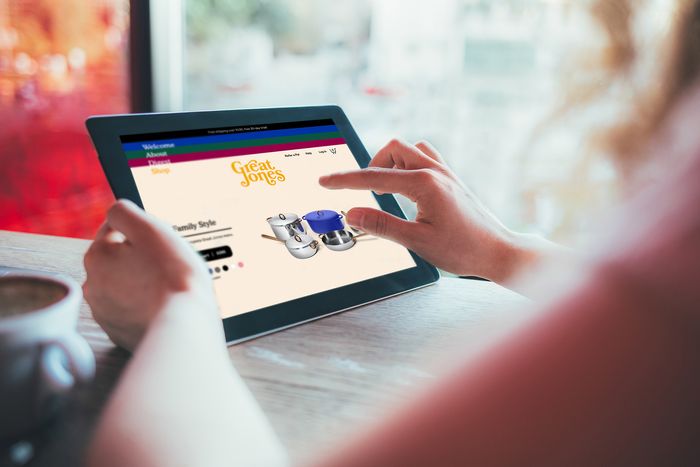 Photo: Getty Images/Composited by New York
E-commerce is a massive industry, and it's only getting bigger. Sales are expected to double between 2019 and 2020, going from nearly $2 trillion to over $4 trillion. Yet it's also a risky business, and failure is not the exception but the norm. If you're launching any kind of online store, it's vital to know what separates those that succeed from those that don't. Two women who've considered that question are Maddy Moelis and Sierra Tishgart, co-founders of the year-old kitchenware company Great Jones.
The childhood friends spotted a hole in the direct-to-consumer market in early 2018. Within months, they quit their jobs — Tishgart was a senior food editor at Grub Street — to create high-quality, design-minded cookware and sell those wares exclusively on-site. A year after launching, they've raised over $3 million in seed funding, garnered plenty of press, and sold enough pots and pans to not only stay in the game but also expand their initial five-piece line. We asked what they thought great e-commerce businesses do, and they said it all boils down to the four things below.
Offer More Than Shopping
Like many small e-comm businesses, Great Jones only launches new products a few times a year. If its site were purely a transactional space, months would stretch out between updates. To keep it fresh and exciting, the brand publishes recipes as well as articles about how foodie friends cook at home. "Our editorial lives alongside our shopping-focused product pages," says Tishgart. "[It] exists, first and foremost, to educate, entertain, and stir emotions, but it also causes visitors to stay on our site longer and visit more frequently."
Make the Mundane Unique
No matter how innovative a brand is, all e-comm stores are utilitarian in nature: They are shoppable sites that display inventory. "Communicating product features is where things can get a little dry, which is why we brought on an artist to help to illustrate our product features," says Tishgart. "This brings joy and warmth to our shop pages while informing people about what makes our designs special and differentiated."
Communicate Clearly to Customers
It may sound obvious, but if you've ever waded through a store's FAQs only to not find the answer to your question, you know how vital it is for customers to be guided through an e-comm site. "At the point when someone has browsed our website and is ready to make a purchase, our goal is to provide them with all the information they need to have a seamless checkout experience," says Moelis. This not only means product details, shipping timelines, and return policies need to be prominently featured, but also that customer support has to be easy to find and responsive. Great Jones customer service is always on, aiming to respond to inquiries within an hour.
Follow Up — and Follow Up Again
Transactions don't end after orders are shipped. This is why Great Jones keeps the relationship going. "We send recipes and product-care guidance specific to the products they've purchased," says Moelis. They also ask customers about each purchase twice: There's a quick check-in shortly after they receive an item and a more directed feedback survey after they've had time to use it thoroughly. It's not only a way to stay at the top of customers' minds, but it's also an opportunity to receive feedback that can shape new products and the future of a brand.
This is paid content produced for an advertiser by New York Brand Studio. The editorial staff of New York Magazine did not play a role in its creation.