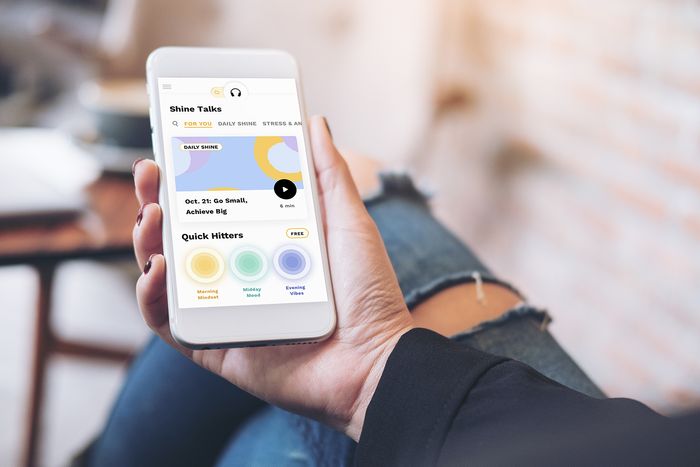 Photo: Getty Images/Composited by New York
There are a seemingly infinite number of apps — so many that creating one can be dismissed as easy. But anyone who's launched a major one knows that few independent apps break through the din to attract millions in both users and venture capital. One that's done just that is Shine, a self-care community that started as a weekday text-message service in 2015 and has grown into a VC-backed app with millions of users.
Naomi Hirabayashi and Marah Lidey are the two women behind Shine. They became fast work wives seven years ago while working at another company, relying on each other for advice on everything from their credit score to their relationships to their roles as managers of large teams. Self-compassion was a joint self-improvement project, and practicing it daily helped them both feel less alone in navigating the ins and outs of adulthood.
Their friends noticed — "You're so lucky to have each other" was a common refrain — and Hirabayashi and Lidey realized there was a gap in the self-care space. So in 2015, they set out to create a tool that would scale the support they found in each other for women around the world. Today, they're co-CEOs of Shine, which now counts 4 million users in 189 countries. We spoke with the duo to find out what it takes to build, launch, and run a successful app from scratch. Here are five things they say are key.
Listen to Your Users
Beyond the original text service, the idea for the app came from users saying they wanted more. "Users wanted more ways to interact with Shine, more ways to go deeper into certain things they were working on, and more ways to make Shine part of their daily lives," says Lidey. "That's what inspired us to create this audio app to give our users more of what they wanted in a new form."
Test, Test, Test — and Don't Fear Feedback
Hirabayashi and Lidey made it a point to check in with users every step of the way. "We wanted to make sure the 'more' we were giving them in the app would fit into their lives. It's easy to build a product in a vacuum — and it's definitely nerve-wracking to put test versions in front of users and get their feedback, especially when it's not positive," says Hirabayashi. But they knew feedback was crucial to ensuring the app they were creating would actually excite the people they were building it for.
Trust Your Team
"When we were building the app, we were also building a company at the same time — securing our office space, expanding our team, developing our office culture, and fundraising," says Lidey. "We couldn't put all our focus into the app 24/7, and that's where trusting our team proved so important." It wasn't easy at first, but they knew it was critical to be able to step away and trust that everything would keep moving forward.
Done Is Better Than Perfect
"If we waited to launch the Shine app when it was fully perfect — well, the app still might not be out," says Hirabayashi. "We had to accept that getting a first version of the app out to our users was more important than getting the most 'perfect' version of the app to our users." This gave them the opportunity to not only keep iterating but also co-create the app with members who were able to provide real-time feedback.
Go Big — and Go Home
Launching any product is a lot. For Hirabayashi and Lidey, it was a lot of time, work, 2 a.m. food deliveries, and stress. "We realized early on that if we let the app take over all parts of our lives, we wouldn't have the energy or mindset we needed to build the app," says Lidey. Their solution was the mantra "go big and go home." This means they are 100 percent focused and efficient at work, but home is for resting and disconnecting. "We know that nothing works if we don't as co-founders, so we give ourselves permission to take breaks," says Lidey.
This is paid content produced for an advertiser by New York Brand Studio. The editorial staff of New York Magazine did not play a role in its creation.