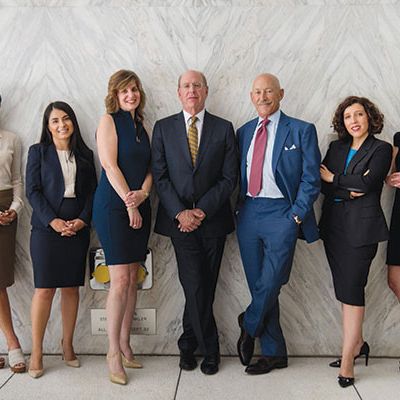 Photo: Courtesy of Garr Silpe, P.C.
Premier Divorce & Family Law Firm
Garr Silpe, PC is regarded as one of the premier matrimonial law Firms in the country by lawyers and judges alike. We possess extensive experience in all respects of matrimonial and family law. Led by Ira Garr and Steve Silpe, our attorneys provide sophisticated client services in divorce, child custody, child support, equitable distribution of property, paternity agreements, prenuptial and post-nuptial agreements, matters involving same sex marriage, litigation of all matrimonial and family law matters as well as mediation.
We also specialize in matrimonial appeals, often handling these matters for other law firms. Our firm represents many high net worth individuals and celebrities in highly contested, litigated, and non-litigated matters. Garr Silpe, PC is proud to have been listed in U.S. News and World Report Best Lawyers "Best Law Firms in America". Our lawyers have been AV Preeminent® Rated by Martindale-Hubbell and are listed in both New York Super Lawyers and Rising Stars. Every client who retains us is in a unique situation and we approach each case from a client-centric perspective. Because these moments in life can be very emotional, stressful and unpredictable, we respond quickly to crisis and are skilled at fluid case management. It is our firm's policy to be available to clients virtually around the clock if the necessity arises.
777 Third Avenue 32nd Floor New York, NY 10017
Phone 212-750-1333
Fax 212-480-2978
GARRSILPE.COM