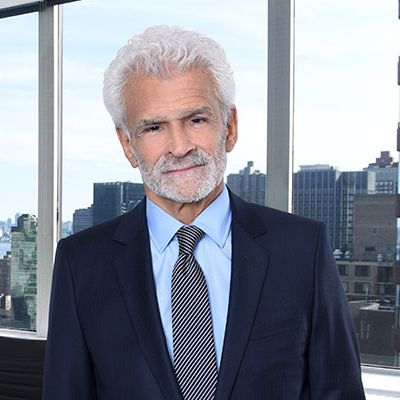 Photo: Courtesy of Morelli Law Firm
Experience Meets Results
Benedict Morelli is no stranger to a challenge. When clients approach him with a complex case, often against a large company with significant resources, they know he will deliver. And that's because his results speak for themselves. The New York-based attorney and his namesake firm have a track record of obtaining record-setting verdicts and settlements, totaling more than a billion dollars.
From celebrity clients to consumer class-action suits, Mr. Morelli and team have built a firm capable of handling all forms of civil litigation. Particular areas of strength include personal injury, employment discrimination, auto and truck accidents, medical malpractice, and construction related injuries, among many others.
"We have significant experience across a wide variety of practice areas, said Mr. Morelli. "That background empowers us to take on any case where a wrong  has been done, helping our clients achieve justice."
In perhaps his most high-profile case, Mr. Morelli represented Tracy Morgan in the comedian's 2014 personal injury suit against Walmart after one of the company's trucks struck Morgan's limo, injuring him and killing his close friend. Mr. Morelli negotiated  an undisclosed settlement with Walmart in the case—Walmart being just one of several Fortune 1000 companies he has successfully litigated against over the course of his decades-long career.
Mr. Morelli's expertise, however, is not limited to celebrity cases. In 2011, he represented a plaintiff in a suit against lease-to-own company Aaron's, securing a $95 million verdict in what was the largest single-plaintiff sexual harassment verdict ever. The firm also helped negotiate the largest rail passenger settlement in US history ($265 million) after an Amtrak train derailed outside of Philadelphia in 2015, leaving eight dead and more than 200 injured. This result would not have been possible without the firm playing a crucial role in persuading Congress to raise the $200 million cap on damages.
"Our work on the Amtrak case was particularly rewarding," said Mr. Morelli. "We were able to fight to get those victims what they needed and deserved, while setting a new precedent for future cases."
The firm recently brought suit and resolved a case against MGM on behalf of seven-year-old Zynae Green, who suffered severe brain damage after being electrocuted while touching a public handrail at the MGM National Harbor Hotel & Casino in Maryland.
Zynae's family, like all of his clients, depended on Mr. Morelli to secure them justice and the compensation they required to move on with their lives.
Other case work includes representing hundreds of women in litigation against Johnson & Johnson for ovarian cancer allegedly caused by talcum powder in the company's products, as well as previously representing tennis star Genie Bouchard when she sued the United States Tennis Association (USTA) for an injury she sustained at the US Open. The firm has also been retained by several families across the country in truck accident cases where the victims suffered catastrophic injuries.
"Just because a company is profitable and powerful does not mean it shouldn't be held responsible, noted Mr. Morelli. "That's exactly what we do for our clients - hold companies accountable"
777 Third Ave, New York, NY 1001
7PH: (212) 751-9800
www.morellilaw.com