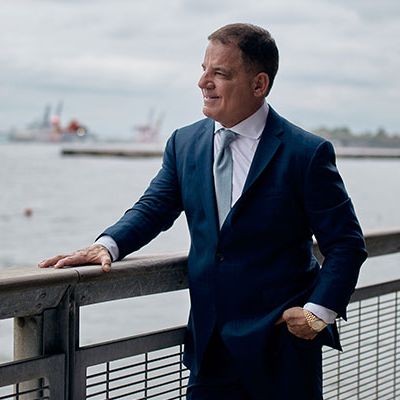 Photo: Courtesy of the Law Offices of Michael P. Lamonsoff
Michael S. Lamonsoff The Relentless, The Formidable, "The Bull" & His Philosophy of Winning
Michael S. Lamonsoff, Esq., founder and principal of the Law Offices of Michael S. Lamonsoff, PLLC is known by his clients as "The Bull". He has been fighting for the rights of those who have suffered from the negligence of others for over 25 years. They call him "The Bull" because he refuses to stop fighting for their rights until he reaches the ultimate victory for them. While the majority of cases settle, Mr. Lamonsoff believes in preparing every case for trial. He knows that the defendants are terrified of losing control of the settlement process to a sympathetic jury at trial. Accordingly, Mr. Lamonsoff takes the control away from the insurance companies by swiftly and aggressively litigating every case as if it was going to trial. That is why defendants overwhelmingly offer his clients settlement amounts far in excess of what they expected they would have to.
What do Mr. Lamonsoff's clients say about him?
Mr. Lamonsoff consistently ranks as one of the highest rated New York City personal injury attorneys on premier online lawyer ranking services. His clients' in their published "five – star" reviews affirm his standout abilities and he and his firm's "over the top" handling of their cases.
Michael Lamonsoff in the News
Mr. Lamonsoff is often called upon by local, national, and international news outlets to provide commentary on trending legal issues as well as the high-profile cases he litigates. His peers have elected him as one of New York's "Super Lawyers" and to serve on the New York State Trial Lawyers' Association's Board of Directors. As a result of his firm's many million dollar and multi – million dollar settlements and verdicts he has been inducted into the prestigious Million Dollar and Multi-Million Dollar Advocates Forum. His firm has been consistently featured in the legal publication, "VerdictSearch's Top New York Verdicts."
A team of Fighting Litigators at the Law Offices of Michael S. Lamonsoff, PLLC.
Mr. Lamonsoff has assembled a highly experienced team of aggressive trial lawyers, paralegals and paraprofessionals driven by the same goal: to make sure the firm's clients acquire the highest award possible.
The Law Offices of Michael S. Lamonsoff, PLLC has a track record that speaks for itself. It includes some of the largest personal injury verdicts and settlements in New York history.  We have won over $500 million dollars in personal injury awards for our clients. He has built one of New York's largest and most successful personal injury law firms concentrating on construction accidents, sexual abuse, building liability, and commercial vehicle accidents as well as other personal injury practice areas.
The firm is well known for winning some of the highest multi - million dollar verdicts and awards on behalf of injured construction, demolition and renovation workers in New York.  His firm is expert at using the powerful laws passed by New York State to protect these workers.  These laws punish the owners of worksites who choose speed over safety.  His firm hits these companies where it hurts them the most; their wallets.
In addition, Mr. Lamonsoff has won some of the highest and record-breaking settlements and verdicts on behalf of Sexual Abuse Victims.  He is especially sensitive and aggressive in fighting for these victims.  Mr. Lamonsoff was awarded two post-graduate degrees in psychology from Columbia University.  He has counseled victims of sexual abuse and litigated their cases.  This combination of sensitivity and record - breaking monetary awards, gives his clients some form of justice and closure to their horrifying experience.
Just last year, Mr. Lamonsoff, and his firm won a $16 million verdict on behalf of a child who was sexually molested by her teacher at a New York City school. The attorneys for the city, with their arrogance and unsophisticated knowledge of the consequential suffering of victims, ultimately offered a mere $350,000 settlement. The firm quickly rejected the city's offer and won one of the highest verdicts ever obtained for a victim of molestation.
This case is just one of the firm's latest great wins for sexual abuse, rape and sexual molestation victims. For decades, the Lamonsoff firm has been at the forefront of fighting on behalf of these victims.
More Noteworthy Verdicts and Settlements
From securing a New York State record settlement of nearly $12 million for a client who spent 18 years in prison for a crime he did not commit, to obtaining another record verdict of $16 million against the City of New York in a sexual molestation case, The Law Offices of Michael S. Lamonsoff has established itself as one of the leading New York City Personal Injury Law Firms.  Just recently, days before trial, the firm obtained a settlement of $6.5 million verdict for an injured construction worker and was awarded over $8.1 million for several claimants against a public transportation carrier in a train derailment case.  The firm has also obtained a verdict of $5.5 million awarded to a construction worker who was injured when a wood bracing collapsed on him while exiting a ditch, resulting in spinal injuries. The law firm has also obtained $4.75 million verdict awarded to a construction worker who was injured when a concrete slab fell and struck him resulting in multiple injuries.
Recent Verdicts & Settlement
$16 Million Award
Sexual Molestation Case
$12 Million Award
Wrongful Conviction Case
$8.1 Million Award
Train Derailment Case
$6.5 Million Settlement
Injured Construction Worker
$5.5 Million Award
Injured Construction Worker
$4.75 Million Verdict
Construction Worker Accident
The Law Offices of Michael S. Lamonsoff
Financial District, 32 Old Slip - New York, NY 10005
(212) 962-1020 | msllegal.com