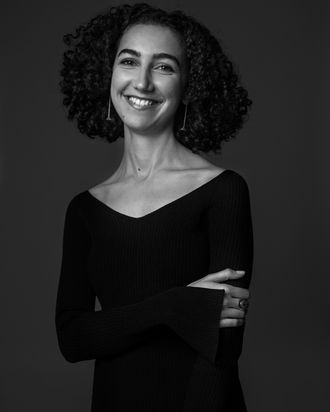 The team of journalists at New York works hard to bring you conversation-starting stories. But who exactly are these editors and writers? Get to know them with a New York Minute, our interview series where we ask staff about their lives and their careers. Next up: the Cut's fashion news writer Emilia Petrarca.
You run an Instagram account that features "Every Outfit on The Sopranos." Give us your quick take on The Sopranos fashion. Why is it worthy of our attention (and devotion) today?
The characters on The Sopranos are often written off as "tacky" or "gaudy," with their gold jewelry and loud prints, like they don't know what they're doing. They have so much personal style, though — more than someone who's just following trends. The way they dress feels really powerful and authentic to me. Plus, they're acutely aware of brands like Manolo Blahnik and what makes a quality Italian suit. (Even if they're getting them under the table …)
You joined the Cut in 2017 to report on the fashion industry. What can you tell us about the driving questions that guide your work? 
What makes the Cut unique is its voice — we speak to women (and men) in a way that feels real, as opposed to traditional fashion-magazine-speak. When I'm writing about a runway show, or a trend, I'm asking myself: How does this relate to my life? To my friends' lives? To my mom's life? I try to bring fashion down to earth, while still celebrating the fantasy of it all.
You just returned from three (!) Fashion Week tours, in New York, London, and Milan. Can you take us through one day of covering Fashion Week?
Milan was very exciting this season. Prada announced that Raf Simons would be joining the brand as co-creative director, which is an unprecedented move in the fashion industry. That news broke the same day that everyone started freaking out about coronavirus, specifically in Italy. I had to bring my computer around with me everywhere, from shows to appointments with brands. (We do these things called "re-sees" to see the collection up close the next day.) Of course, I made time for pasta. Twice.
What's an average, non–Fashion Week–related day like for you?
The first thing I do when I wake up in the morning is check my phone to make sure no fashion designer died, or quit, or said something racist while I was sleeping. I then move on to better things, like checking Daily Mail and "Page Six" for fun paparazzi street-style photos. I try to get one newsy post up in the morning, then I go into the office and work on something longer, maybe a reported piece. By the end of the day, someone in fashion has inevitably done something wonderful, or shocking, or terrible, so I write about that before going home.
If you didn't work for New York, why would you subscribe?
New York Magazine has been on my coffee table since I was a kid. I remember picking it up and being like, "Oh, news can be fun!" It's the only place I've ever wanted to work, and one of only magazines I continue to subscribe to.
What has been the greatest factor influencing your style over the years?
Something the fashion designer Norma Kamali told me once is that the way you dressed when you were young, when no one was looking, is your true style. That really hit home for me because I used to wear mostly boys' clothing when I was in elementary and middle school. I also always admired the way my dad dressed. He wore a lot of black, and taught me about quality over quantity. Working in fashion, I want an entirely new wardrobe four times a year, so I try to remember my roots.
Currently, what's an unpopular opinion you have on something popular?
Fringe has been all over the runways this season and I really, really passionately hate fringe. It stresses me out because I feel like it's going to get tangled. I think it looks messy. The only time it works is when you're dancing.
You can follow Emilia on Instagram.
Keep Up With New York
For only $5/month, you'll get unlimited digital access to New York, home of the Cut, Vulture, Intelligencer, Grub Street, and the Strategist. Your first month is free.