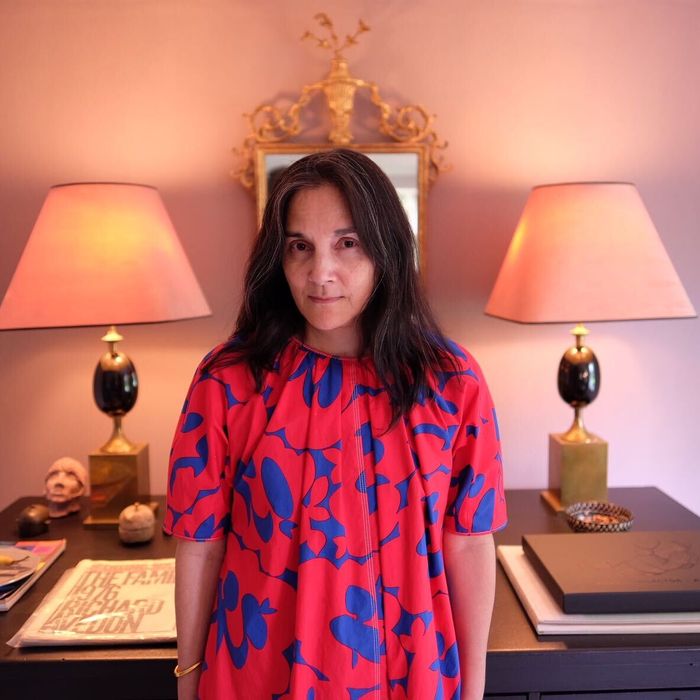 The team of journalists at New York works hard to bring you conversation-starting stories. But who exactly are these editors and writers? Get to know them with a New York Minute, our interview series where we ask staff about their lives and their careers. Next up: director of photography Jody Quon.
You joined New York Magazine in 2004 as photography director. What can you tell us about the driving questions that guide your work? 
I am always looking for the new, new, new. New photographers, new ways to shoot subjects or ideas that are otherwise familiar.
What's one recent cover you're especially proud of? What's the story behind the image (or lack thereof)?
Lone Naked Cowboy and police officer on a horse in empty Times Square, photographed by Alexei Hay. Alexei rang me in March, shortly after the lockdown, with the idea of shooting classic portraits of the empty city from the elevated perspective of the top of a double-decker bus. The bus would take him all over the city, and he would shoot large format. We couldn't get our hands on a bus, but we did secure a truck with a cherry picker.
Alexei shot many versions of Times Square for this assignment and almost didn't send me this frame with the cowboy. He questioned the value of the presence of the cowboy in the frame, and when we talked about it we concluded that in fact it was the cowboy that made the image so interesting. These conversations with photographers, photo editors, designers, editors are always so gratifying and enlightening. There is no ceiling to how much you can learn from each other.
Prior to joining New York, you worked at Comme des Garçons and The New York Times Magazine (under former New York Magazine editor-in-chief Adam Moss). When Adam took the helm at New York, he asked you to join him as photo director. How is the magazine changing under David Haskell's leadership?
I would immediately say not that much. The DNA of the magazine remains the same, with some renovations/redesigns here and there. This is normal stuff. Adam was constantly thinking about how to rethink various elements of the magazine and website the whole time he was here. But really, I am most impressed with David's leadership. He is a great listener, encourages fruitful discussion, is very trusting, and can pinpoint people's strengths to the advantage of the whole enterprise. One year in, and here we are in lockdown. He has exercised great judgment and continually feeds us constructive encouragement to lean into this incredible moment. I want to do my best work for him, so I guess he is doing a great job!
Following the devastation of Hurricane Sandy in 2012, you directed one of New York's most iconic covers, a helicopter image of the city veiled by darkness. Today, New York is the center of a different kind of crisis. How has your art direction shifted to meet the demands of the coronavirus pandemic? 
This has been evolving. We are in large part doing the same thing we always do, with slight differences. Crises are hard, but they are also extraordinary for journalism, and I have been fortunate to have worked with amazing teams during 9/11 and Hurricane Sandy. That said, neither of those historic events had any impact on how we covered our stories in the way that this pandemic has. We were not in isolation! The question of remote portraiture has been interesting to think about. "The Look Book" is a simple example of how we have shifted. We figured out how to make very detailed tutorials for self-portraits. This has been fun to do. Before each shoot, we determine what the environment will be, what the wardrobe should be, and then we find a sample photo that best illustrates what we are looking for. And then we annotate it so that the assignment is essentially foolproof. Our maiden experiment was the Broadway series, and we were floored by the results.
We are also figuring out different ways to shoot remotely. The whole exercise is refreshing. This new world eliminates the unnecessary and expensive financial baggage of catering, styling, studio rental, and even equipment (!) most of the time and brings us back to our roots. I also love that the geography factor has been eliminated as well. We shot Thomas Piketty in his Paris apartment last week while I was in my home in Long Island and the photographer in his apartment in New York City. And finally, we just completed an amazing shoot with pop star Kehlani, and it is even better than a classic celebrity portrait session, which usually involves the publicist standing between us and the subject, watching over every move. Here we have pure intimacy, which is what it should always be. This whole rethink is changing by the day — and will have inevitably evolved further once this piece is published.
Logistically speaking, how do you source photos during a pandemic?
There are photographers shooting everywhere, as it turns out. The internet is gold.
Has quarantine changed photography for the long haul or do you think it will resume as it was?
I think it will probably resume as it was. Once we go back to normal — who knows when that will be — people will probably very quickly revert back to their old ways. That said, this is a good moment to use the restrictions we do have to think harder about what makes an interesting photo and lean into this to continue to push the boundaries.
If you didn't work for New York Magazine, why would you subscribe?
Because the magazine tells stories I want to read about, with a point of view that is in line with how we naturally think. It is unafraid to ask the questions or surface the issues that matter most.
You're notoriously organized. What are some life hacks you swear by?Household cleaning supplies in a hanging shoe rack — I got tired of fishing through deep, dark cupboards, and now it is all available at a bird's-eye view.
Burning Papier d'Arménie after dinner to cut away the cooking odors. I also add them to my lingerie drawer.
All sheets are white and the same. Every bed owns two sets of sheets, and sheets are stored in each bedroom to avoid confusion. This is great for guests, who can simply strip and remake the bed very quickly with the spare set.
Recycling glass jars and plastic food containers — I soak all my used glass condiment jars in warm water to remove the labels and reuse them for spices and salts. The plastic food containers from delis are the best for prep ingredients and leftovers because they stack so easily, and I just label them with blue painter's tape.
Santa Maria Novella herbal spray to scent drawers and keep moths away.
Food scraps get tossed in the yard every day. Our local farmer advised that as long as we limit the ingredients to anything that comes out of the ground, void of any oils or cooking additives, that you can just toss in an out-of-the-way area and the animals will not come. You can also add eggshells. We have been doing this religiously for two years, and it feels great to give back to the Earth.
This is just a sampling, but you get the idea by now. I like to take care of things around me, at home and at work. Oddly, keeping busy with chores is very meditative and relaxing for me. These rituals give me a sense of a home that is safe and clean and warm and welcoming, for my family (who know I am odd but love and accept me for that) and for my guests, who know they will always walk into an immaculate home and be greeted with a home-cooked, multicourse meal with ironed Ikea napkins and endless chatter all night long until they climb up to their bedroom lightly scented by a Tocca Candela to find a tray with a pitcher of ice water covered in Saran Wrap with two water glasses, and a bed with crisp, white, ironed sheets that, when their visit is over, they will then strip and remake with the second set found in the bedroom closet.
You can follow Jody on Instagram.
Subscribe to New York
For only $5/month, you'll get unlimited digital access to New York, home of the Cut, Vulture, Intelligencer, Grub Street, and the Strategist.