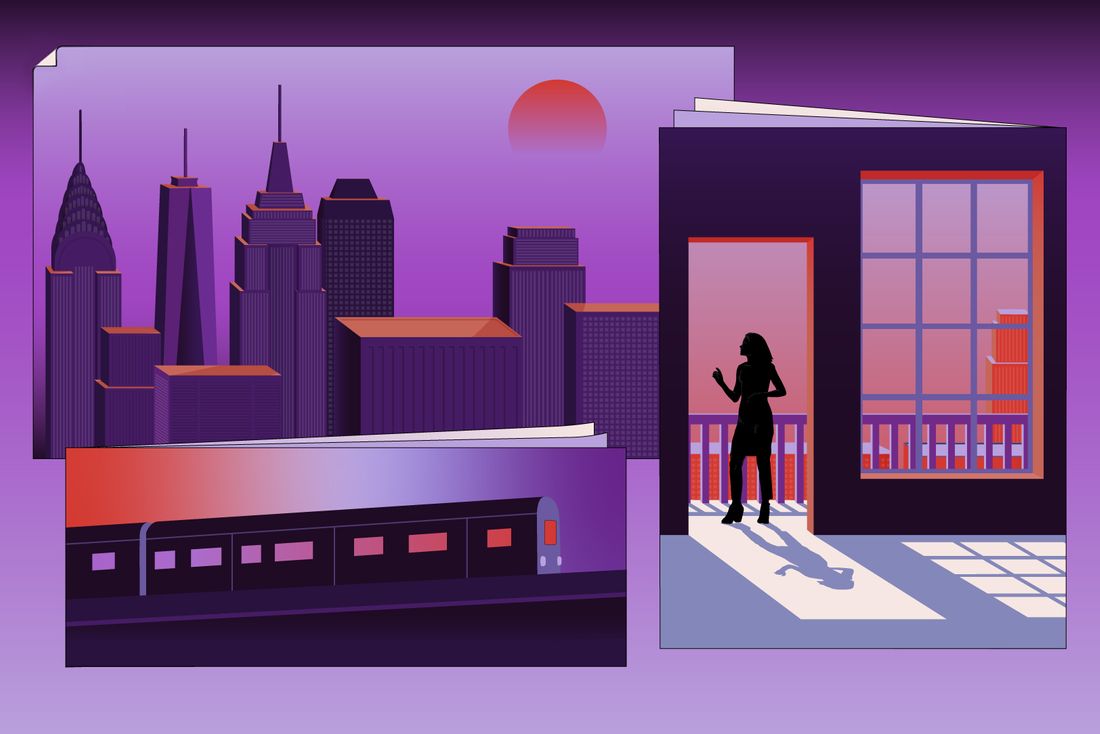 Illustration: Ashlie Juarbe
The journey to find the one is never a straight line. Along the way, there are detours and dead ends, humorous miscommunications and devastating heartbreaks, nights spent out on the town and nights spent in with a bottle of wine and friends sharing dating woes. And who would want a straight line, anyway? The joy of finding lasting love is in that journey, which teaches us the lessons we need, prepares us for the better things yet to come, and helps us grow into a more full-fledged version of ourselves.
That journey — in all of its twisty, turny glory — is depicted in Love Life, a new romantic comedy anthology series now streaming on HBO Max. Love Life follows Darby (played by Anna Kendrick) on her own journey, with each episode telling the story of a relationship from start to finish — whether it lasts for months, years, or just one night. Darby's search for love in New York City involves every part of a good romantic journey: fun parties and karaoke nights with friends, relatable break-ups and heartaches, and genuine moments of self-discovery along the way.
In that spirit, we've compiled five love stories from real-life New Yorkers like Darby, whose romantic misadventures have led them to find lasting love. That love comes in all of the various forms that love can take, from friends and romantic partners to self-love, too, helping them grow into a better version of themselves. Darby would approve.
Shortly after moving to New York City, Remy joined a dating app even though she "wasn't really in a relationship headspace." She quickly matched with Joshua, who was cute and South African (just like her family), and the pair started chatting. Two weeks later, he got up the courage to ask her out — and got no reply. "I vividly remember being at my office, late at night, and seeing the text and being like, 'Ugh. I do not have time to reply to this right now. I'm so busy, I'll reply later.' I ended up ghosting him," Remy recalls.
A year later, around 50 of Remy's relatives came in from South Africa for her sister's wedding, which took place just three weeks after her mother had passed away. A group of her cousins went to Central Park to meet up with their friends, who were playing soccer in the park, and Remy and her sister (and her sister's dog) tagged along. "We met up with this group of guys, who were all from South Africa," she says. "It was pretty awesome to be there and be the only single girl." The dog started chewing on the soccer ball, and Remy jokingly apologized to one of the boys, who she noticed had been staring at her the whole day. ("He later said he was trying to figure out who I was, but I think he already knew," she says now.)
About a month later, she downloaded a different dating app and the boy from Central Park popped up. "In my head, I thought, 'You know, I'm really not trying to date right now. My mom just died, I just need some time to myself,'" she says. "But he was so cute, and when I read his message, he said we had met in the park." She gave him her number, and when he texted her, all of their old texts showed up — the boy in the park was the same Joshua she had ghosted a year prior.
The two finally went on their first date, to dinner in the West Village. Years later, they've moved in together, and have a cat who loves to play with the same soccer ball from that day in the park. Though she still doesn't recommend ghosting, Remy knows that her dating mishap was the thing that led her to lasting love. "I really think my mom sent him to me," Remy says. "It was just really beautiful how it worked out."
What's more New York than the subway? Miriam was reading a book on the B train early one morning, on her way to return a package, when she spotted a man leaning in the doorway across from her, looking at her with a sweet smile. "I smiled at him and he smiled at me," she recalls. "I went to read my book, like a normal passenger, but I kept kind of glancing up at him and he was looking at me." Trevor, that smiling stranger, says that morning on the train, he saw "this young lady with gigantic eyes and curly hair" and knew he had to make a move.
"I had no success ever in my life actually talking to a woman on the train," he says. "New York women — they're savvy, they have their guard up, they don't talk to strangers." Instead, he decided to pass her a note on his business card, which contained all of his contact information. He enlisted the help of an elderly woman on the train to pass Miriam the note, but it didn't go according to plan when, loudly, in front of the whole train, the woman remarked: "He wants me to give this to you. Do you know him? Do you want it?"
Despite the unusual delivery, Miriam accepted the note, which said that Trevor thought she was "adorable." Trevor made a smooth escape at the next stop, right after handing off the note, and Miriam emailed him later that day. Two years later, he used their meet-cute as inspiration for his proposal, hiring a friend's acapella group to serenade him and Miriam with a love song on the subway before getting down on one knee on the train. Forget the rats and the crowded cars — the subway can bring lasting love, if you know where to look.
The
Friends
We
Make
Along
the
Way
When Rose* first moved to New York City, she went out to drinks in the East Village with a few guys she had met through work. While at the bar, one of them bumped into a friend, who invited them all upstairs to a party he was hosting. "One of the guys was super cute, and one of those people who is flirty with everyone, so he was paying me lots of attention," Rose says. "It was my first week in New York, so I was like, 'Yes! Friends!' I got all dolled up and was super excited."
Rose arrived at the party with lipstick, a sense of purpose, and a burgeoning crush on the cute guy from the bar. She didn't know many people there, so she poured herself a drink shortly after walking in. As soon as she turned around with her drink in hand — bam, she saw the cute guy was kissing another girl. Annoyed and deflated, she went downstairs to get some air outside. Shortly after, another girl came out of the apartment in a huff.
"I'm like, 'Were you just at that party?'" Rose says. "And she was like, 'Yeah, my boyfriend, he's so annoying.' I was like, 'Ugh, guys are the worst.' And she said, 'You're cool though!'" The two shared their romantic troubles, with Rose explaining her ill-fated crush, and Courtney complaining about a fight she had just had with her boyfriend inside. The two exchanged numbers, went out to dinner together a few days later, and eventually became best friends: one of the first friends Rose made in New York City, and an essential part of Rose starting to feel confident and at home in the big city. "Three years later, and she's one of my best friends," Rose says. "She's literally one of the sweetest people in the world."
Shantae and Rocky met at work, so they kept their relationship secret at first, even devising a strategy where they would leave their job at separate times at the end of the day. "We were keeping things under wraps for a while, so we would kiss goodbye and she would leave first, and then I would leave," Shantae explains.
Keeping everything under the radar led to some misunderstandings. One day, Rocky's uncle picked her up after work but arrived late, dashing the couple's plans of leaving separately. Shantae saw Rocky in her uncle's car as they were driving off, and she gave a friendly wave to her girlfriend while walking by — a gesture hilariously misread by Rocky's uncle. "He thought I was flirting with him!" Shantae recalls finding out the next day. That potentially awkward situation is now one of the couple's favorite inside jokes, and as for the uncle's reaction? "We just kind of laughed it off," Shantae says about revealing who she was actually waving to.
The couple's love story only gets sweeter from there. About a month after they started dating, Rocky said "I love you" in her sleep, "and then we just kept saying it from there," Shantae explains. The pair married a few years later, and they still joke around about the misread with Rocky's uncle. "We were friends for a while before we started dating, so it's like being with my best friend," Shantae says of her now-wife. "She's so goofy."
Emily and her now-husband met in the dog days of summer — those sultry, scorching days in early August when every New Yorker has their window AC unit cranked up, and you can feel the heat radiating off of the sidewalks. Halfway through their first date, he asked her if they could do a second, and he bought tickets to a jazz age-themed party out on Governors Island. "Without thinking through that it was the middle of August, I went out and bought a flapper dress — all-black, polyester — from a vintage shop," Emily says.
When they arrived at the crowded lawn party, the two started walking around, weaving in and out of crowds, as the sun glared down at them — and that polyester black dress —  from above. "I started getting dizzy, and the lights were going blurry — of course this is happening on a second date," Emily says. "I went over to one of the portable bathrooms to splash my face with water from a water bottle. I was mortified, I thought, 'Oh my god, this guy is never gonna call again,' but he was so sweet, you could see the concern on his face."
The pair headed away from the party and found a place to sit in the shade, where they bonded away from the sun and chatted for hours, the experience bringing them closer on the second date than most couples get in dates five through ten. "We ended up talking for three hours, and it ended up being so much more personal and intimate than I expected for a second date," she says of her now-husband, who showed how caring and patient he was that day on the island. Maybe we should all try having a near-medical emergency on the second date?
*Some New Yorkers' names have been changed for privacy.
This advertising content was produced in collaboration between Vox Creative and our sponsor, without involvement from Vox Media editorial staff.