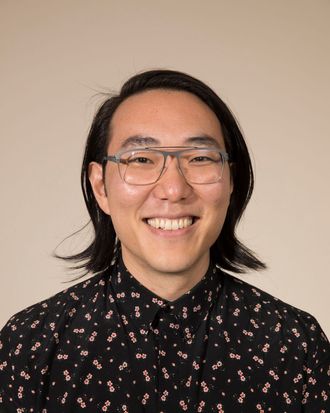 Vulture senior writer E. Alex Jung
Photo: Vulture
The team of journalists at New York works hard to bring you conversation-starting stories. But who exactly are these editors and writers? Get to know them with a New York Minute, our interview series where we ask staff about their lives and their careers. Next up: Vulture's Senior Writer E. Alex Jung.
Since New York Magazine's annual TV issue hit newsstands on Monday, July 6, Vulture senior writer E. Alex Jung's profiles of Michaela Coel and Thandie Newton have made a splash, with both Coel and Newton tweeting out their stories and everyone from Seth Meyers to Joel Kim Booster, Aparna Nancherla, D'Arcy Carden, Janet Mock, Lulu Wang, Mandy Moore, and more wondering how exactly Jung does it.
But those who have followed Jung's writing since he first joined New York as an intern in 2013 know that deep, wide-ranging conversations are par for the course when he's covering people, whether they're household names, largely unknown, or somewhere in between. Jung talked to us about how he prepared for his interviews with Coel and Newton, the state of the celebrity profile, and more.
To start off — congratulations on two knockout features in New York Magazine's annual television issue. Can you tell me a little about how you prepared for your conversations with Michaela Coel and Thandie Newton?
Thank you! I try to read and watch as much as I can. There are obvious limits (hours in the day, one brain, etc.), but I try to be as comprehensive as possible. For someone like Thandie, who has a 30-plus-year career that spans film and television, it's impossible to watch every single thing (also I couldn't find a copy of her Bertolucci film, Besieged), so I make a list of the works that feel important, whether for artistic or professional reasons — Flirting, Beloved, Mission: Impossible 2, Norbit, etc. — and (re)watch them. I read almost every major interview and profile, and inevitably I'll have questions during this process of immersion. I'll see patterns, idiosyncrasies, narrative arcs. For example, I knew that her views on race had changed drastically since her debut in the early '90s, and I was interested in hearing how that might have been shaped by industry forces.
One of the things I admire most about your writing is how intimate each of your profiles and Q&A's feels. At a time when we're saturated with celebrity profiles, that feels really rare. How do you manage to set such a tone in each of yours?
I really think of interviews as creating space for an interesting conversation, and I'm willing to go as far as the subject is. The on-the-record interview is a totally weird construct with specific constraints and rules, but that doesn't mean honest, vulnerable conversations can't happen within it. In that sense, I think comparing it to therapy isn't too far off; just because you pay for a therapist by the hour (or 50 minutes, if your insurance is a scam) doesn't mean that meaningful, important work doesn't happen.
To that end, I try to do my best to set the tone from the beginning: I've done my homework and I'm here to ask interesting questions and listen. I think that approach has allowed me to lean into difficult conversations and ask hard questions, because an organic trust (or, at the very least, respect) develops. With Michaela, we were on a very similar wavelength from the beginning — she is incredibly open and absolutely willing to just go there with you. Our weekly conversations (we had seven in total) really felt like we were both trying to better understand something together, specifically around this idea of radical empathy, which first came up during our interview in 2019. By the time we finished, we had laughed and cried and went on a full emotional journey together. It was a lot like how she describes the writing process itself.
Have coronavirus and the fact that you can't see your subjects in person made it more difficult to interview them?
Obviously you lose "the scene" that comes from interacting in a physical space with them, but I think we've also seen how that became really hack "he says, eating a burger." Initially, I thought it would be more difficult, but there is something about *these times* that I think is making all of us feel more open and vulnerable. But maybe that's just the case with these two people!
In the past few years, there's been a lot of discourse around the state of the celebrity profile. How do you feel about the way we as an industry cover artists, and how do you manage to make each of your profiles feel so fresh even when you're speaking with someone many other people have covered?
I'm a bit like Daddy Logan whenever I read a profile — or anything, really — and I'm always looking for the protein. The truth is that the majority of profiles are bad or just boring and there's very little there there. And there might be a lot of reasons for that: the invisible army of publicists that are mediating the interaction, a lack of time, a bad mood, etc. I've experienced all of those things, and I learned that all I could control was what I came to the conversation with. Also I tend to interview people whose work interests me, whether that's on an emotional or intellectual level, so there's usually some core question I'm driving at.
Also I think it's important to say that I'm usually writing about people who aren't routinely on the covers of magazines. The people I care about and want to write about are people of color and queer people. One of the first long interviews I did was with John Cho back in 2016, and I remember wondering if he was a boring person, because every interview I had read with him was boring. But when I met him, I realized that he was incredibly smart and charming and that no one had ever asked him good questions. In that case, I think that had a lot to do with race. Often, I think a person's "identity" can overdetermine or underdetermine a profile — depending on the publication or the writer. It's been really important to me to approach people the way I would want to be approached, which is as artists with full, bright, complicated lives.
You started at New York Magazine as an intern! How have your interests changed? Did you always envision yourself working in media? How did you come to this field?
No, I flirted with the idea of going into academia (lol) but decided against it when it really sunk in that you were only writing to four other people. To be honest, I really didn't know how you got a job in media, which is why I started at New York as an intern at the ripe age of 28. I was insecure about the fact that I was not a young media darling, but in retrospect, I think it also gave me a really strong sense of self and what I thought was interesting. When I interviewed RuPaul in 2016, for example, it killed. Traffic was nuts. Before it was published, there was an entire discussion of whether it should be a "Vulture Cover Story" (this was a thing back then), and ultimately the decision-makers concluded that RuPaul wasn't big enough. After the story went up, one of them Slacked me something like, "I didn't realize so many people were interested in RuPaul," and I replied, "I did." It ended the year as one of the most read stories.
I've always trusted my instincts, and part of what I've had to do is prove that to other people rather than myself. It's pretty easy to track a through line from the ideas and people I was interested in early on when I started at Vulture as a full-time staffer (RuPaul, Noah Galvin, Constance Wu — all in 2016) to now. Hopefully, the writing is better though.
Who would your dream subject be if you could interview anyone — dead or alive?
Prince.
For those of us who, after reading your Newton and Coel profiles, are newly minted E. Alex Jung fans, what are some great deep cuts from your time at Vulture that we should read?
In addition to some of the pieces mentioned above: I profiled Parasite writer-director Bong Joon Ho, got to go on a New York City food tour with Padma Lakshmi, had afternoon tea in London with Sandra Oh, went to class at Yale with Jeremy O. Harris, and ate John Early's homemade cacio e pepe with him. But the real deep cuts are deleted tweets that only the real ones know about.
You can follow E. Alex Jung on Twitter.
Subscribe to New York
For only $5/month, you'll get unlimited digital access to New York, home of Vulture, the Cut, Intelligencer, Grub Street, and the Strategist.