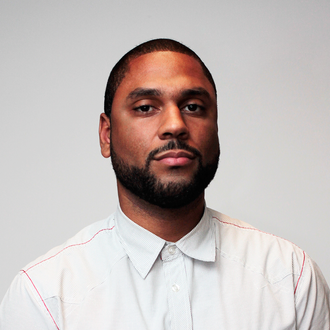 Features writer Zak Cheney-Rice
Photo: Intelligencer
The team of journalists at New York works hard to bring you conversation-starting stories. But who exactly are these editors and writers? Get to know them with a New York Minute, our interview series where we ask staff about their lives and their careers. Next up: New York Magazine features writer Zak Cheney-Rice.
First, how's work-from-home life going for you?
I've been working remotely for almost three years so, in most ways, not that different. The biggest change since March is that our toddler isn't in daycare anymore. His grandmother has been really generous with her time and watches him most workdays, but depending on her schedule he also hangs out with me at least once a week. Planning little adventures and activities for him has been nice and sometimes useful; he likes to wash the car, for example.
You joined Intelligencer in 2018 to report on race, politics, and the criminal justice system. What attracted you to New York Magazine specifically?
The initial draw was pretty simple, which is that I was looking for a new job and they asked if I wanted a new job. But beyond that, taking the offer was kind of a no-brainer. The leadership team at Intelligencer sold the position really well. I had great conversations with everyone I spoke to during the interview process, which is always a good sign, because ultimately you'll have to work with these people.
But on a deeper level, when you write about topics like race and racism in America — which tend to be contentious — you want your work to have a home where it's going to be supported, productively challenged, and where you don't have to fight every day to convince your editors that it's worthwhile. The Intelligencer team was clear that they were interested in being that kind of place, and they have been.
What can you tell us about the driving questions that guide your work, especially in the context of the media industry? 
There are so many good writers covering the topics that I cover, a lot of whom don't even work in media. So I try to be humble and recognize when I'm actually bringing something unique or valuable to the table, and to focus on writing that stuff. (It doesn't always work out; at the end of the day, the job is to write and sometimes you just have to write.)
I also try to keep in mind something Adam Moss told me when I first started here, which is that I shouldn't feel pressured to approach everything I write like it's the final word on that subject. He said, "You're building a body of work." Every piece is an opportunity to learn, ask questions, and draw interesting connections. Sometimes I'll be wrong. More often, hopefully, I'm onto something. That always seemed like a healthy way to approach writing for the internet, to the extent that it's possible.
In a podcast interview with your wife, Josie Duffy Rice, from earlier this year, you talk about trading Brooklyn for Atlanta, calling it an "upgrade." Can you tell us a little more about that? 
I'm not one of those people who could've aged into distinguished elder-statesmanship in New York City — as a lot of my colleagues, I'm sure, are in the process of doing. So it was a matter of time before I left anyway. But in general, I think you look for different qualities in a place depending on where you are in your life. Around 2017 I decided that I wanted more space, warmer weather, some trees for my kid to look at, and for my money to go further. Half our family is in Georgia, too, which made moving an easier call. As a bonus, I like the perspective I get from being in the South; so much that's relevant to my beat is happening here and doesn't necessarily get much attention in national or New York-based outlets.
Tell us about your daily news diet. What sources do you rely on for information? 
It's hard to avoid Twitter as someone who consumes a lot of news every day. Especially when your job is to synthesize big trends and ideas and respond quickly to fast-moving developments. Working in media also gives you an interesting viewpoint, where you personally know a lot of the people doing the reporting. So I mostly find news — and develop an opinion of outlets — through individual journalists and editors I trust, and who cover what I cover in ways that I think are interesting.
For example, there's good race and inequality reporting being done at the Associated Press, the New York Times. The Appeal, which is run by my wife, is hard to beat for comprehensive coverage of the criminal-justice and legal systems. I need to be better about this, but I try to do a periodic front page scan of local outlets in the Southeast and Gulf states — the Atlanta Journal-Constitution, the Clarion-Ledger in Jackson, Mississippi, the Miami Herald, AL.com. And, of course, there's great writing being done at a lot of Southern journals and magazines like Texas Monthly, Oxford American, Scalawag, and the Bitter Southerner.
Have your social media habits changed during quarantine? Do you think social media has taken on a different role when it comes to "social engagement" during the current moment?
I can really only speak for myself, so I'll just say that I was online too much before, I'm online too much now, and I would like to not be online as much in the future.
You've published over 250 stories in the two years since you joined New York. What's one recent story you're especially proud of?
I don't know if I'm especially proud of these from a writing standpoint, but I wrote a couple pieces about rioting during the George Floyd protests — "The Lies We Tell About Riots" and "The Rioters Aren't Here to Convince You" — that generated conversations I'm grateful to have had.
In the opening essay for the June 8, 2020 issue of New York Magazine, you write that "to some, the events of the past week have echoed the struggles of the past. To others, it looks like the beginning of the future." Where do you personally fall on this spectrum? 
For that issue, we interviewed a lot of civil-rights activists and political figures, so those two lines were meant more to set up a broader theme than to establish a hard binary. I don't think the two vantage points are necessarily at odds. I will say I tend to look to the past to understand the present and make guesses about the future. Especially with subjects like race and racism, which are part of a vast but fairly specific historical continuum.
What impact do you foresee the current moment — specifically the period from mid-March up until today — having on the 2020 presidential election? 
I'm not much of an election forecaster, and I tend to assume voters will behave worse when they could very well behave better. But it seems bad for Trump that more than 100,000 people have died on his watch while he's whining about Confederate statues being disrespected. He's seeing some of the worst approval ratings of his entire presidency, even in states that he would typically have in the bag. I think his reelection chances are worse than they've ever been. At the same time, I also think it would be dumb to underestimate the breadth and depth of his appeal to a huge cross-section of white Americans, many of whom will have an easier time voting — and have their votes count for more — compared with their nonwhite and more progressive counterparts.
If you didn't work for New York Magazine, why would you subscribe?
The main thing is that it has impressive across-the-board talent. I tell this to everyone who asks about how I like working here, but it merits repeating: I'm a big fan of my fellow writers and my editors and learn a ton from them every day. It's also really beautiful to look at (shoutout to the design and photo teams). And I appreciate its omnivorous approach to politics and culture, in both substance and tone. It balances heavy and light, funny and bleak seamlessly, and always keeps things interesting. Every time I open a new issue, I find something I like that I wouldn't have assumed I'd like.
You can follow Zak Cheney-Rice on Twitter.
Subscribe to New York
For only $5/month, you'll get unlimited digital access to New York, home of Intelligencer, Vulture, the Cut, Grub Street, and the Strategist.