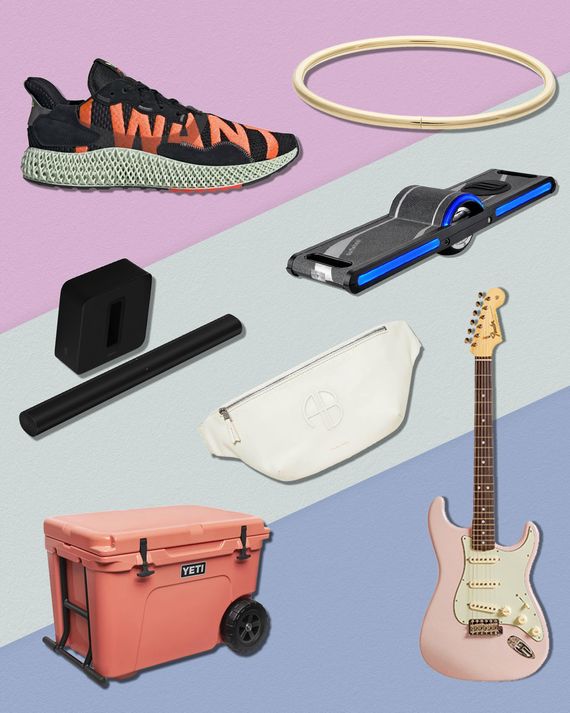 Photo: Courtesy of Klarna
When you're truly obsessed with something, it never feels like work. It's why sneakerheads happily set their alarms for quarter to dawn to catch the latest super-limited edition drop. And audiophiles check their systems from every seat in the living room, to make sure that bass is hitting just right. But even if you'd go to the ends of the earth for your passion, stocking up on all that gear adds up quick — ask anyone who ever spent so much on their home theater setup that they had to cancel their streaming subscriptions.
Luckily, we have a chic solution courtesy of Klarna — the app that makes shopping smoother than ever by letting you shop any site, find a killer deal, and pay later in four interest-free installments. Meet the 48 Hr. Smoooth Room: It's a virtual, interactive pop-up from Klarna that makes shopping for your fave hobby as easy and fun as doing it. It's a magical place where you'll find cool, curated product picks to help you dive deep into any passion, from fashion and beauty to outdoor exploring to urban reef-keeping (it's a thing). Best of all, you can enter to win some of the internet's most coveted items — like the 15 dope prizes below.
But you have to act fast — the 48 Hr. Smoooth Room is open only from 12 p.m. ET on July 16th, to 12 p.m. ET on July 18th. So go ahead and set an alarm like a sneakerhead, read on for a peek at all 15 products you can enter to win, and start dreaming of the most fun, frictionless shopping experience yet. Trust us, nothing's smooother than saying you copped it for "free 99."
Aspiring or experienced musicians can get their smoooth on with this very aesthetic baby pink Strat that's surprisingly easy to play, has great tone, and will definitely look good in your Soundcloud pic.
It's time to start doing this "home theater" thing right. This set combines Sonos's premium smart soundbar and subwoofer speakers to bring immersive sound to your living room. Just like a movie theater (minus the sticky floors).
Walking is for chumps. Wouldn't you much rather glide effortlessly down the city streets on this cool futuristic skateboard? Trust us, you would. And reviewers promise it's easy to learn even if you're not a seasoned street-surfer.
Let's get this out of the way: Yes, fanny packs are back, and they're actually for grown-ups this time. Cult designer Anine Bing's buttery-leather bags have been known to sell out, and they don't come cheap. Unless you snag yours in the 48 Hr. Smoooth Room for a cool $499 discount, that is.
The award-winning hair dryer and styler stands ready to perfect your curls, give you shoulder-skimming waves, or — sorry, we gotta say it — smoooth your locks pin-straight with glassy shine. And it works without heat: Look ma, no damage.
If you've ever said, "I wish I had arms like a coxswain," this handy at-home rower is the perfect way to start. The super-sleek machine gives you a full-body workout and comes with unlimited on-demand classes to keep you motivated.
Made in Italy, inspired by Brooklyn, beloved worldwide: that's pretty much the deal with Creagh's Accordion Satchel. It somehow holds a ton of stuff, from your sketchbook and mini tablet to your tin of lip balm, while always looking sleek, and it's made of that good leather that just gets softer over time.
The difference between "streetwear cool" and "stumbled out for the paper in PJs" is basically just these shoes. These retro-futuristic kicks are engineered to support your Sunday long runs, or just make your everyday sweats look better.
A fully adjustable, reclining gaming chair that also massages? Get used to saying, "Sorry, not enough room in the ole Game Cave" when everyone you know starts asking to be your Player Two.
This telescope features crisp optics that will make all those distant moons, rings of Saturn, and other space stuff pop. Perfect for the beginner or advanced star-gazer, or if you just need to class up your study.
Pack up your kayak and commune with nature by fishing, paddling through the rapids, or just floating serenely in the middle of the chillest lake you can find. This kayak can do it all, and even comes with handy holders for your fishing rods.
Bringing the ocean into your living room sounds dangerous and also impossible, but this aquarium makes both a stunning reality. LED lights and multiple filtration systems support both fish and corals, while providing mood light that makes it just plain hypnotic to look at.
When a brand is named for a mythical snow beast, you know it's tough. Coveted by hikers, campers, mountaineers, and outdoor enthusiasts of all types, YETI coolers are built to last and hold the cold like nobody's business — and this wheeled version is easier than ever to tote around.
Two words, fashion fans: washable silk. Didn't know you needed it until now, right? Two more words: secret PJs. Trust us, these do double duty as sleepwear or an elegant pant suit, so no one at your 10 a.m. meeting will know you've been wearing them for 12 hours.
Who needs a wristful of bracelets when you could have just one supremely chill bangle? Mejuri's solid gold piece will last you forever, like literally, so you can tell your grandkids someday that you snagged it for free in the 48 Hr. Smoooth Room.
This advertising content was produced in collaboration between Vox Creative and our sponsor, without involvement from Vox Media editorial staff.