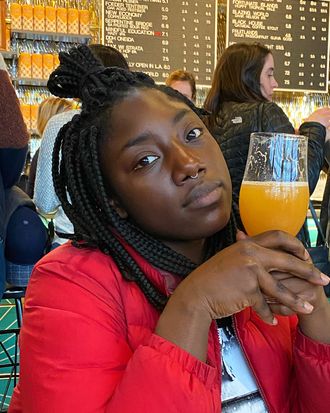 Staff writer Nikita Richardson.
Photo: Nikita Richardson
The team of journalists at New York works hard to bring you conversation-starting stories. But who exactly are these editors and writers? Get to know them with a New York Minute, our interview series where we ask staff about their lives and their careers. Next up: The Strategist's staff writer Nikita Richardson.
You joined New York Magazine in 2018 as a writer for Grub Street before transitioning to cover kitchen and dining (among other things) at the Strategist. How is the changeover going for you? 
The transition was pretty seamless. While I was at Grub Street, I wrote the occasional shopping story and before I joined New York, I freelanced for Strategist a few times and was a huge fan of the site. There was a period where I was shopping via the Strategist on what seemed like a daily basis. I've also been able to bring over all my chef and food people contacts, dating back to my time at Bon Appétit, which has been immensely helpful. I'm also actively working to diversify the pool of experts we interview and reach out to.
Whether you're covering restaurant closures, lesser-known hiking options near New York City, or the best canned cocktails, the stories you write are often in service of readers. How did you develop your beat?
I mostly fell into my beat. I've always felt like a jack of all trades and in journalism the company line is often about developing an area of expertise, but the Strategist has been a good place for me to explore all my interests from natural hair to tea kettles. That said, I'm still incredibly obsessed with the minutiae of food media, which has been undergoing an incredible reckoning. It's inspired me to try to effect change here at New York Magazine as well, which I've had a relationship with since I interned here in the summer of 2013.
How are you trying to effect change at New York?
I'm staying active in our union, which is still bargaining. And within my own team, I'm trying to create an environment that is conducive to creativity and success while holding higher-ups to their promises to make New York a more diverse, equitable, and inclusive workplace. Change can be painful and fraught, but I'm convinced that it's worth it.
How has your interviewing and writing process changed in the last six months?
Since May, probably because of the George Floyd protests and resulting fall out across so many industries, I've been receiving larger writing opportunities than I had in previous years. I've contributed to print, like, four or five times in the last three months, including getting my first-ever profile published in the magazine. That was a point of real pride for me because it's amazing to carry a story from pitching to completion and to see my byline.
I've never felt more capable and sure of myself or more confident in myself as both a writer (and hopefully, one day, an editor) than I do right now. I've questioned my intelligence and abilities a lot in this industry, and I don't know if it's the current climate or my recently turning 30, but I'm way past the point of bullshit or being bullshitted. Excuse my language.
What excites you about the world of e-commerce right now? 
I'm less interested in e-commerce I'd say than in service. I absolutely love giving people advice and helping them become more conscious consumers. Here, I mean conscious in the sense of purchasing more of what we need than more of what we want. And making sure that when we purchase what we want, we only have to purchase it once because we're buying the best version of an item or something that will make a meaningful difference in our lives whether that's just making us feel really good about ourselves or making our homes happier places to live in. So many of us are home right now and I think we're really searching for meaning in our home lives again and I think shopping can help out with that at least a little bit.
In terms of cooking and dining, have your at-home routines changed (or stayed the same) during quarantine? 
The truth is I am a very lazy cook. I like to eat well, but simply and I hate leftovers because I live by myself and I don't own a microwave. The biggest change to my at-home routine is listening to more music and actively working on learning more about music and spending more time with my cat, Junie.
What kitchen tools can you not live without? 
This is easy: My moka pot. It is the absolute best coffee maker for happily single people with no counter space. Also, I have this set of Opinel knives with colorful wooden handles and they bring me the most immense joy.
You're also a very talented ceramicist (read more on Nikita's ceramics line here). Have you been able to work on your ceramics through the pandemic?
Sadly, no. I rented a pottery wheel for a few months, but it got to be too much with the mess that making pottery creates. I also realized that making pottery was a deeply social activity for me. I used to go to my pottery studio at least three times a week and see this rotating cast of terrific people. The other night I dreamed that I saw one of my favorite pottery people from my studio and I woke up really sad afterward.
Can you share some of your favorite creations with us? 
I think the best thing I ever made was this set of nesting bowls, which one of my former New York co-workers ended up buying. It took a lot of work to make them fit together and look identical. Overall, whenever people send me pictures of my pottery in action my heart literally sings.
For the August 17, 2020, issue of New York Magazine, you profiled Tammie Teclemariam, a freelance food and drinks writer who has been starting overdue conversations about diversity and inclusion in food media. In the piece, you reference your own experiences as a Black woman working in media. What changes do you think have been most effective so far and what would you love to see happen next? 
In all honesty, I'm not ready to say that anything has changed. It's been only three months since George Floyd was murdered and that's not nearly enough time for any real systematic change to have taken place in the media or outside it. There are encouraging signs, but I don't think I'll really be able to answer this question for several years.
If you didn't work for New York Magazine, why would you subscribe?
I mean, I just don't think there's anything on par with what we're producing. To be able to cover so many disparate things and do it in a funny and thoughtful way is not easy. That said, the heart of this magazine is smart, mostly young, mostly minority writers who have a terrific eye for identifying what's driving our culture and what makes life so exciting. These same people unionized New York and are actively working to make it a better place. I want to see these people invested in and I want to see them become the lionized writers and editors of the next decade while simultaneously pulling up a generation of writers and editors that look like them.
You can follow Nikita on Twitter.
Subscribe to New York
For only $5/month, you'll get unlimited digital access to New York, home of Intelligencer, Vulture, the Cut, Grub Street, and the Strategist.